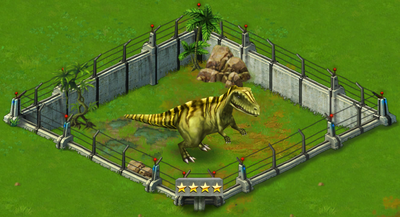 Battle Weakness: Bite
Battle Class: Silver
Acrocanthosaurus is a therapod that lived during the Early Cretaceous Period about 115 million years ago. Its fossils were first discovered in Oklahoma during the 1940s. However, this discovery was largely ignored and forgotten until 1950, when J. Willis Stovall and Wann Langston, Jr rediscovered this species by finding a very large vertebrae segment. They would go on to name the dinosaur Acrocanthosaurus, a name which means "high spine lizard." This name was chosen because it has seventeen inch spikes that travel from its neck to its tail.
Acrocanthosaurus was a fairly large carnivore that was over 40 feet long and weighed as much a 6 tons. This dinosaur also had a large head that was about 4.4 feet in length. This size advantage would allow this dinosaur to hunt some very large herbivores with a fair amount of success.
Scientist really don't know the purpose of this dinosaur's spines. Some paleontologists have speculated that the spines were necessary to keep the dinosaur cool by allowing it to dispose of heat like a heat sink. Other scientists believe that is was used to make the dinosaur look bigger to ward off other predators.
Since its original discovery, several fossil specimens of this dinosaur have been found in parts of Oklahoma, Texas nd Utah. Tracks of this dinosaur have also been found in parts of Texas. An interesting fact is that these tracks that not only proved that this dinosaur was a fierce and agile hunter, but that it was also fairly fearless and would hunt some of the larger sauropod species. Something that therapods aren't known for doing.
Information
Cost and Time to Hatch
Availability
Market
DNA Research
4,900
Placement Cost
155,000
Incubation Time
26:27:00
XP
Dimensions
7x7

Initial Message: The Acrocanthosaurus had a long sail covering its neck going all the way to its tail.

First Evolution Message: Formed with bones of the spine that could be over a foot tall, the sail of the Acrocanthosaurus was impressive.

Second Evolution Message: Paleontologists built a full skeleton of an Acrocanthosaurus with parts of 3 skeletons, since a full version couldn't be found.

Third Evolution Message: In Greek, the name Acrocanthosaurus means "high-spined lizard".
Level-Based Stats
| Level | Unmodified Earning Rates (10 Hrs) | Feeding Costs (Meat) | Ferocity | Life | Attack |
| --- | --- | --- | --- | --- | --- |
| 1 | 2,510 (251 / Hour) | 251 (x5 = 1,255) |  ? | N/A | N/A - N/A |
| 2 | 2,770 (277 / Hour) | 416 (x5 = 2,080) |  ? | N/A | N/A - N/A |
| 3 | 3,020 (302 / Hour) | 581 (x5 = 2,905) |  ? | N/A | N/A - N/A |
| 4 | 3,280 (328 / Hour) | 746 (x5 = 3,730) |  ? | N/A | N/A - N/A |
| 5 | 3,540 (354 / Hour) | 911 (x5 = 4,555) | 38 | 314 | 32 - 194 |
| 6 | 3,800 (380 / Hour) | 1,076 (x5 = 5,380) | 46 | 377 | 39 - 237 |
| 7 | 4,050 (405 / Hour) | 1,241 (x5 = 6,205) | 53 | 440 | 45 - 273 |
| 8 | 4,310 (431 / Hour) | 1,407 (x5 = 7,035) | 61 | 502 | 52 - 316 |
| 9 | 4,569 (457 / Hour) | 1,572 (x5 = 7,860) | 68 | 565 | 58 - 352 |
| 10 | 4,830 (483 / Hour) | Evolve: 17,500 per attempt | 76 | 628 | 64 - 388 |
| 11 | 5,080 (508 / Hour) | 1,902 (x5 = 9,510) | 83 | 691 | 72 - 432 |
| 12 | 5,339 (534 / Hour) | 2,067 (x5 = 10,335) | 91 | 753 | 78 - 468 |
| 13 | 5,600 (560 / Hour) | 2,232 (x5 = 11,160) | 98 | 816 | 85 - 511 |
| 14 | 5,860 (586 / Hour) | 2,397 (x5 = 11,985) | 106 | 879 | 91 - 547 |
| 15 | 6,110 (611 / Hour) | 2,563 (x5 = 12,815) | 113 | 942 | 97 - 583 |
| 16 | 6,370 (637 / Hour) | 2,728 (x5 = 13,640) | 121 | 1,004 | 104 - 626 |
| 17 | 6,630 (663 / Hour) | 2,893 (x5 = 14,465) | 129 | 1,067 | 110 - 662 |
| 18 | 6,890 (689 / Hour) | 3,058 (x5 = 15,290) | 136 | 1,130 | 117 - 705 |
| 19 | 7,140 (714 / Hour) | 3,223 (x5 = 16,115) | 144 | 1,193 | 123 - 741 |
| 20 | 7,400 (740 / Hour) | Evolve: 19,250 per attempt | 151 | 1,255 | 129 - 777 |
| 21 | 7,698 (770 / Hour) | 3,553 (x5 = 17,765) | 159 | 1,318 | 136 - 820 |
| 22 | 7,920 (792 / Hour) | 3,719 (x5 = 18,595) | 166 | 1,381 | 142 - 856 |
| 23 | 8,170 (817 / Hour) | 3,884 (x5 = 19,420) | 174 | 1,444 | 150 - 900 |
| 24 | 8,430 (843 / Hour) | 4,049 (x5 = 20,245) | 181 | 1,506 | 156 - 936 |
| 25 | 8,690 (869 / Hour) | 4,214 (x5 = 21,070) | 189 | 1,569 | 162 - 972 |
| 26 | 8,950 (895 / Hour) | 4,379 (x5 = 21,895) | 196 | 1,632 | 169 - 1,015 |
| 27 | 9,200 (920 / Hour) | 4,544 (x5 = 22,720) | 204 | 1,695 | 175 - 1,051 |
| 28 | 9,460 (946 / Hour) | 4,709 (x5 = 23,545) | 211 | 1,757 | 182 - 1,094 |
| 29 | 9,720 (972 / Hour) | 4,875 (x5 = 24,375) | 219 | 1,820 | 188 - 1,130 |
| 30 | 9,980 (998 / Hour) | Evolve: 24,500 per attempt | 226 | 1,883 | 194 - 1,166 |
| 31 | 10,230 (1,023 / Hour) | 5,205 (x5 = 26,025) | 234 | 1,946 | 201 - 1,209 |
| 32 | 10,490 (1,049 / Hour) | 5,370 (x5 = 26,850) | 241 | 2,008 | 207 - 1,245 |
| 33 | 10,750 (1,075 / Hour) | 5,535 (x5 = 27,675) | 249 | 2,071 | 214 - 1,288 |
| 34 | 11,010 (1,101 / Hour) | 5,700 (x5 = 28,500) | 257 | 2,134 | 220 - 1,324 |
| 35 | 11,260 (1,126 / Hour) | 5,865 (x5 = 29,325) | 264 | 2,197 | 226 - 1,360 |
| 36 | 11,520 (1,152 / Hour) | 6,031 (x5 = 30,155) | 272 | 2,259 | 234 - 1,404 |
| 37 | 11,780 (1,178 / Hour) | 6,196 (x5 = 30,980) | 279 | 2,322 | 240 - 1,440 |
| 38 | 12,040 (1,204 / Hour) | 6,361 (x5 = 31,805) | 287 | 2,385 | 247 - 1,483 |
| 39 | 12,290 (1,229 / Hour) | 6,526 (x5 = 32,630) | 294 | 2,448 | 253 - 1,519 |
| 40 | 12,550 (1,255 / Hour) | MAX | 302 | 2,510 | 259 - 1,555 |
Total Meat to Max: 609,895
Acrocanthosaurus Level 40
Tournament-Battle Arena Profile Picture
Acrocanthosaurus in Battle
Acrocanthosaurus Level 40 Pictures