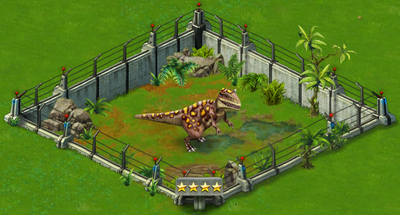 Battle Weakness: Charge
Battle Class: Silver
Allosaurus is a type of dinosaur called a therapod. This dinosaur lived about 155 million years ago—during the Jurassic Period—and probably lived in parts of the Western United States. It was first discovered in 1869 by Ferdinand Hayden and was later named in 1877 by Othniel Charles Marsh. It was named using the Greek words "allos", which meant different, and "saurus" which meant lizard. Therefore, it's name literally means "different lizard". It was given this name because its skeleton was quite different than any other dinosaur found up until the time of its discovery.
Although most of the specimens of this dinosaur have been found in Colorado and Montana, there have been an increasing number of specimens found elsewhere. These include specimens found in New Mexico, Africa, Australia. Tanzania and parts of Europe.
This dinosaur was a large carnivorous bipedal predator that scientists believe preyed on the many herbivores of the time. This conclusion has been reached in part by the number of razor sharp teeth that can be found in this predator's mouth. It had rows of razor sharp teeth that had saw-like formations on its edges. It is believed that the Allosaurus was able to attack larger predators with these teeth by using its upper jaw like a hatchet and attacking using the element of surprise.
One interesting fact to note is that the largest Allosaurus specimens may have rivaled the T- Rex in size. The size of the largest Allosaurus is approximately 16 feet tall, 43 feet long and weighed more up to 5 tons. This contrasts pretty well with the T- Rex who was approximately 13-16 feet tall, 42 feet long and weighed approximately 7 tons.
Information
Cost and Time to Hatch
Availability
Market
DNA Research
2,150 x10
Placement Cost
116,000
Incubation Time
16:12:00
XP
Dimensions
7x7

Initial Message: The Allosaurus was the most fearsome and deadly dinosaur before the appearance of the Tyrannosaurus.

First Evolution Message: The Allosaurus could grow to become an amazing size between 35 and 40 feet long, almost as long as a badminton court.

Second Evolution Message: The movement of the Allosaurus were easy to track, since they left broken teeth alongside its victims.

Third Evolution Message: The name Allosaurus means "different lizard" in Greek.
Level-Based Stats
| Level | Unmodified Earning Rates (9 Hrs) | Feeding Costs (Meat) | Ferocity | Life | Attack |
| --- | --- | --- | --- | --- | --- |
| 1 | 2,466 (274 / Hour) | 246 (x5 = 1,230) |  ? | N/A | N/A - N/A |
| 2 | 2,718 (302 / Hour) | 408 (x5 = 2,040) |  ? | N/A | N/A - N/A |
| 3 | 2,970 (330 / Hour) | 570 (x5 = 2,850) |  ? | N/A | N/A - N/A |
| 4 | 3,222 (358 / Hour) | 733 (x5 = 3,665) |  ? | N/A | N/A - N/A |
| 5 | 3,474 (386 / Hour) | 895 (x5 = 4,475) |  ? | 309 | 32 - 194 |
| 6 | 3,726 (414 / Hour) | 1,057 (x5 = 5,285) |  ? | 370 | 38 - 230 |
| 7 | 3,978 (442 / Hour) | 1,219 (x5 = 6,095) |  ? | 432 | 45 - 273 |
| 8 | 4,239 (471 / Hour) | 1,381 (x5 = 6,905) |  ? | 493 | 51 - 309 |
| 9 | 4,491 (499 / Hour) | 1,543 (x5 = 7,715) |  ? | 555 | 57 - 345 |
| 10 | 4,743 (527 / Hour) | Evolve: 9,950 per attempt | 74 | 617 | 63 - 381 |
| 11 | 4,995 (555 / Hour) | 1,868 (x5 = 9,340) | 82 | 678 | 70 - 424 |
| 12 | 5,247 (583 / Hour) | 2,030 (x5 = 10,150) | 89 |  ? |  ? - ? |
| 13 | 5,499 (611 / Hour) | 2,192 (x5 = 10,960) | 97 | 802 | 82 - 496 |
| 14 | 5,751 (639 / Hour) | 2,354 (x5 = 11,770) | 104 |  ? |  ? - ? |
| 15 | 6,003 (667 / Hour) | 2,517 (x5 = 12,585) |  ? | 925 | 96 - 576 |
| 16 | 6,255 (695 / Hour) | 2,679 (x5 = 13,395) |  ? | 986 | 102 - 612 |
| 17 | 6,507 (723 / Hour) | 2,841 (x5 = 14,205) |  ? | 1,048 | 109 - 655 |
| 18 | 6,759 (751 / Hour) | 3,003 (x5 = 15,015) |  ? | 1,110 | 115 - 691 |
| 19 | 7,020 (780 / Hour) | 3,165 (x5 = 15,825) |  ? | 1,171 | 121 - 727 |
| 20 | 7,272 (808 / Hour) | Evolve: 17,500 per attempt |  ? | 1,233 | 127 - 763 |
| 21 | 7,524 (836 / Hour) | 3,490 (x5 = 17,450) |  ? | 1,295 | 134 - 806 |
| 22 | 7,776 (864 / Hour) | 3,652 (x5 = 18,260) |  ? | 1,356 | 140 - 842 |
| 23 | 8,028 (892 / Hour) | 3,814 (x5 = 19,070) |  ? | 1,418 | 146 - 878 |
| 24 | 8,280 (920 / Hour) | 3,976 (x5 = 19,880) |  ? | 1,479 | 153 - 921 |
| 25 | 8,532 (948 / Hour) | 4,138 (x5 = 20,690) |  ? | 1,541 | 159 - 957 |
| 26 | 8,784 (976 / Hour) | 4,301 (x5 = 21,505) |  ? | 1,603 | 165 - 993 |
| 27 | 9,036 (1,004 / Hour) | 4,463 (x5 = 22,315) |  ? | 1,664 | 172 - 1,036 |
| 28 | 9,288 (1,032 / Hour) | 4,625 (x5 = 23,125) |  ? | 1,726 | 178 - 1,072 |
| 29 | 9,540 (1,060 / Hour) | 4,787 (x5 = 23,935) |  ? | 1,718 | 184 - 1,108 |
| 30 | 9,801 (1,089 / Hour) | Evolve: 19,500 per attempt |  ? | 1,849 | 190 - 1,144 |
| 31 | 10,053 (1,117 / Hour) | 5,112 (x5 = 25,560) |  ? | 1,911 | 198 - 1,188 |
| 32 | 10,305 (1,145 / Hour) | 5,274 (x5 = 26,370) |  ? | 1,972 | 204 - 1,224 |
| 33 | 10,557 (1,173 / Hour) | 5,436 (x5 = 27,180) |  ? | 2,034 | 210 - 2,160 |
| 34 | 10,809 (1,201 / Hour) | 5,598 (x5 = 27,990) |  ? | 2,096 | 217 - 1,303 |
| 35 | 11,061 (1,229 / Hour) | 5,760 (x5 = 28,800) |  ? | 2,157 | 223 - 1,339 |
| 36 | 11,313 (1,257 / Hour) | 5,922 (x5 = 29,610) |  ? | 2,219 | 229 - 1,375 |
| 37 | 11,565 (1,285 / Hour) | 6,085 (x5 = 30,425) |  ? | 2,281 | 236 - 1,418 |
| 38 | 11,817 (1,313 / Hour) | 6,247 (x5 = 31,235) |  ? | 2,342 | 242 - 1,454 |
| 39 | 12,069 (1,341 / Hour) | 6,409 (x5 = 32,045) |  ? | 2,404 | 248 - 1,490 |
| 40 | 12,321 (1,369 / Hour) | MAX | 296 | 2,465 | 254 - 1,526 |
Total Meat to Max: 598,950
Allosaurus Level 40
Tournament-Battle Arena Profile Picture
Allosaurus in Battle
Allosaurus Level 40 Pictures