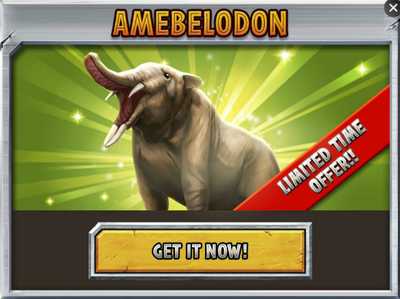 Battle Weakness: Bite
Battle Class: Gold
Amebelodon is a genus of extinct proboscidean belonging to Amebelodontidae (the so-called shovel-tuskers), a group of proboscideans related to the modern elephants and their close relative the mammoth. The most striking attribute of this animal is its lower tusks, which are narrow, elongated, and distinctly flattened varying among the different species. Two valid species are currently placed within this genus, which was endemic to North America.

Amebelodon first appeared in the Great Plains and Gulf Coast regions of North America during the late Miocene, roughly 9 million years ago, and apparently became extinct on this continent sometime around 6 million years ago. The youngest record of Amebelodon is from a 5-million-year-old site in North America. The species Amebelodon floridanus was relatively small, a little smaller than living elephants, and was common in fossil sites from 9 to 8 million years ago. Other larger but somewhat younger common North American species include Amebelodon fricki
Information
Cost and Time to Hatch
Availability
Limited
DNA Research
20,000 x10
Placement Cost
231,850
Incubation Time
22:03:00
XP
2,318 + 4 x 5,292
Dimensions
7x7

Initial Message: The name Amebelodon means "Shovel Tusk" in Greek.

First Evolution Message: In order to dig up semi-aquatic plants to feed on, the Amebelodon used its lower tusks.

Second Evolution Message: Some think that the Amebeledon used its lower tusks on tree trunks to scrape their barks off.

Third Evolution Message: The reason Amebeledons became extinct probably resides in the disappearance of its eating grounds, due to extended periods of dry weather.
Level-Based Stats
| Level | Unmodified Earning Rates (6 Hours) | Feeding Costs (Crops) | Ferocity | Life | Attack |
| --- | --- | --- | --- | --- | --- |
| 1 | 4,152 (692 / Hour) | 415 (x5 = 2,075) |  ? | N/A | N/A - N/A |
| 2 | 4,578 (763 / Hour) | 688 (x5 = 3,440) | N/A | N/A | N/A - N/A |
| 3 | 5,004 (834 / Hour) | 961 (x5 = 4,805) | N/A | N/A | N/A - N/A |
| 4 | 5,424 (904 / Hour) | 1,234 (x5 = 6,170) | N/A | N/A | N/A - N/A |
| 5 | 5,850 (975 / Hour) | 1,507 (x5 = 7,535) | 138 | 986 | 54 - 324 |
| 6 | 6,276 (1,046 / Hour) | 1,780 (x5 = 8,900) | 165 | 1,183 | 63 - 381 |
| 7 | 6,702 (1,117 / Hour) | 2,053 (x5 = 10,265) | 193 | 1,380 | 74 - 446 |
| 8 | 7,128 (1,188 / Hour) | 2,326 (x5 = 11,630) | 220 | 1,577 | 85 - 511 |
| 9 | 7,554 (1,259 / Hour) | 2,599 (x5 = 12,995) | 248 | 1,775 | 96 - 576 |
| 10 | 7,979 (1,330 / Hour) | Evolve: 30,000 per attempt | 275 | 1,972 | 106 - 640 |
| 11 | 8,406 (1,401 / Hour) | 3,145 (x5 = 15,725) |  ? | 2,169 | 116 - 698 |
| 12 | 8,832 (1,472 / Hour) | 3,418 (x5 = 17,090) |  ? | 2,366 | 127 - 763 |
| 13 | 9,258 (1,543 / Hour) | 3,691 (x5 = 18,455) |  ? | 2,563 | 138 - 828 |
| 14 | 9,684 (1,614 / Hour) | 3,964 (x5 = 19,820) |  ? | 2,760 | 148 - 892 |
| 15 | 10,110 (1,685 / Hour) | 4,237 (x5 = 21,185) |  ? | 2,957 | 159 - 957 |
| 16 | 10,536 (1,756 / Hour) | 4,510 (x5 = 22,550) |  ? | 3,154 | 170 - 1,022 |
| 17 | 10,962 (1,827 / Hour) | 4,783 (x5 = 23,915) |  ? | 3,352 | 180 - 1,080 |
| 18 | 11,388 (1,898 / Hour) | 5,056 (x5 = 25,280) |  ? | 3,549 | 190 - 1,144 |
| 19 | 11,814 (1,969 / Hour) | 5,329 (x5 = 26,645) |  ? | 3,746 | 201 - 1,209 |
| 20 | 12,240 (2,040 / Hour) | Evolve: 40,000 per attempt |  ? | 3,943 | 212 - 1,274 |
| 21 | 12,660 (2,110 / Hour) | 5,875 (x5 = 29,375) |  ? | 4,140 | 223 - 1,339 |
| 22 | 13,086 (2,181 / Hour) | 6,149 (x5 = 30,745) |  ? | 4,337 | 234 - 1,404 |
| 23 | 13,512 (2,252 / Hour) | 6,422 (x5 = 32,110) |  ? | 4,534 | 243 - 1,461 |
| 24 | 13,938 (2,323 / Hour) | 6,695 (x5 = 33,475) |  ? | 4,731 | 254 - 1,526 |
| 25 | 14,364 (2,394 / Hour) | 6,968 (x5 = 34,840) |  ? | 4,929 | 265 - 1,591 |
| 26 | 14,790 (2,465 / Hour) | 7,241 (x5 = 36,205) |  ? | 5,126 | 276 - 1,656 |
| 27 | 15,216 (2,536 / Hour) | 7,514 (x5 = 37,570) |  ? | 5,323 | 286 - 1,721 |
| 28 | 15,642 (2,607 / Hour) | 7,787 (x5 = 38,935) |  ? | 5,520 | 296 - 1,778 |
| 29 | 16,068 (2,678 / Hour) | 8,060 (x5 = 40,300) |  ? | 5,717 | 307 - 1,843 |
| 30 | 16,494 (2,749 / Hour) | Evolve: 50,000 per attempt |  ? | 5,914 | 318 - 1,908 |
| 31 | 16,920 (2,820 / Hour) | 8,606 (x5 = 43,030) |  ? | 6,111 | 328 - 1,972 |
| 32 | 17,346 (2,891 / Hour) | 8,879 (x5 = 44,395) |  ? | 6,308 | 339 - 2,037 |
| 33 | 17,772 (2,962 / Hour) | 9,152 (x5 = 45,760) |  ? | 6,506 | 350 - 2,102 |
| 34 | 18,198 (3,033 / Hour) | 9,425 (x5 = 47,125) |  ? | 6,703 | 360 - 2,160 |
| 35 | 18,624 (3,104 / Hour) | 9,698 (x5 = 48,490) |  ? | 6,900 | 370 - 2,224 |
| 36 | 19,050 (3,175 / Hour) | 9,971 (x5 = 49,855) |  ? | 7,097 | 381 - 2,289 |
| 37 | 19,476 (3,246 / Hour) | 10,244 (x5 = 51,220) |  ? | 7,294 | 392 - 2,354 |
| 38 | 19,896 (3,316 / Hour) | 10,517 (x5 = 52,585) |  ? | 7,491 | 403 - 2,419 |
| 39 | 20,322 (3,387 / Hour) | 10,790 (x5 = 53,950) |  ? | 7,688 | 412 - 2,476 |
| 40 | 20,748 (3,458 / Hour) | MAX |  ? | 7,885 | 423 - 2,541 |
Total Crops to Max: 1,008,445
Amebelodon Level 40
Tournament-Battle Arena Profile Picture
Amebelodon in Battle
Amebelodon Level 40 Pictures