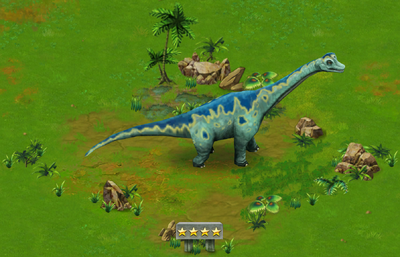 Battle Weakness: Bite
Battle Class : Bronze
The Brachiosaurus is a dinosaur which lived about 156 million years ago during the Jurassic Period. They were massive animals that stood about 23 feet high, were 85 feet long and weighed between 30 through 80 tons. The first remains of this dinosaur were discovered in 1903 by Elmer S. Riggs in Western Colorado.
Brachiosaurus is known for its long neck—which made it look very much like a giraffe—and its short hind legs. The front legs of this dinosaur is so much larger than the hind legs, it caused Mr. Riggs to name it Brachiosaurus—a name which means "arm lizard".
It is believed that these massive animals were warm blooded and not cold blooded like most reptiles. Scientists have been able to determine this by examining the teeth of these animals and calculating body temperature of the dinosaur by measuring the ratios of certain isotopes. These dinosaurs are known to have been herbivores. It is believed that they subsisted mainly on conifers, ginkgos and cycads.
Information
Cost and Time to Hatch
Availability
Market
DNA Research
1,000x10
Placement Cost
59,950
Incubation Time
9:48:00
XP
600
Dimensions
8x8

Initial Message: The neck of the Brachiosaurus was 30 feet long; that's as wide as a volleyball court!

First Evolution Message: The Brachiosaurus had to eat the major part of the day in order to consume its 440 pounds of food.

Second Evolution Message: The weight of the Brachiosaurus could reach 50 tons, approximately close to 6 elephants packed together.

Third Evolution Message: The Brachiosaurus, which means "arm lizard" in Greek, has front limbs that are bigger than its hind limbs.
Level-Based Stats
| Level | Unmodified Earning Rates (2 hr) | Feeding Costs (Crops) | Ferocity | Life | Attack |
| --- | --- | --- | --- | --- | --- |
| 1 | 1,300 (650 / Hour) | 130 (x5 = 650) |  ? |  ? |  ? - ? |
| 2 | 1,434 (717 / Hour) | 215 (x5 = 1,075) |  ? |  ? |  ? - ? |
| 3 | 1,566 (783 / Hour) | 301 (x5 = 1,505) |  ? |  ? |  ? - ? |
| 4 | 1,700 (850 / Hour) | 386 (x5 = 1,930) |  ? |  ? |  ? - ? |
| 5 | 1,833 (917 / Hour) | 472 (x5 = 2,360) |  ? | 163 | 16 - 100 |
| 6 | 1,966 (983 / Hour) | 557 (x5 = 2,785) |  ? | 195 | 19 - 115 |
| 7 | 2,100 (1,050 / Hour) | 643 (x5 = 3,215) |  ? | 228 | 22 - 136 |
| 8 | 2,234 (1,117 / Hour) | 728 (x5 = 3,640) |  ? | 260 | 26 - 158 |
| 9 | 2,366 (1,183 / Hour) | 814 (x5 = 4,070) |  ? | 293 | 28 - 172 |
| 10 | 2,500 (1,250 / Hour) | Evolve: 5,800 per attempt |  ? | 325 | 32 - 194 |
| 11 | 2,634 (1,317 / Hour) | 985 (x5 = 4,925) |  ? | 358 | 36 - 216 |
| 12 | 2,766 (1,383 / Hour) | 1,070 (x5 = 5,350) |  ? | 390 | 38 - 230 |
| 13 | 2,900 (1,450 / Hour) | 1,156 (x5 = 5,780) |  ? | 423 | 42 - 252 |
| 14 | 3,034 (1,517 / Hour) | 1,241 (x5 = 6,205) |  ? | 455 | 45 - 273 |
| 15 | 3,166 (1,583 / Hour) | 1,327 (x5 = 6,635) |  ? | 488 | 48 - 288 |
| 16 | 3,300 (1,650 / Hour) | 1,412 (x5 = 7,060) |  ? | 520 | 51 - 309 |
| 17 | 3,434 (1,717 / Hour) | 1,498 (x5 = 7,490) |  ? | 553 | 55 - 331 |
| 18 | 3,566 (1,783 / Hour) | 1,584 (x5 = 7,920) | 63 | 585 | 57 - 345 |
| 19 | 3,700 (1,850 / Hour) | 1,669 (x5 = 8,345) | 66 | 618 | 61 - 367 |
| 20 | 3,834 (1,917 / Hour) | Evolve: 11,650 per attempt | 69 | 650 | 64 - 388 |
| 21 | 3,986 (1,993 / Hour) | 1,840 (x5 = 9,200) | 73 | 683 | 67 - 403 |
| 22 | 4,120 (2,060 / Hour) | 1,926 (x5 = 9,630) | 76 | 715 | 70 - 424 |
| 23 | 4,254 (2,127 / Hour) | 2,011 (x5 = 10,055) | 80 | 748 | 74 - 446 |
| 24 | 4,388 (2,194 / Hour) | 2,097 (x5 = 10,485) | 83 | 780 | 76 - 460 |
| 25 | 4,522 (2,261 / Hour) | 2,182 (x5 = 10,910) | 87 | 813 | 80 - 482 |
| 26 | 4,656 (2,328 / Hour) | 2,268 (x5 = 11,340) | 90 | 845 | 84 - 504 |
| 27 | 4,766 (2,383 / Hour) | 2,353 (x5 = 11,765) | 94 | 878 | 86 - 518 |
| 28 | 4,900 (2,450 / Hour) | 2,439 (x5 = 12,195) | 97 | 910 | 90 - 540 |
| 29 | 5,034 (2,517 / Hour) | 2,524 (x5 = 12,620) | 100 | 943 | 93 - 561 |
| 30 | 5,166 (2,583 / Hour) | Evolve: 15,500 per attempt | 104 | 975 | 96 - 576 |
| 31 | 5,300 (2,650 / Hour) | 2,695 (x5 = 13,475) |  ? | 1,008 | 99 - 597 |
| 32 | 5,434 (2,717 / Hour) | 2,781 (x5 = 13,905) |  ? | 1,040 | 103 - 619 |
| 33 | 5,566 (2,783 / Hour) | 2,867 (x5 = 14,335) |  ? | 1,073 | 105 - 633 |
| 34 | 5,700 (2,850 / Hour) | 2,952 (x5 = 14,760) |  ? | 1,105 | 109 - 655 |
| 35 | 5,834 (2,917 / Hour) | 3,038 (x5 = 15,190) |  ? | 1,138 | 112 - 676 |
| 36 | 5,966 (2,983 / Hour) | 3,123 (x5 = 15,615) |  ? | 1,170 | 115 - 691 |
| 37 | 6,100 (3,050 / Hour) | 3,209 (x5 = 16,045) |  ? | 1,203 | 118 - 712 |
| 38 | 6,234 (3,117 / Hour) | 3,294 (x5 = 16,470) |  ? | 1,235 | 122 - 734 |
| 39 | 6,366 (3,183 / Hour) | 3,380 (x5 = 16,900) |  ? | 1,268 | 124 - 748 |
| 40 | 6,500 (3,250 / Hour) | MAX | 138 | 1,300 | 128 - 770 |
Total Crops to Max: 315,835
Brachiosaurus Level 40
Tournament-Battle Arena Profile Picture
Brachiosaurus in Battle
Brachiosaurus Level 40 Pictures