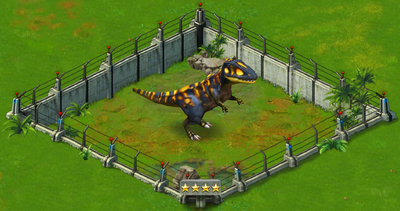 Battle Weakness:Bite
Battle Class : Bronze
Carcharodontosaurus is a dinosaur that lived approximately 100 million years ago during the mid- Cretaceous Period. It was first discovered in 1927 by Charles Depéret and J. Savornin in Northern Africa. When it was first discovered, it was originally named Megalosaurus saharicus, but was later changed by Ernst Stromer von Reichenbach to Carcharodontosaurus in 1931. This was done because the teeth reminded him of the teeth of the shark genus Carcharodon. Its name literally means "shark-toothed lizard."
The original fossils found during the 1930s were eventually destroyed by bombing during World War II and paleontologists had to rely on the written descriptions of these animals. However, that changed when another fossil of this creature was discovered in 1996. This specimen was even larger than the original one was.
Carcharodontosaurus is believed to have been a fearsome predator. It was about 44 feet long, 13 feet high at the hips and could weigh as much as 7 ½ tons. While its huge size gave it a predatory advantage, the really fearsome aspect of this dinosaur is its head. It had a head that was almost as long as the average human male was tall—about 5 feet long—and was filled with 8 inch razor sharp teeth. This allowed it to be the apex predator during its time, easily preying on herbivores such as the Ouranosaurus.
While this dinosaur was likely the top predator in its ecosystem, that doesn't mean that it didn't have to compete with other top carnivores. Fossils of this creature have been found in some of the same areas that Spinosaurs and Sarcosuchus dinosaurs were found. Most likely, these 3 carnivores were fierce competitors and had to battle each other for territory.
Information
Cost and Time to Hatch
Availability
Market
DNA Research
550 x5
Placement Cost
14,800
Incubation Time
4:03:00
XP
148
Dimensions
8x8

Initial Message: This Carcharodontosaurus is also known as the "Shark-toothed lizard".

First Evolution Message: Even with its huge size, the Carcharodontosaurus had rivals like the Spinosaurus.

Second Evolution Message: The Carcharodontosaurus was bigger than Tyrannosaurus Rex with a length of 45 feet. That's half the distance of two bases on a baseball diamond.

Third Evolution Message: The first discovered Carcharodontosaurus fossil was destroyed in Germany during World War II in a bombing raid.
Level-Based Stats
| Level | Unmodified Earning Rates (40 Min) | Feeding Costs (Meat) | Ferocity | Life | Attack |
| --- | --- | --- | --- | --- | --- |
| 1 | 550 (821 / Hour) | 55 (x5 = 275) |  ? | N/A | N/A - N/A |
| 2 | 606 (904 / Hour) | 91 (x5 = 455) |  ? | N/A | N/A - N/A |
| 3 | 662 (988 / Hour) | 127 (x5 = 635) |  ? | N/A | N/A - N/A |
| 4 | 719 (1,073 / Hour) | 163 (x5 = 815) |  ? | N/A | N/A - N/A |
| 5 | 775 (1,157 / Hour) | 199 (x5 = 995) | 6 | 55 | 7 - 43 |
| 6 | 832 (1,242 / Hour) | 235 (x5 = 1,175) | 7 | 66 | 8 - 50 |
| 7 | 888 (1,325 / Hour) | 272 (x5 = 1,360) | 8 | 77 | 10 - 64 |
| 8 | 944 (1,409 / Hour) | 308 (x5 = 1,540) | 9 | 88 | 12 - 72 |
| 9 | 1,001 (1,494 / Hour) | 344 (x5 = 1,720) | 10 | 99 | 13 - 79 |
| 10 | 1,058 (1,579 / Hour) | Evolve: 2,650 per attempt | 11 | 110 | 14 - 86 |
| 11 | 1,114 (1,663 / Hour) | 416 (x5 = 2,080) | 13 | 121 | 15 - 93 |
| 12 | 1,170 (1,746 / Hour) | 453 (x5 = 2,265) | 14 | 132 | 16 - 100 |
| 13 | 1,226 (1,830 / Hour) | 489 (x5 = 2,445) | 15 | 143 | 19 - 115 |
| 14 | 1,283 (1,915 / Hour) | 525 (x5 = 2,625) | 16 | 154 | 20 - 122 |
| 15 | 1,340 (2,000 / Hour) | 561 (x5 = 2,805) | 17 | 165 | 21 - 129 |
| 16 | 1,396 (2,084 / Hour) | 597 (x5 = 2,985) | 18 | 176 | 22 - 136 |
| 17 | 1,452 (2,167 / Hour) | 633 (x5 = 3,165) | 19 | 187 | 24 - 144 |
| 18 | 1,508 (2,251 / Hour) | 670 (x5 = 3,350) | 20 | 198 | 25 - 151 |
| 19 | 1,565 (2,336 / Hour) | 700 (x5 = 3,500) | 21 | 209 | 26 - 158 |
| 20 | 1,622 (2,421 / Hour) | Evolve: 5,800 per attempt | 22 | 220 | 28 - 172 |
| 21 | 1,688 (2,519 / Hour) | 775 (x5 = 3,875) | 24 | 231 | 30 - 180 |
| 22 | 1,744 (2,603 / Hour) | 811 (x5 = 4,055) | 25 | 242 | 31 - 187 |
| 23 | 1,802 (2,690 / Hour) | 847 (x5 = 4,235) | 26 | 253 | 32 - 194 |
| 24 | 1,858 (2,773 / Hour) | 883 (x5 = 4,415) | 27 | 264 | 33 - 201 |
| 25 | 1,915 (2,858 / Hour) | 919 (x5 = 4,595) | 28 | 275 | 34 - 208 |
| 26 | 1,972 (2,943 / Hour) | 955 (x5 = 4,775) | 29 | 286 | 37 - 223 |
| 27 | 2,029 (3,028 / Hour) | 991 (x5 = 4,955) | 30 | 297 | 38 - 230 |
| 28 | 2,086 (3,113 / Hour) | 1,027 (x5 = 5,135) | 31 | 308 | 39 - 237 |
| 29 | 2,143 (3,199 / Hour) | 1,063 (x5 = 5,315) | 32 | 319 | 40 - 244 |
| 30 | 2,200 (3,284 / Hour) | Evolve: 10,500 per attempt | 33 | 330 | 42 - 252 |
| 31 | 2,242 (3,346 / Hour) | 1,141 (x5 = 5,705) | 35 | 341 | 43 - 259 |
| 32 | 2,299 (3,431 / Hour) | 1,177 (x5 = 5,885) | 36 | 352 | 44 - 266 |
| 33 | 2,356 (3,516 / Hour) | 1,213 (x5 = 6,065) | 37 | 363 | 46 - 280 |
| 34 | 2,411 (3,599 / Hour) | 1,249 (x5 = 6,245) | 38 | 374 | 48 - 288 |
| 35 | 2,468 (3,684 / Hour) | 1,285 (x5 = 6,425) | 39 | 385 | 49 - 295 |
| 36 | 2,524 (3,767 / Hour) | 1,321 (x5 = 6,605) | 40 | 396 | 50 - 302 |
| 37 | 2,580 (3,851 / Hour) | 1,357 (x5 = 6,785) | 41 | 407 | 51 - 309 |
| 38 | 2,637 (3,936 / Hour) | 1,393 (x5 = 6,965) | 42 | 418 | 52 - 316 |
| 39 | 2,693 (4,019 / Hour) | 1,430 (x5 = 7,150) | 43 | 429 | 55 - 331 |
| 40 | 2,750 (4,104 / Hour) | MAX | 44 | 440 | 56 - 338 |
Total Meat to Max: 133,375
Carcharodontosaurus Level 40
Tournament-Battle Arena Profile Picture
Carcharodontosaurus in Battle
Carcharodontosaurus Level 40 Pictures