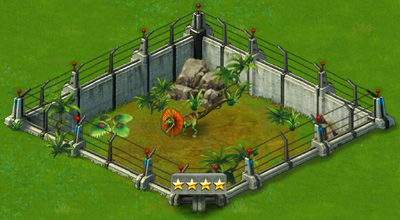 Battle Weakness: Charge
Battle Class :Bronze
Dilophosaurus is a genus of theropod dinosaur that appeared around 193 mya. It was disovered in the Kayenta formation of Arizona, USA.
Dilophosaurus was among the largest predatory dinosaurs of its time, and is notable for having a pair of rounded crests on its skull. It is probably one of the most well known dinosaurs in the thanks to the movie, Jurassic Park, in the movie the Dilophosaurus had a frill around its neck to frighten predators away, it also has a black poisonous spit that can blind and poison its enemies. Though in reality, no evidence has been found to prove this.
At about 7 meters (23 ft) in length, with a weight of about 400 kilograms (880 lb), Dilophosaurus was one of the earliest large predatory dinosaurs, though it was smaller than some later theropods. It was slender and lightly built, and the skull was proportionally large, but delicate. The snout was narrow, and the upper jaw had a gap or kink below the nostril. It had a pair of longitudinal, plate-shaped crests on its skull, similar to a cassowary with two crests. The mandible was slender and delicate at the front, but deep at the back. The teeth were long, curved, thin, and compressed sideways. Those in the lower jaw were much smaller than those of the upper jaw. Most of the teeth had serrations at their front and back edges. The neck was long, and its vertebrae were hollow, and very light. The arms were powerful, with a long and slender upper arm bone. The hands had four fingers: the first was short but strong and bore a large claw, the two following fingers were longer and slenderer with smaller claws, and the fourth was vestigial. The thigh bone was massive, the feet were stout, and the toes bore large claws.
Information
Cost and Time to Hatch
Availability
Market
DNA Research
100 x1
Placement Cost
600
Incubation Time
00:27:00
XP
6
Dimensions
6x6

Initial Message: The name Dilophosaurus means "two-ridged reptile" for the parallel crests on the top of its head.

First Evolution Message: Considered as the terror of the early Jurassic, the Dilophosaurus was considered the dominant predator of its time.

Second Evolution Message: The Dilophosaurus had three toes covered with claws on its rear feet.

Third Evolution Message: No evidence was found to conclude that the Dilophosaurus was poisonous.
Level-Based Stats
| Level | Unmodified Earning Rates (15 Min) | Feeding Costs (Meat) | Ferocity | Life | Attack |
| --- | --- | --- | --- | --- | --- |
| 1 | 270 (1,080 / Hour) | 27 (x5 = 135) |  ? | N/A | N/A - N/A |
| 2 | 297 (1,188 / Hour) | 44 (x5 = 220) |  ? | N/A | N/A - N/A |
| 3 | 325 (1,300 / Hour) | 62 (x5 = 310) |  ? | N/A | N/A - N/A |
| 4 | 353 (1,412 / Hour) | 80 (x5 = 400) |  ? | N/A | N/A - N/A |
| 5 | 380 (1,520 / Hour) | 98 (x5 = 490) | 4 | 36 | 2 - 12 |
| 6 | 408 (1,632 / Hour) | 115 (x5 = 575) | 4 | 43 | 2 - 12 |
| 7 | 436 (1,744 / Hour) | 133 (x5 = 665) | 4 | 50 | 3 - 18 |
| 8 | 463 (1,852 / Hour) | 151 (x5 = 755) | 5 | 57 | 3 - 18 |
| 9 | 491 (1,964 / Hour) | 169 (x5 = 845) | 5 | 64 | 3 - 18 |
| 10 | 519 (2,076 / Hour) | Evolve: 1,000 per attempt | 6 | 71 | 3 - 18 |
| 11 | 547 (2,188 / Hour) | 204 (x5 = 1,020) | 6 | 60 | 8 - 50 |
| 12 | 574 (2,296 / Hour) | 222 (x5 = 1,110) | 7 | 65 | 8 - 50 |
| 13 | 602 (2,408 / Hour) | 240 (x5 = 1,200) | 8 | 71 | 9 - 57 |
| 14 | 630 (2,520 / Hour) | 257 (x5 = 1,285) | 8 | 76 | 9 - 57 |
| 15 | 657 (2,628 / Hour) | 275 (x5 = 1,375) | 9 | 81 | 10 - 64 |
| 16 | 685 (2,740 / Hour) | 293 (x5 = 1,465) | 9 | 87 | 12 - 72 |
| 17 | 713 (2,852 / Hour) | 311 (x5 = 1,555) | 10 | 92 | 12 - 72 |
| 18 | 740 (2,960 / Hour) | 328 (x5 = 1,640) | 10 | 98 | 13 - 79 |
| 19 | 768 (3,072 / Hour) | 346 (x5 = 1,730) | 11 | 103 | 13 - 79 |
| 20 | 796 (3,184 / Hour) | Evolve: 2,650 per attempt | 11 | 108 | 14 - 86 |
| 21 | 823 (3,292 / Hour) | 382 (x5 = 1,910) | 12 | 114 | 14 - 86 |
| 22 | 851 (3,404 / Hour) | 400 (x5 = 2,000) | 12 | 119 | 15 - 93 |
| 23 | 879 (3,516 / Hour) | 417 (x5 = 2,085) | 13 | 125 | 16 - 100 |
| 24 | 907 (3,628 / Hour) | 435 (x5 = 2,175) | 13 | 130 | 16 - 100 |
| 25 | 934 (3,736 / Hour) | 453 (x5 = 2,265) | 14 | 135 | 18 - 108 |
| 26 | 962 (3,848 / Hour) | 471 (x5 = 2,355) | 15 | 141 | 18 - 108 |
| 27 | 990 (3,960 / Hour) | 488 (x5 = 2,440) | 15 | 146 | 19 - 115 |
| 28 | 1,017 (4,068 / Hour) | 506 (x5 = 2,530) | 16 | 152 | 19 - 115 |
| 29 | 1,045 (4,180 / Hour) | 524 (x5 = 2,620) | 16 | 157 | 20 - 122 |
| 30 | 1,073 (4,292 / Hour) | Evolve: 4,500 per attempt | 17 | 162 | 21 - 129 |
| 31 | 1,100 (4,400 / Hour) | 559 (x5 = 2,795) | 17 | 168 | 21 - 129 |
| 32 | 1,128 (4,512 / Hour) | 577 (x5 = 2,885) | 18 | 173 | 22 - 136 |
| 33 | 1,156 (4,624 / Hour) | 595 (x5 = 2,975) | 18 | 179 | 22 - 136 |
| 34 | 1,183 (4,732 / Hour) | 613 (x5 = 3,065) | 19 | 184 | 24 - 144 |
| 35 | 1,211 (4,844 / Hour) | 630 (x5 = 3,150) | 19 | 189 | 24 - 144 |
| 36 | 1,239 (4,956 / Hour) | 648 (x5 = 3,240) | 20 | 195 | 25 - 151 |
| 37 | 1,267 (5,068 / Hour) | 666 (x5 = 3,330) | 20 | 200 | 25 - 151 |
| 38 | 1,294 (5,176 / Hour) | 684 (x5 = 3,420) | 21 | 206 | 26 - 158 |
| 39 | 1,322 (5,288 / Hour) | 702 (x5 = 3,510) | 22 | 211 | 27 - 165 |
| 40 | 1,350 (5,400 / Hour) | MAX | 22 | 216 | 27 - 165 |
Total Meat to Max: 65,525
Dilophosaurus Level 40
Tournament-Battle Arena Profile Picture
Dilophosaurus in Battle
Dilophosaurus Level 40 Pictures