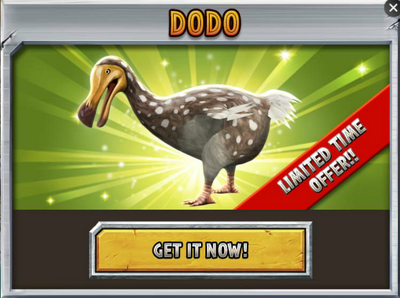 Battle Weakness: Charge
Battle Class: Gold
The dodo (Raphus cucullatus) is an extinct flightless bird that was endemic to the island of Mauritius, east of Madagascar in the Indian Ocean. The dodo's closest genetic relative was the also extinct Rodrigues solitaire, the two forming the subfamily Raphinae of the family of pigeons and doves. The closest living relative of the dodo is the Nicobar pigeon. A white dodo was once thought to have existed on the nearby island of Réunion, but this is now thought to have been confusion based on the Réunion ibis and paintings of white dodos.
Subfossil remains show the dodo was about 1 metre (3 ft 3 in) tall and may have weighed 10.6–17.5 kg (23–39 lb) in the wild. The dodo's appearance in life is evidenced only by drawings, paintings, and written accounts from the 17th century. Because these vary considerably, and because only some illustrations are known to have been drawn from live specimens, its exact appearance in life remains unresolved, and little is known about its behaviour. Though the dodo has historically been considered fat and clumsy, it is now thought to have been well-adapted for its ecosystem. It has been depicted with brownish-grey plumage, yellow feet, a tuft of tail feathers, a grey, naked head, and a black, yellow, and green beak. It used gizzard stones to help digest its food, which is thought to have included fruits, and its main habitat is believed to have been the woods in the drier coastal areas of Mauritius. One account states its clutch consisted of a single egg. It is presumed that the dodo became flightless because of the ready availability of abundant food sources and a relative absence of predators on Mauritius.
Information
Cost and Time to Hatch
Availability
Limited
DNA Research
20,000
Placement Cost
176,500
Incubation Time
22:03:00
XP
1,765 + 4 x 5,292
Dimensions
6x6

Initial Message: The Dodo is also known as Raphus.

First Evolution Message: The Dodo was hunted to be eaten, but it seems like it didn't taste really good.

Second Evolution Message: The bird was the inspiration behind the saying, "As dead as a dodo."

Third Evolution Message: Humans completely decimated the population of Dodos 300 years ago.
Level-Based Stats
| Level | Unmodified Earning Rates (8 Hrs) | Feeding Costs (Crops) | Ferocity | Life | Attack |
| --- | --- | --- | --- | --- | --- |
| 1 | 4,304 (538 / Hour) | 430 (x5 = 2,150) |  ? | N/A | N/A - N/A |
| 2 | 4,744 (593 / Hour) | 712 (x5 = 3,560) |  ? | N/A | N/A - N/A |
| 3 | 5,184 (648 / Hour) | 995 (x5 = 4,975) |  ? | N/A | N/A - N/A |
| 4 | 5,624 (703 / Hour) | 1,278 (x5 = 6,390) |  ? | N/A | N/A - N/A |
| 5 | 6,064 (758 / Hour) | 1,561 (x5 = 7,805) |  ? | 1,022 | 55 - 331 |
| 6 | 6,504 (813 / Hour) | 1,844 (x5 = 9,220) |  ? | 1,226 | 66 - 396 |
| 7 | 6,944 (868 / Hour) | 2,127 (x5 = 10,635) |  ? | 1,430 | 76 - 460 |
| 8 | 7,384 (923 / Hour) | 2,410 (x5 = 12,050) |  ? | 1,634 | 88 - 532 |
| 9 | 7,831 (979 / Hour) | 2,693 (x5 = 13,465) |  ? | 1,839 | 99 - 597 |
| 10 | 8,272 (1,034 / Hour) | Evolve: 30,000 per attempt |  ? | 2,043 | 110 - 662 |
| 11 | 8,712 (1,089 / Hour) | 3,259 (x5 = 16,295) |  ? | 2,247 | 121 - 727 |
| 12 | 9,152 (1,144 / Hour) | 3,542 (x5 = 17,710) |  ? | 2,451 | 132 - 792 |
| 13 | 9,592 (1,199 / Hour) | 3,825 (x5 = 19,125) |  ? | 2,656 | 142 - 856 |
| 14 | 10,032 (1,254 / Hour) | 4,107 (x5 = 20,535) |  ? | 2,860 | 153 - 921 |
| 15 | 10,472 (1,309 / Hour) | 4,390 (x5 = 21,950) |  ? | 3,064 | 165 - 993 |
| 16 | 10,912 (1,364 / Hour) | 4,673 (x5 = 23,365) |  ? | 3,268 | 176 - 1,058 |
| 17 | 11,360 (1,420 / Hour) | 4,956 (x5 = 24,780) |  ? | 3,473 | 187 - 1,123 |
| 18 | 11,800 (1,475 / Hour) | 5,239 (x5 = 26,195) |  ? | 3,677 | 198 - 1,188 |
| 19 | 12,240 (1,530 / Hour) | 5,522 (x5 = 27,610) |  ? | 3,881 | 208 - 1,252 |
| 20 | 12,680 (1,585 / Hour) | Evolve: 40,000 per attempt |  ? | 4,085 | 219 - 1,317 |
| 21 | 13,120 (1,640 / Hour) | 6,088 (x5 = 30,440) |  ? | 4,290 | 230 - 1,382 |
| 22 | 13,560 (1,695 / Hour) | 6,371 (x5 = 31,855) |  ? | 4,494 | 242 - 1,454 |
| 23 | 14,000 (1,750 / Hour) | 6,654 (x5 = 33,270) |  ? | 4,698 | 253 - 1,519 |
| 24 | 14,440 (1,805 / Hour) | 6,937 (x5 = 34,685) |  ? | 4,902 | 264 - 1,584 |
| 25 | 14,888 (1,861 / Hour) | 7,220 (x5 = 36,100) |  ? | 5,107 | 274 - 1,648 |
| 26 | 15,328 (1,916 / Hour) | 7,502 (x5 = 37,510) |  ? | 5,311 | 285 - 1,713 |
| 27 | 15,768 (1,971 / Hour) | 7,785 (x5 = 38,925) |  ? | 5,515 | 296 - 1,778 |
| 28 | 16,207 (2,026 / Hour) | 8,068 (x5 = 40,340) |  ? | 5,719 | 307 - 1,843 |
| 29 | 16,648 (2,081 / Hour) | 8,351 (x5 = 41,755) |  ? | 5,924 | 318 - 1,908 |
| 30 | 17,088 (2,136 / Hour) | Evolve: 50,000 per attempt |  ? | 6,128 | 330 - 1,980 |
| 31 | 17,528 (2,191 / Hour) | 8,917 (x5 = 44,585) |  ? | 6,332 | 340 - 2,044 |
| 32 | 17,968 (2,246 / Hour) | 9,200 (x5 = 46,000) |  ? | 6,536 | 351 - 2,109 |
| 33 | 18,416 (2,302 / Hour) | 9,483 (x5 = 47,415) |  ? | 6,741 | 362 - 2,174 |
| 34 | 18,856 (2,357 / Hour) | 9,766 (x5 = 48,830) |  ? | 6,945 | 373 - 2,239 |
| 35 | 19,296 (2,412 / Hour) | 10,049 (x5 = 50,245) |  ? | 7,149 | 384 - 2,304 |
| 36 | 19,736 (2,467 / Hour) | 10,332 (x5 = 51,660) |  ? | 7,353 | 394 - 2,368 |
| 37 | 20,176 (2,522 / Hour) | 10,615 (x5 = 53,075) |  ? | 7,558 | 406 - 2,440 |
| 38 | 20,616 (2,577 / Hour) | 10,897 (x5 = 54,485) |  ? | 7,762 | 417 - 2,505 |
| 39 | 21,056 (2,632 / Hour) | 11,180 (x5 = 55,900) |  ? |  ? |  ? - ? |
| 40 | 21,504 (2,688 / Hour) | MAX |  ? | 8,170 | 439 - 2,635 |
Total Crops to Max: 1,044,890
Dodo Level 40
Tournament-Battle Arena Profile Picture
Dodo in Battle
Dodo Level 40 Pictures