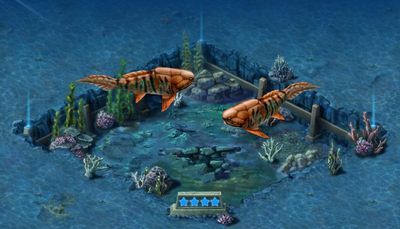 Battle Weakness: Charge
Battle Class: Bronze
Diet: Piscivore
Dunkleosteus is an extinct genus of arthrodire placoderm fish that existed during the Late Devonian period, about 358–382 million years ago. The name Dunkleosteus combines the Greek osteus (οστεος), meaning "bone", and Dunkle, in honor of David Dunkle of the Cleveland Museum of Natural History.
It consists of ten species: D. terrelli, D. belgicus, D. denisoni, D. marsaisi, D. magnificus, D. missouriensis, D. newberryi, D. amblyodoratus, and D. raveri; some of which are among the largest placoderms to have ever lived. The largest species, D. terrelli, grew up to 6 m (19.7 ft) long and 1 t (1.1 short tons) in weight. Few other placoderms rivaled Dunkleosteus in size. Dunkleosteus could quickly open and close its jaw, like modern day suction feeders, and had a bite force of 6,000 to 7,400 N (1,350 to 1,660 lbf).
Information
Cost and Time to Hatch
Availability
Market
DNA Research
1,000 x10
Placement Cost
19,050
Incubation Time
06:03:00
XP
Dimensions
8x8

Initial Message: The Dunkleosteus could eat anything, even its own kind.

First Evolution Message: Eating anything causes the Dunkleosteus to suffer from indigestion.

Second Evolution Message: Instead of teeth, the Dunkleosteus had 2 long blades made out of bones.

Third Evolution Message: Dunkleosteus means "Dunkle's bones" in Greek, named after David Dunkle, a curator.
Level-Based Stats
| Level | Unmodified Earning Rates (2 hrs) | Feeding Costs (Fish) | Ferocity | Life | Attack |
| --- | --- | --- | --- | --- | --- |
| 1 | 550 (275 / Hour) | 55 (x5 = 275) |  ? | N/A | N/A - N/A |
| 2 | 606 (303 / Hour) | 91 (x5 = 455) |  ? | N/A | N/A - N/A |
| 3 | 662 (331 / Hour) | 127 (x5 = 635) |  ? | N/A | N/A - N/A |
| 4 | 720 (360 / Hour) | 163 (x5 = 815) |  ? | N/A | N/A - N/A |
| 5 | 776 (388 / Hour) | 199 (x5 = 995) |  ? | 55 | 7 - 43 |
| 6 | 832 (416 / Hour) | 235 (x5 = 1,175) |  ? | 66 | 8 - 50 |
| 7 | 888 (444 / Hour) | 272 (x5 = 1,360) |  ? | 77 | 10 - 64 |
| 8 | 944 (472 / Hour) | 308 (x5 = 1,540) |  ? | 88 | 12 - 72 |
| 9 | 1,042 (521 / Hour) | 344 (x5 = 1,720) |  ? | 99 | 13 - 79 |
| 10 | 1,058 (529 / Hour) | Evolve: 3,000 per attempt |  ? | 110 | 14 - 86 |
| 11 | 1,114 (557 / Hour) | 416 (x5 = 2,080) |  ? | 121 | 15 - 93 |
| 12 | 1,170 (585 / Hour) | 453 (x5 = 2,265) |  ? | 132 | 16 - 100 |
| 13 | 1,226 (613 / Hour) | 489 (x5 = 2,445) |  ? | 143 | 19 - 115 |
| 14 | 1,284 (642 / Hour) | 525 (x5 = 2,625) |  ? | 154 | 20 - 122 |
| 15 | 1,340 (670 / Hour) | 561 (x5 = 2,805) |  ? | 165 | 21 - 129 |
| 16 | 1,396 (698 / Hour) | 597 (x5 = 2,985) |  ? | 176 | 22 - 136 |
| 17 | 1,452 (726 / Hour) | 633 (x5 = 3,165) |  ? | 187 | 24 - 144 |
| 18 | 1,508 (754 / Hour) | 670 (x5 = 3,350) |  ? | 198 | 25 - 151 |
| 19 | 1,566 (783 / Hour) | 706 (x5 = 3,530) |  ? | 209 | 26 - 158 |
| 20 | 1,622 (811 / Hour) | Evolve: 5,000 per attempt |  ? | 220 | 28 - 172 |
| 21 | 1,678 (839 / Hour) | 778 (x5 = 3,890) |  ? | 231 | 30 - 180 |
| 22 | 1,734 (867 / Hour) | 814 (x5 = 4,070) |  ? | 242 | 31 - 187 |
| 23 | 1,792 (896 / Hour) | 851 (x5 = 4,255) |  ? | 253 | 32 - 194 |
| 24 | 1,848 (924 / Hour) | 887 (x5 = 4,435) |  ? | 264 | 33 - 201 |
| 25 | 1,904 (952 / Hour) | 923 (x5 = 4,615) |  ? | 275 | 34 - 208 |
| 26 | 1,960 (980 / Hour) | 959 (x5 = 4,795) |  ? | 286 | 37 - 223 |
| 27 | 2,016 (1,008 / Hour) | 995 (x5 = 4,975) |  ? | 297 | 38 - 230 |
| 28 | 2,074 (1,037 / Hour) | 1,032 (x5 = 5,160) |  ? | 308 | 29 - 237 |
| 29 | 2,130 (1,065 / Hour) | 1,068 (x5 = 5,340) |  ? | 319 | 40 - 244 |
| 30 | 2,168 (1,084 / Hour) | Evolve: 7,000 per attempt |  ? | 330 | 42 - 252 |
| 31 | 2,242 (1,121 / Hour) | 1,140 (x5 = 5,700) |  ? | 341 | 43 - 259 |
| 32 | 2,298 (1,149 / Hour) | 1,176 (x5 = 5,880) |  ? | 352 | 44 - 266 |
| 33 | 2,356 (1,178 / Hour) | 1,212 (x5 = 6,060) |  ? | 363 | 46 - 280 |
| 34 | 2,412 (1,206 / Hour) | 1,249 (x5 = 6,245) |  ? | 374 | 48 - 288 |
| 35 | 2,468 (1,234 / Hour) | 1,305 (x5 = 6,525) |  ? | 385 | 49 - 295 |
| 36 | 2,525 (1,263 / Hour) | 1,321 (x5 = 6,605) |  ? | 396 | 50 - 302 |
| 37 | 2,600 (1,300 / Hour) | 1,357 (x5 = 6,785) |  ? | 407 | 51 - 309 |
| 38 | 2,638 (1,319 / Hour) | 1,393 (x5 = 6,965) |  ? | 418 | 52 - 316 |
| 39 | 2,694 (1,347 / Hour) | 1,430 (x5 = 7,150) |  ? | 429 | 55 - 331 |
| 40 | 2,750 (1,375 / Hour) | MAX |  ? | 440 | 56 - 338 |
Total Fish to Max: 133,685
Dunkleosteus Level 40
Tournament-Battle Arena Profile Picture
Dunkleosteus in Battle
Dunkleosteus Level 40 Pictures