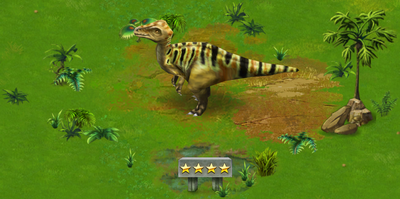 Battle Weakness : Swipe
Battle Class: Gold
Edmontosaurus (/ɛdˌmɒntəˈsɔːrəs/ ed-MON-tə-SAWR-əs) (meaning "lizard from Edmonton") is a genus of hadrosaurid (duck-billed) dinosaur. It contains two known species: Edmontosaurus regalis and Edmontosaurus annectens. Fossils of E. regalis have been found in rocks of western North America that date from the late Campanian stage of the Cretaceous Period 73 million years ago, while those of E. annectens were found in the same geographic region but in rocks dated to the end of the Maastrichtian stage of the Cretaceous, 66 million years ago. Edmontosaurus was one of the last non-avian dinosaurs, and lived alongside dinosaurs like Triceratops, Tyrannosaurus, and Dakotaraptor shortly before the Cretaceous–Paleogene extinction event.
Edmontosaurus included some of the largest hadrosaurid species, measuring up to 12 metres (39 ft) long and weighing around 4.0 metric tons (4.4 short tons). Evidence does exist in the form of two fossilized specimens housed at the Museum of the Rockies for an even greater maximum size of 15 m (49 ft) and weighing 9.07 metric tons (10.00 short tons) for Edmontosaurus annectens. Several well-preserved specimens are known that include not only bones, but in some cases extensive skin impressions and possible gut contents. It is classified as a genus of saurolophine (or hadrosaurine) hadrosaurid, a member of the group of hadrosaurids which lacked large, hollow crests, instead having smaller solid crests or fleshy combs.
It is the 2nd last Dinosaur you can buy with coins in the game.
Information
Cost and Time to Hatch
Availability
Market
DNA Research
13,550 x10
Placement Cost
267,550
Incubation Time
45:00:00
XP
2,670
Dimensions
7x7

Initial Message: The name Edmontosaurus means "reptile from Edmonton", a city in Canada, where it was found.

First Evolution Message: Along with its regular teeth, the Edmontosaurus had thousands of replacement teeth.

Second Evolution Message: The Edmontosaurus could form brightly colored bags by filling with air loose skin in front of its hollow nostrils.

Third Evolution Message: Evidence shows that the Edmontosaurus was a regular feature of the T-Rex's menu.
Level-Based Stats
| Level | Unmodified Earning Rates (12 Hrs) | Feeding Costs (Crops) | Ferocity | Life | Attack |
| --- | --- | --- | --- | --- | --- |
| 1 | 3,252 (271 / Hour) | 325 (x5 = 1,625) |  ? | N/A | N/A - N/A |
| 2 | 3,588 (299 / Hour) | 538 (x5 = 2,690) |  ? | N/A | N/A - N/A |
| 3 | 3,912 (326 / Hour) | 752 (x5 = 3,760) |  ? | N/A | N/A - N/A |
| 4 | 4,248 (354 / Hour) | 966 (x5 = 4,830) |  ? | N/A | N/A - N/A |
| 5 | 4,584 (382 / Hour) | 1,180 (x5 = 5,900) |  ? | 650 | 42 - 252 |
| 6 | 4,920 (410 / Hour) | 1,394 (x5 = 6,970) |  ? | 780 | 49 - 295 |
| 7 | 5,256 (438 / Hour) | 1,608 (x5 = 8,040) |  ? | 910 | 57 - 345 |
| 8 | 5,580 (465 / Hour) | 1,821 (x5 = 9,105) |  ? | 1,040 | 66 - 396 |
| 9 | 5,916 (493 / Hour) | 2,035 (x5 = 10,175) |  ? | 1,170 | 74 - 446 |
| 10 | 6,252 (521 / Hour) | Evolve: 20,000 per attempt |  ? | 1,300 | 82 - 496 |
| 11 | 6,588 (549 / Hour) | 2,463 (x5 = 12,315) |  ? | 1,430 | 91 - 547 |
| 12 | 6,912 (576 / Hour) | 2,677 (x5 = 13,385) | 207 | 1,560 | 98 - 590 |
| 13 | 7,248 (604 / Hour) | 2,891 (x5 = 14,455) |  ? | 1,690 | 106 - 640 |
| 14 | 7,584 (632 / Hour) | 3,104 (x5 = 15,520) |  ? | 1,820 | 115 - 691 |
| 15 | 7,920 (660 / Hour) | 3,318 (x5 = 16,590) |  ? | 1,950 | 123 - 741 |
| 16 | 8,256 (688 / Hour) | 3,532 (x5 = 17,660) |  ? | 2,080 | 132 - 792 |
| 17 | 8,580 (715 / Hour) | 3,746 (x5 = 18,730) |  ? | 2,210 | 140 - 842 |
| 18 | 8,916 (743 / Hour) | 3,960 (x5 = 19,800) |  ? | 2,340 | 147 - 885 |
| 19 | 9,252 (771 / Hour) | 4,174 (x5 = 20,870) |  ? | 2,470 | 156 - 936 |
| 20 | 9,501 (792 / Hour) | Evolve: 20,500 per attempt |  ? | 2,600 | 164 - 986 |
| 21 | 9,912 (826 / Hour) | 4,601 (x5 = 23,005) |  ? | 2,730 | 172 - 1,036 |
| 22 | 10,248 (854 / Hour) | 4,815 (x5 = 24,075) |  ? | 2,860 | 181 - 1,087 |
| 23 | 10,584 (882 / Hour) | 5,029 (x5 = 25,145) |  ? | 2,990 | 188 - 1,130 |
| 24 | 10,920 (910 / Hour) | 5,243 (x5 = 26,215) |  ? | 3,120 | 196 - 1,180 |
| 25 | 11,256 (938 / Hour) | 5,457 (x5 = 27,285) |  ? | 3,250 | 205 - 1,231 |
| 26 | 11,580 (965 / Hour) | 5,670 (x5 = 28,350) |  ? | 3,380 | 213 - 1,281 |
| 27 | 11,916 (993 / Hour) | 5,884 (x5 = 29,420) |  ? | 3,510 | 222 - 1,332 |
| 28 | 12,252 (1,021 / Hour) | 6,098 (x5 = 30,490) |  ? | 3,640 | 230 - 1,382 |
| 29 | 12,588 (1,049 / Hour) | 6,312 (x5 = 31,560) |  ? | 3,770 | 237 - 1,425 |
| 30 | 12,912 (1,076 / Hour) | Evolve: 31,500 per attempt |  ? | 3,900 | 246 - 1,476 |
| 31 | 13,248 (1,104 / Hour) | 6,740 (x5 = 33,700) |  ? | 4,030 | 254 - 1,526 |
| 32 | 13,584 (1,132 / Hour) | 6,953 (x5 = 34,765) |  ? | 4,160 | 262 - 1,576 |
| 33 | 13,920 (1,160 / Hour) | 7,167 (x5 = 35,835) |  ? | 4,290 | 271 - 1,627 |
| 34 | 14,256 (1,188 / Hour) | 7,381 (x5 = 36,905) |  ? | 4,420 | 279 - 1,677 |
| 35 | 14,580 (1,215 / Hour) | 7,595 (x5 = 37,975) |  ? | 4,550 | 286 - 1,720 |
| 36 | 14,916 (1,243 / Hour) | 7,809 (x5 = 39,045) |  ? | 4,680 | 295 - 1,771 |
| 37 | 15,252 (1,271 / Hour) | 8,023 (x5 = 40,115) |  ? | 4,810 | 303 - 1,821 |
| 38 | 15,588 (1,299 / Hour) | 8,236 (x5 = 41,180) |  ? | 4,940 | 312 - 1,872 |
| 39 | 15,912 (1,326 / Hour) | 8,450 (x5 = 42,250) |  ? | 5,070 | 320 - 1,922 |
| 40 | 16,248 (1,354 / Hour) | MAX | 689 | 5,200 | 327 - 1,965 |
Total Crops to Max: 789,735
Edmontosaurus Level 40
Tournament-Battle Arena Profile Picture
Edmontosaurus in Battle
Edmontosaurus Level 40 Pictures