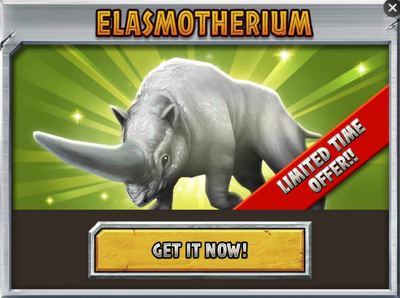 Weakness: Charge
Battle Class: Gold
Elasmotherium was a genus of rhinoceroses that lived from the late Pliocene, perhaps about 1.6 million years ago, until perhaps early historical times (some people say it may even has inspired the myth of the unicorn). During this time, different species evolved and died out, the the range of Elasmotherium changed, but at various times it is believed to inhabited China, Central Asia, Russia and parts of Eastern Europe.

Elasmotherium was a large animal;, about 20 feet (6 meters) long, 6.5 feet (2 meters) high, and weighing about 5 tons. Its most distinctive feature was a single 6 foot (2 meter) horn on its forehead.
Although it is not that Elasmotherium was a herbivore (plant eater), details on how it lived its life are still debate. One hypothesis is that if lived on the steppe, another is that it preferred riparian (river margin) habitats. There is some evidence in support of both hypotheses, so it is also possible that it lived in both habitats.
Information
Cost and Time to Hatch
Availability
Limited
DNA Research
20,000 x10
Placement Cost
530,100
Incubation Time
22:03:00
XP
Dimensions
10x10

Initial Message: The name Elasmotherium means "Plated Beast" in Greek.

First Evolution Message: In its era, the Elasmotherium was the biggest prehistoric rhinoceros.

Second Evolution Message: The horn on the Elasmotherium snout could reach 6 feet long, the length of a human being.

Third Evolution Message: The horn of the Elasmotherium was made of the same material as human hair, keratin.
Level-Based Stats
| Level | Unmodified Earning Rates (8 Hrs) | Feeding Costs (Crops) | Ferocity | Life | Attack |
| --- | --- | --- | --- | --- | --- |
| 1 | 4,648 (581 / Hour) | 465 (x5 = 2,325) | N/A | N/A | N/A - N/A |
| 2 | 5,128 (641 / Hour) | 770 (x5 = 3,850) | N/A | N/A | N/A - N/A |
| 3 | 5,600 (700 / Hour) | 1,076 (x5 = 5,380) | N/A | N/A | N/A - N/A |
| 4 | 6,080 (760 / Hour) | 1,382 (x5 = 6,910) | N/A | N/A | N/A - N/A |
| 5 | 6,560 (820 / Hour) | 1,688 (x5 = 8,440) | 155 | 1,105 | 60 - 360 |
| 6 | 7,032 (879 / Hour) | 1,994 (x5 = 9,970) | 185 | 1,326 | 72 - 432 |
| 7 | 7,511 (939 / Hour) | 2,300 (x5 = 11,500) | 216 | 1,547 | 84 - 504 |
| 8 | 7,992 (999 / Hour) | 2,606 (x5 = 13,030) | 247 | 1,767 | 96 - 576 |
| 9 | 8,464 (1,058 / Hour) | 2,912 (x5 = 14,560) | 278 | 1,988 | 106 - 640 |
| 10 | 8,944 (1,118 / Hour) | Evolve: 30,000 per attempt | 309 | 2,209 | 118 - 712 |
| 11 | 9,416 (1,177 / Hour) | 3,524 (x5 = 17,620) | 339 | 2,430 | 130 - 784 |
| 12 | 9,896 (1,237 / Hour) | 3,830 (x5 = 19,150) | 370 | 2,651 | 142 - 856 |
| 13 | 10,376 (1,297 / Hour) | 4,136 (x5 = 20,680) | 401 | 2,872 | 154 - 928 |
| 14 | 10,848 (1,356 / Hour) | 4,442 (x5 = 22,210) | 432 | 3,093 | 166 - 1,000 |
| 15 | 11,328 (1,416 / Hour) | 4,748 (x5 = 23,740) | 463 | 3,314 | 178 - 1,072 |
| 16 | 11,800 (1,475 / Hour) | 5,054 (x5 = 25,270) | 493 | 3,524 | 190 - 1,144 |
| 17 | 12,280 (1,535 / Hour) | 5,360 (x5 = 26,800) | 524 | 3,755 | 201 - 1,209 |
| 18 | 12,760 (1,595 / Hour) | 5,666 (x5 = 28,330) | 555 | 3,976 | 213 - 1,281 |
| 19 | 13,232 (1,654 / Hour) | 5,972 (x5 = 29,860) | 586 | 4,197 | 225 - 1,353 |
| 20 | 13,712 (1,714 / Hour) | Evolve: 40,000 per attempt | 586 | 4,197 | 2,325 - 14,353 |
| 21 | 14,192 (1,774 / Hour) | 6,583 (x5 = 32,915) | 647 | 4,639 | 249 - 1,497 |
| 22 | 14,664 (1,833 / Hour) | 6,889 (x5 = 34,445) |  ? |  ? |  ? - ? |
| 23 | 15,143 (1,893 / Hour) | 7,195 (x5 = 35,975) |  ? |  ? |  ? - ? |
| 24 | 15,615 (1,952 / Hour) | 7,501 (x5 = 37,505) |  ? |  ? |  ? - ? |
| 25 | 16,096 (2,012 / Hour) | 7,807 (x5 = 39,035) |  ? |  ? |  ? - ? |
| 26 | 16,576 (2,072 / Hour) | 8,113 (x5 = 40,565) |  ? |  ? |  ? - ? |
| 27 | 17,048 (2,131 / Hour) | 8,419 (x5 = 42,095) |  ? |  ? |  ? - ? |
| 28 | 17,528 (2,191 / Hour) | 8,725 (x5 = 43,625) |  ? |  ? |  ? - ? |
| 29 | 18,000 (2,250 / Hour) | 9,031 (x5 = 45,155) |  ? |  ? |  ? - ? |
| 30 | 18,480 (2,310 / Hour) | Evolve: 50,000 per attempt |  ? |  ? |  ? - ? |
| 31 | 18,960 (2,370 / Hour) | 9,643 (x5 = 48,215) |  ? |  ? |  ? - ? |
| 32 | 19,432 (2,429 / Hour) | 9,949 (x5 = 49,745) |  ? |  ? |  ? - ? |
| 33 | 19,912 (2,489 / Hour) | 10,255 (x5 = 51,275) |  ? |  ? |  ? - ? |
| 34 | 20,392 (2,549 / Hour) | 10,561 (x5 = 52,805) |  ? |  ? |  ? - ? |
| 35 | 20,864 (2,608 / Hour) | 10,867 (x5 = 54,335) |  ? |  ? |  ? - ? |
| 36 | 21,344 (2,668 / Hour) | 11,173 (x5 = 55,865) |  ? |  ? |  ? - ? |
| 37 | 21,816 (2,727 / Hour) | 11,479 (x5 = 57,395) |  ? |  ? |  ? - ? |
| 38 | 22,296 (2,787 / Hour) | 11,785 (x5 = 58,925) |  ? |  ? |  ? - ? |
| 39 | 22,776 (2,847 / Hour) | 12,090 (x5 = 60,450) |  ? |  ? |  ? - ? |
| 40 | 23,248 (2,906 / Hour) | MAX |  ? | 8,835 | 475 - 2,851 |
Total Crops to Max: 1,129,950
Elasmotherium Level 40
Tournament-Battle Arena Profile Picture
Elasmotherium in Battle
Elasmotherium Level 40 Pictures