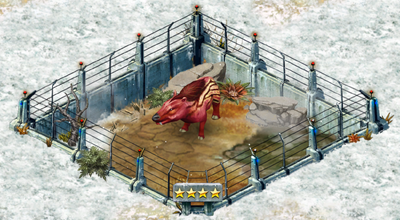 Battle Weakness: Swipe
Battle Class: Bronze
Entelodon (meaning "complete teeth", from Ancient Greek ἐντελής entelēs "complete" and ὀδών odōn "tooth", referring to its "complete" eutherian dentition), is an extinct genus of entelodont artiodactyl endemic to Eurasia. Fossils of species are found in Paleogene strata ranging in age from the Houldjinian (37.2–33.9 mya) until the Rupelian epoch of the early Oligocene (33.9–28.4 mya). Entelodon was around 1.35 metres (4 ft 5 in) tall at the shoulders, with a 65 centimetres (26 in) skull. Entelodon remains are primarily known from Europe, although one Entelodon specimen was found as far as northern China.
Entelodon magnus populated a broad swath of Europe, with remains found in Spain, Germany, France, Romania, and the Caucasus. Extensive remains of Entelodon deguilhemi were uncovered in Vayres-sur-Essonne, France. The Chinese Entelodon dirus is known from a single tooth discovered in Nei Mongol.
Information
Cost and Time to Hatch
Availability
Market
DNA Research
5,000 x10
Placement Cost
33,550
Incubation Time
22:03:00
XP
336
Dimensions
7x7

Initial Message: The name Entelodon means "Perfect Teeth" in Greek.

First Evolution Message: The Entelodon was nicknamed the "Killer Pig".

Second Evolution Message: The Entelodon was around the size of a cow.

Third Evolution Message: The Entelodon was probably not the smartest animal due to its small brain.
Level-Based Stats
| Level | Unmodified Earning Rates (2 Hrs) | Feeding Costs (Meat) | Ferocity | Life | Attack |
| --- | --- | --- | --- | --- | --- |
| 1 | 600 (300 / Hour) | 60 (x5 = 300) |  ? | N/A | N/A - N/A |
| 2 | 662 (331 / Hour) | 99 (x5 = 495) |  ? | N/A | N/A - N/A |
| 3 | 724 (362 / Hour) | 138 (x5 = 690) |  ? | N/A | N/A - N/A |
| 4 | 784 (392 / Hour) | 178 (x5 = 890) |  ? | N/A | N/A - N/A |
| 5 | 846 (423 / Hour) | 217 (x5 = 1,085) |  ? | 60 | 8 - 50 |
| 6 | 907 (454 / Hour) | 257 (x5 = 1,285) |  ? | 72 | 9 - 57 |
| 7 | 969 (485 / Hour) | 296 (x5 = 1,480) |  ? | 84 | 10 - 64 |
| 8 | 1,030 (515 / Hour) | 336 (x5 = 1,680) |  ? | 96 | 13 - 79 |
| 9 | 1,092 (546 / Hour) | 375 (x5 = 1,875) |  ? | 108 | 14 - 86 |
| 10 | 1,154 (577 / Hour) | Evolve: 10,000 per attempt |  ? | 120 | 15 - 93 |
| 11 | 1,216 (608 / Hour) | 454 (x5 = 2,270) |  ? |  ? |  ? - ? |
| 12 | 1,276 (638 / Hour) | 494 (x5 = 2,470) |  ? |  ? |  ? - ? |
| 13 | 1,338 (669 / Hour) | 533 (x5 = 2,665) |  ? |  ? |  ? - ? |
| 14 | 1,400 (700 / Hour) | 573 (x5 = 2,865) |  ? |  ? |  ? - ? |
| 15 | 1,462 (731 / Hour) | 612 (x5 = 3,060) |  ? |  ? |  ? - ? |
| 16 | 1,524 (762 / Hour) | 652 (x5 = 3,260) |  ? |  ? |  ? - ? |
| 17 | 1,584 (792 / Hour) | 691 (x5 = 3,455) |  ? |  ? |  ? - ? |
| 18 | 1,646 (823 / Hour) | 731 (x5 = 3,655) |  ? |  ? |  ? - ? |
| 19 | 1,708 (854 / Hour) | 770 (x5 = 3,850) |  ? |  ? |  ? - ? |
| 20 | 1,770 (885 / Hour) | Evolve: 15,000 per attempt |  ? | 240 | 31 - 187 |
| 21 | 1,830 (915 / Hour) | 849 (x5 = 4,245) |  ? | 252 | 32 - 194 |
| 22 | 1,892 (946 / Hour) | 889 (x5 = 4,445) |  ? | 264 | 33 - 201 |
| 23 | 1,954 (977 / Hour) | 928 (x5 = 4,640) |  ? | 276 | 34 - 208 |
| 24 | 2,016 (1,008 / Hour) | 967 (x5 = 4,835) |  ? | 288 | 37 - 223 |
| 25 | 2,076 (1,038 / Hour) | 1,007 (x5 = 5,035) |  ? | 300 | 38 - 230 |
| 26 | 2,138 (1,069 / Hour) | 1,046 (x5 = 5,230) |  ? | 312 | 39 - 237 |
| 27 | 2,200 (1,100 / Hour) | 1,086 (x5 = 5,430) |  ? | 324 | 42 - 252 |
| 28 | 2,262 (1,131 / Hour) | 1,125 (x5 = 5,625) |  ? | 336 | 43 - 259 |
| 29 | 2,324 (1,162 / Hour) | 1,165 (x5 = 5,825) |  ? | 348 | 44 - 266 |
| 30 | 2,384 (1,192 / Hour) | Evolve: 20,000 per attempt |  ? | 360 | 45 - 273 |
| 31 | 2,446 (1,223 / Hour) | 1,244 (x5 = 6,220) |  ? | 372 | 48 - 288 |
| 32 | 2,508 (1,254 / Hour) | 1,283 (x5 = 6,415) |  ? | 384 | 49 - 295 |
| 33 | 2,570 (1,285 / Hour) | 1,323 (x5 = 6,615) |  ? | 396 | 50 - 302 |
| 34 | 2,630 (1,315 / Hour) | 1,362 (x5 = 6,810) |  ? | 408 | 51 - 309 |
| 35 | 2,692 (1,346 / Hour) | 1,402 (x5 = 7,010) |  ? | 420 | 54 - 324 |
| 36 | 2,754 (1,377 / Hour) | 1,441 (x5 = 7,205) |  ? | 432 | 55 - 331 |
| 37 | 2,816 (1,408 / Hour) | 1,481 (x5 = 7,405) |  ? | 444 | 56 - 338 |
| 38 | 2,876 (1,438 / Hour) | 1,520 (x5 = 7,600) |  ? | 456 | 57 - 345 |
| 39 | 2,938 (1,469 / Hour) | 1,560 (x5 = 7,800) |  ? | 468 | 60 - 360 |
| 40 | 3,000 (1,500 / Hour) | MAX |  ? | 480 | 61 - 367 |
Total Meat to Max: 145,720
Entelodon Level 40
Tournament-Battle Arena Profile Picture
Entelodon in Battle
Entelodon Level 40 Pictures