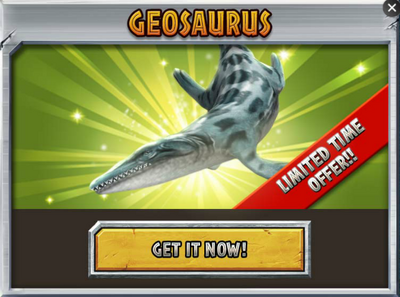 Battle Weakness: Swipe
Battle Class: Gold
Diet: Crustaceavore
Geosaurus is an extinct genus of marine crocodyliform within the family Metriorhynchidae, that lived during the Late Jurassic and the Early Cretaceous. Geosaurus was a carnivore that spent much, if not all, its life out at sea. No Geosaurus eggs or nests have been discovered, so little is known of the reptile's lifecycle, unlike other large marine reptiles of the Mesozoic, such as plesiosaurs or ichthyosaurs which are known to give birth to live young out at sea. Where Geosaurus mated, whether on land or at sea, is currently unknown. The name Geosaurus means "Mother of Giants lizard", and is derived from the Greek Ge- ("Earth", the mythical mother of the Giants) and σαῦρος -sauros ("lizard"). The name Geosaurus was established by the French naturalist Georges Cuvier in 1824.

Geosaurus was a large, marine reptile of the group Crurotarsi, the line leading to modern crocodilians. Specifically, it was a "marine crocodile", or thalattosuchian. Geosaurus was similar in appearance to the related Dakosaurus with a relatively short skull and curved teeth designed for slashing, which it likely used to attack large prey.
Geosaurus is the second best aquatic creature in Jurassic Park Builder. Mosasaurus is currently the best, Geo is very close. You can unlock it by doing expeditions and finding the DNA Sample.
Information
Cost and Time to Hatch
Availability
Limited
DNA Research
15,000 x10
Placement Cost
93,350
Incubation Time
06:03:00
XP
934 + 1,452
Dimensions
6x6

Initial Message: Geosaurus means "Earth Lizard" in Greek.

First Evolution Message: Even if the name of the Geosaurus relates to Earth, it spent its life underwater.

Second Evolution Message: Crocodiles are remote ancestors of the Geosaurus.

Third Evolution Message: The Geosaurus was also named Efraasia, because it was confused with another land dwelling dinosaur.
Level-Based Stats
| Level | Unmodified Earning Rates (7 Hrs) | Feeding Costs (Crustaceans) | Ferocity | Life | Attack |
| --- | --- | --- | --- | --- | --- |
| 1 | 4,802 (686 / Hour) | 480 (x5 = 2,400) | N/A | N/A | N/A - N/A |
| 2 | 5,292 (756 / Hour) | 795 (x5 = 3,975) | N/A | N/A | N/A - N/A |
| 3 | 5,782 (826 / Hour) | 1,111 (x5 = 5,555) | N/A | N/A | N/A - N/A |
| 4 | 6,279 (897 / Hour) | 1,427 (x5 = 7,135) | N/A | N/A | N/A - N/A |
| 5 | 6,769 (967 / Hour) | 1,743 (x5 = 8,715) | 159 | 1,140 | 61 - 367 |
| 6 | 7,259 (1,037 / Hour) | 2,059 (x5 = 10,295) | 191 | 1,368 | 74 - 446 |
| 7 | 7,756 (1,108 / Hour) | 2,374 (x5 = 11,870) | 223 | 1,596 | 86 - 516 |
| 8 | 8,246 (1,178 / Hour) | 2,690 (x5 = 13,450) | 255 | 1,824 | 98 - 590 |
| 9 | 8,736 (1,248 / Hour) | 3,006 (x5 = 15,030) | 287 | 2,052 | 110 - 662 |
| 10 | 9,233 (1,319 / Hour) | Evolve: 25,000 per attempt | 318 | 2,280 | 122 - 734 |
| 11 | 9,723 (1,389 / Hour) | 3,638 (x5 = 18,190) |  ? | 2,508 | 135 - 813 |
| 12 | 10,213 (1,459 / Hour) | 3,953 (x5 = 19,765) |  ? | 2,736 | 147 - 885 |
| 13 | 10,710 (1,530 / Hour) | 4,269 (x5 = 21,345) |  ? | 2,964 | 159 - 957 |
| 14 | 11,200 (1,600 / Hour) | 4,585 (x5 = 22,925) |  ? | 3,182 | 171 - 1,029 |
| 15 | 11,690 (1,670 / Hour) | 4,901 (x5 = 24,505) |  ? | 3,420 | 183 - 1,101 |
| 16 | 12,187 (1,741 / Hour) | 5,217 (x5 = 26,085) |  ? | 3,648 | 196 - 1,180 |
| 17 | 12,677 (1,811 / Hour) | 5,533 (x5 = 27,665) |  ? | 3,876 | 208 - 1,252 |
| 18 | 13,166 (1,881 / Hour) | 5,848 (x5 = 29,240) |  ? | 4,104 | 220 - 1,324 |
| 19 | 13,663 (1,952 / Hour) | 6,164 (x5 = 30,820) |  ? | 4,332 | 232 - 1,396 |
| 20 | 14,154 (2,022 / Hour) | Evolve: 35,000 per attempt |  ? | 4,560 | 244 - 1,468 |
| 21 | 14,644 (2,092 / Hour) | 6,796 (x5 = 33,980) |  ? | 4,788 | 258 - 1,548 |
| 22 | 15,141 (2,163 / Hour) | 7,112 (x5 = 35,560) |  ? | 5,016 | 270 - 1,620 |
| 23 | 15,631 (2,233 / Hour) | 7,427 (x5 = 37,135) |  ? | 5,244 | 282 - 1,692 |
| 24 | 16,121 (2,303 / Hour) | 7,743 (x5 = 38,715) |  ? | 5,472 | 294 - 1,764 |
| 25 | 16,618 (2,374 / Hour) | 8,059 (x5 = 40,295) |  ? | 5,700 | 306 - 1,836 |
| 26 | 17,108 (2,444 / Hour) | 8,375 (x5 = 41,875) |  ? | | - |
| 27 | 17,598 (2,514 / Hour) | 8,691 (x5 = 43,455) |  ? | | - |
| 28 | 18,095 (2,585 / Hour) | 9,007 (x5 = 45,035) |  ? | | - |
| 29 | 18,585 (2,655 / Hour) | 9,322 (x5 = 46,610) |  ? | | - |
| 30 | 19,075 (2,725 / Hour) | Evolve: 50,000 per attempt |  ? | | - |
| 31 | 19,572 (2,796 / Hour) | 9,954 (x5 = 49,770) | 986 | | - |
| 32 | 20,062 (2,866 / Hour) | 10,270 (x5 = 51,350) | 1,018 | | - |
| 33 | 20,552 (2,936 / Hour) | 10,586 (x5 = 52,930) | 1,050 | | - |
| 34 | 21,049 (3,007 / Hour) | 10,901 (x5 = 54,505) | 1,082 | | - |
| 35 | 21,539 (3,077 / Hour) | 11,217 (x5 = 56,085) | 1,113 | 7,980 | 428 - 2,570 |
| 36 | 22,029 (3,147 / Hour) | 11,533 (x5 = 57,665) | 1,145 | 8,208 | 441 - 2,649 |
| 37 | 22,526 (3,218 / Hour) | 11,849 (x5 = 59,245) | 1,177 | 8,436 | 453 - 2,721 |
| 38 | 23,016 (3,288 / Hour) | 12,165 (x5 = 60,825) | 1,209 | 8,664 | 465 - 2,793 |
| 39 | 23,506 (3,358 / Hour) | 12,480 (x5 = 62,400) | 1,241 | 8,892 | 477 - 2,865 |
| 40 | 24,003 (3,429 / Hour) | MAX | 1,272 | 9,120 | 489 - 2,937 |
Total Crustaceans to Max: 1,166,400
Geosaurus Level 40
Tournament-Battle Arena Profile Picture
Geosaurus in Battle
Geosaurus Level 40 Pictures