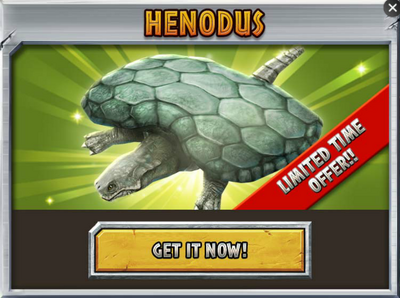 Battle Weakness: Charge
Battle Class: Gold
Diet: Crustaceavore
Henodus chelyops was a placodont of the Late Triassic period during the early Carnian age. Fossils of Henodus chelyops were found in Tubingen, Germany. It was around 1 metre in length. Henodus was the placodont that had the greatest resemblance to a turtle. Like turtles, it had a shell formed from a plastron on the underside and a carapace on top.
The carapace extended well beyond the limbs, and was made up of individual plates of bony scutes covered by plates of horn. However, the shell was composed of many more pieces of bone than that of turtles, forming a mosaic pattern. The armour was fused to its spine, and its limbs were situated in normal positions, unlike the turtle, where they are located inside the ribcage. The weak limbs of Henodus suggest it spent little, if any time on land.
Information
Cost and Time to Hatch
Availability
Limited
DNA Research
N/A
Placement Cost
76 000
Incubation Time
06:03:00
XP
Dimensions
5x5

Initial Message: The Henodus looks like a giant turtle with a flattened shell and a head shape like a box.

First Evolution Message: The Henodus was probably amphibious and got out of water to rest, breed and lay eggs.

Second Evolution Message: The limbs of the Henodus were really weak and made walking on land difficult.

Third Evolution Message: Henodus signifies "single tooth" in Greek.
Level-Based Stats
| Level | Unmodified Earning Rates (6) | Feeding Costs (Crustaceans) | Ferocity | Life | Attack |
| --- | --- | --- | --- | --- | --- |
| 1 | 4,500 (750 / Hour) | 450 (x5 = 2,250) |  ? | N/A | N/A - N/A |
| 2 | 4,962 (827 / Hour) | 0 (x5 = 0) |  ? | N/A | N/A - N/A |
| 3 | 5,424 (904 / Hour) | 0 (x5 = 0) |  ? | N/A | N/A - N/A |
| 4 | 5,886 (981 / Hour) | 1,338 (x5 = 6,690) |  ? | N/A | N/A - N/A |
| 5 | 6,348 (1,058 / Hour) | 1,634 (x5 = 8,170) |  ? | 1,069 | 57 - 345 |
| 6 | 6,810 (1,135 / Hour) | 1,930 (x5 = 9,650) |  ? | 1,283 | 69 - 417 |
| 7 | 7,272 (1,212 / Hour) | 2,226 (x5 = 11,130) |  ? | 1,497 | 80 - 482 |
| 8 | 7,728 (1,288 / Hour) | 2,522 (x5 = 12,610) |  ? | 1,710 | 92 - 554 |
| 9 | 8,190 (1,365 / Hour) | 2,818 (x5 = 14,090) |  ? | 1,924 | 104 - 626 |
| 10 | 8,652 (1,442 / Hour) | Evolve: 25,000 per attempt |  ? | 2,138 | 115 - 691 |
| 11 | 9,114 (1,519 / Hour) | 3,410 (x5 = 17,050) |  ? | 2,352 | 127 - 763 |
| 12 | 9,576 (1,596 / Hour) | 3,706 (x5 = 18,530) |  ? | 2,565 | 138 - 828 |
| 13 | 10,038 (1,673 / Hour) | 4,002 (x5 = 20,010) |  ? | 2,779 | 150 - 900 |
| 14 | 10,500 (1,750 / Hour) | 4,299 (x5 = 21,495) |  ? | 2,993 | 160 - 964 |
| 15 | 11,948 (1,991 / Hour) | 4,595 (x5 = 22,975) |  ? | 3,207 | 172 - 1,036 |
| 16 | 12,452 (2,075 / Hour) | 4,891 (x5 = 24,455) |  ? | 3,420 | 183 - 1,101 |
| 17 | 14,025 (2,338 / Hour) | 5,187 (x5 = 25,935) |  ? | 3,634 | 195 - 1,173 |
| 18 | 14,570 (2,428 / Hour) | 5,483 (x5 = 27,415) |  ? | 3,848 | 207 - 1,245 |
| 19 | 15,115 (2,519 / Hour) | 5,779 (x5 = 28,895) |  ? | 4,062 | 218 - 1,310 |
| 20 | 15,660 (2,610 / Hour) | Evolve: 35,000 per attempt |  ? | 4,275 | 230 - 1,382 |
| 21 | 16,199 (2,700 / Hour) | 6,371 (x5 = 31,855) | 627 | 4,489 | 241 - 1,447 |
| 22 | 16,744 (2,791 / Hour) | 6,667 (x5 = 33,335) |  ? | 4,703 | 253 - 1,519 |
| 23 | 17,289 (2,882 / Hour) | 6,963 (x5 = 34,815) |  ? | 4,917 | 264 - 1,584 |
| 24 | 17,834 (2,972 / Hour) | 7,259 (x5 = 36,295) |  ? | 5,130 | 276 - 1,656 |
| 25 | 18,379 (3,063 / Hour) | 7,555 (x5 = 37,775) |  ? | 5,344 | 288 - 1,728 |
| 26 | 18,924 (3,154 / Hour) | 7,851 (x5 = 39,255) |  ? | 5,558 | 298 - 1,792 |
| 27 | 19,470 (3,245 / Hour) | 8,148 (x5 = 40,740) |  ? | 5,772 | 310 - 1,864 |
| 28 | 23,237 (3,873 / Hour) | 8,444 (x5 = 42,220) | 865 | 5,985 | 321 - 1,929 |
| 29 | 17,946 (2,991 / Hour) | 8,740 (x5 = 43,700) | 865 | 6,199 | 333 - 2,001 |
| 30 | 18,422 (3,070 / Hour) | Evolve: 50,000 per attempt | 895 | 6,413 | 344 - 2,066 |
| 31 | 18,898 (3,150 / Hour) | 9,332 (x5 = 46,660) | 925 | 6,627 | 356 - 2,138 |
| 32 | 0 (0 / Hour) | 9,638 (x5 = 48,190) |  ? | 1 | 1 - 1 |
| 33 | 19,850 (3,308 / Hour) | 9,924 (x5 = 49,620) | 984 | 7,054 | 379 - 2,275 |
| 34 | 20,319 (3,387 / Hour) | 10,220 (x5 = 51,100) | 1,014 | 7,268 | 391 - 2,347 |
| 35 | 0 (0 / Hour) | 0 (x5 = 0) |  ? | | - |
| 36 | 21,271 (3,545 / Hour) | 10,812 (x5 = 54,060) | 1,074 | 7,695 | 414 - 2,484 |
| 37 | 0 (0 / Hour) | 0 (x5 = 0) |  ? | 1 | 1 - 1 |
| 38 | 0 (0 / Hour) | 0 (x5 = 0) |  ? | 1 | 1 - 1 |
| 39 | 0 (0 / Hour) | 0 (x5 = 0) |  ? | 1 | 1 - 1 |
| 40 | 0 (0 / Hour) | MAX |  ? | 1 | 1 - 1 |
Total Crustaceans to Max: 985,970
Henodus Level 40
Tournament-Battle Arena Profile Picture
Henodus in Battle
Henodus Level 40 Pictures