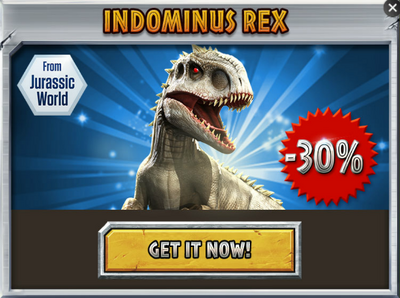 Battle Weakness: Bite
Battle Class: Gold
Unlike the other dinosaurs in the game, the Indominus rex is not a true dinosaur, but a genetically modified hybrid. Its base genetic trait is from the Tyrannosaurus rex, while others are from the Velociraptor, Carnotaurus, Giganotosaurus, Majungasaurus, Rugops and Therizinosaurus, as well as modern day animals such as the cuttlefish, tree frog, and pit viper snake. It could run up to 48 kilometers per hour and its roar could reach up to 160 decibels. It has spikes across its body and horns above its eyes.
Its spikes are extremely tough, able to withstand sustain fire from a GE M134 Minigun and an indirect hit from a AT4 rocket launcher. Its claws are extremely deadly; with a single swipe, they were able to incapitate and even kill large sauropods, like the Apatosaurus. Also, it had the ability to change color, thanks to the cuttlefish DNA used in its creation. This ability was used as camouflage while hunting, but also helped the hybrid grow at a quick rate. Its base skin color is grayish-white while its eyes are orangish-red in color.
Information
Cost and Time to Hatch
Availability
Limited
DNA Research
N/A
Placement Cost
39.99 $
Incubation Time
1:48:00
XP
33+43*3
Dimensions
9x9

Initial Message: Did you know the name Indominus Rex means 'fierce' or 'untamable king' ?

First Evolution Message: The birth of the Indominus rex was achieved by genetically modifying existing DNA in the Hammond Creation Lab.

Second Evolution Message: The Indominus' roar can reach an estimated 140-160 db- the same level as a 747 taking off and landing.

Third Evolution Message: The distinct has ormentation of the Indominus is an ultra-tough body osteoderm that protects the cranium from attackers.
Level-Based Stats
| Level | Unmodified Earning Rates (1) | Feeding Costs (Meat) | Ferocity | Life | Attack |
| --- | --- | --- | --- | --- | --- |
| 1 | 6,248 (6,248 / Hour) | 625 (x5 = 3,125) | 0 | 0 | 0 - 0 |
| 2 | 6,888 (6,888 / Hour) | 1,036 (x5 = 5,180) | 0 | 0 | 0 - 0 |
| 3 | 7,535 (7,535 / Hour) | 1,447 (x5 = 7,235) | 0 | 0 | 0 - 0 |
| 4 | 8,175 (8,175 / Hour) | 1,858 (x5 = 9,290) | 0 | 0 | 0 - 0 |
| 5 | 8,816 (8,816 / Hour) | 2,269 (x5 = 11,345) | 157 | 1,094 | 85 - 511 |
| 6 | 9,456 (9,456 / Hour) | 2,681 (x5 = 13,405) | 188 | 1,313 | 102 - 612 |
| 7 | 219 (219 / Hour) | 3,092 (x5 = 15,460) | 219 | 1,532 | 188 - 712 |
| 8 | 10,736 (10,736 / Hour) | 3,503 (x5 = 17,515) | 250 | 1,750 | 135 - 813 |
| 9 | 11,376 (11,376 / Hour) | 3,914 (x5 = 19,570) | 282 | 1,969 | 152 - 914 |
| 10 | 12,016 (12,016 / Hour) | Evolve: 17,500 per attempt | 313 | 2,188 | 169 - 1,015 |
| 11 | 12,664 (12,664 / Hour) | 4,737 (x5 = 23,685) | 344 | 2,407 | 186 - 1,116 |
| 12 | 13,304 (13,304 / Hour) | 5,148 (x5 = 25,740) | 375 | 2,625 | 202 - 1,216 |
| 13 | 13,944 (13,944 / Hour) | 5,559 (x5 = 27,795) | 407 | 2,844 | 219 - 1,317 |
| 14 | 438 (438 / Hour) | 5,970 (x5 = 29,850) | 438 | 3,063 | 236 - 1,418 |
| 15 | 15,224 (15,224 / Hour) | 6,382 (x5 = 31,910) | 469 | 3,282 | 253 - 1,519 |
| 16 | 15,864 (15,864 / Hour) | 6,793 (x5 = 33,965) | 500 | 3,500 | 270 - 1,620 |
| 17 | 532 (532 / Hour) | 7,204 (x5 = 36,020) | 532 | 3,719 | 288 - 1,728 |
| 18 | 563 (563 / Hour) | 7,615 (x5 = 38,075) | 563 | 3,938 | 304 - 1,828 |
| 19 | 17,792 (17,792 / Hour) | 8,026 (x5 = 40,130) | 594 | 4,157 | 321 - 1,929 |
| 20 | 18,432 (18,432 / Hour) | Evolve: 20,000 per attempt | 625 | 4,375 | 338 - 2,030 |
| 21 | 19,072 (19,072 / Hour) | 8,849 (x5 = 44,245) | 657 | 4,594 | 355 - 2,131 |
| 22 | 19,712 (19,712 / Hour) | 9,260 (x5 = 46,300) | 688 | 4,813 | 372 - 2,232 |
| 23 | 20,352 (20,352 / Hour) | 9,671 (x5 = 48,355) | 719 | 5,032 | 388 - 2,332 |
| 24 | 750 (750 / Hour) | 10,083 (x5 = 50,415) | 750 | 5,250 | 405 - 2,433 |
| 25 | 21,632 (21,632 / Hour) | 10,494 (x5 = 52,470) | 782 | 5,469 | 422 - 2,534 |
| 26 | 813 (813 / Hour) | 10,905 (x5 = 54,525) | 813 | 5,688 | 439 - 2,635 |
| 27 | 22,920 (22,920 / Hour) | 11,316 (x5 = 56,580) | 844 | 5,907 | 456 - 2,736 |
| 28 | 23,560 (23,560 / Hour) | 11,727 (x5 = 58,635) | 875 | 6,125 | 472 - 2,836 |
| 29 | 24,200 (24,200 / Hour) | 12,139 (x5 = 60,695) | 907 | 6,344 | 489 - 2,937 |
| 30 | 24,840 (24,840 / Hour) | Evolve: 25,000 per attempt | 938 | 6,563 | 506 - 3,038 |
| 31 | 25,480 (25,480 / Hour) | 12,961 (x5 = 64,805) | 969 | 6,782 | 523 - 3,139 |
| 32 | 26,120 (26,120 / Hour) | 13,372 (x5 = 66,860) | 1,000 | 7,000 | 540 - 3,240 |
| 33 | 26,720 (26,720 / Hour) | 13,783 (x5 = 68,915) | 1,032 | 7,219 | 558 - 3,348 |
| 34 | 27,400 (27,400 / Hour) | 14,195 (x5 = 70,975) | 1,063 | 7,438 | 574 - 3,448 |
| 35 | 28,048 (28,048 / Hour) | 14,606 (x5 = 73,030) | 1,094 | 7,657 | 591 - 3,549 |
| 36 | 28,688 (28,688 / Hour) | 15,017 (x5 = 75,085) | 1,125 | 7,875 | 608 - 3,650 |
| 37 | 29,328 (29,328 / Hour) | 15,428 (x5 = 77,140) | 1,157 | 8,094 | 625 - 3,751 |
| 38 | 1,188 (1,188 / Hour) | 15,840 (x5 = 79,200) | 1,188 | 8,313 | 642 - 3,852 |
| 39 | 30,608 (30,608 / Hour) | 16,251 (x5 = 81,255) | 1,219 | 8,532 | 658 - 3,952 |
| 40 | 31,248 (31,248 / Hour) | MAX | 1,250 | 8,750 | 675 - 4,053 |
Total Food to Max: 1,518,780
Indominus Rex Level 40
Tournament-Battle Arena Profile Picture
Indominus Rex in Battle
Indominus Rex Level 40 Pictures