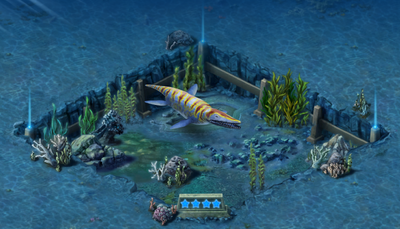 Battle Weakness: Swipe
Battle Class: Bronze
Diet: Piscivore
Kronosaurus (/ˌkrɒnoʊˈsɔːrəs/ KRON-o-SAWR-əs; meaning "lizard of Kronos") is an extinct genus of short-necked pliosaur. With an estimated length of 9–10.5 metres (30–34 ft), it was among the largest pliosaurs, and is named after the leader of the Greek Titans, Cronus. It lived in the Early Cretaceous Period (Aptian-Albian). Fossil material has been recovered from Queensland in Australia, and from the Paja Formation in Boyacá, Colombia, and assigned to two species.
Like other pliosaurs, Kronosaurus was a marine reptile. It had an elongated head, a short neck, a stiff body propelled by four flippers, and a relatively short tail. The posterior flippers were larger than the anterior. Kronosaurus was carnivorous, and had many long, sharp, conical teeth. A feature of the genus Kronosaurus is that the first three maxillary teeth are enlarged to fangs. Current estimates put Kronosaurus at around 9–10.5 meters (30–34 feet) in length. In 2009, K. queenslandicus was estimated to weigh up to 11,000 kilograms (11 metric tons)The Kronosaurus was a massive aquatic creature with a head measuring about the size of a full grown adult person.
Information
Cost and Time to Hatch
Availability
Market
DNA Research
2,000 x3
Placement Cost
59,950
Incubation Time
11:15:00
XP
Dimensions
8x8

Initial Message: The Kronosaurus' head was the size of an average human.

First Evolution Message: The Greek God Kronos, who ate his newly born children, gave its name to the Kronosaurus.

Second Evolution Message: The Kronosaurus moved like a turtle with its paddle-like flippers.

Third Evolution Message: Named after the titan named Kronos, Kronosaurus means "Kronos lizard" in Greek.
Level-Based Stats
| Level | Unmodified Earning Rates (3 Hrs) | Feeding Costs (Fish) | Ferocity | Life | Attack |
| --- | --- | --- | --- | --- | --- |
| 1 | 1,200 (400 / Hour) | 120 (x5 = 600) |  ? | N/A | N/A - N/A |
| 2 | 1,323 (441 / Hour) | 198 (x5 = 990) |  ? | N/A | N/A - N/A |
| 3 | 1,446 (482 / Hour) | 277 (x5 = 1,385) |  ? | N/A | N/A - N/A |
| 4 | 1,616 (539 / Hour) | 356 (x5 = 1,780) |  ? | N/A | N/A - N/A |
| 5 | 1,692 (564 / Hour) | 435 (x5 = 2,175) |  ? | 120 | 15 - 93 |
| 6 | 1,814 (605 / Hour) | 514 (x5 = 2,570) |  ? | 144 | 19 - 115 |
| 7 | 1,938 (646 / Hour) | 593 (x5 = 2,965) |  ? | 168 | 21 - 129 |
| 8 | 2,061 (687 / Hour) | 672 (x5 = 3,360) |  ? | 192 | 25 - 151 |
| 9 | 2,184 (728 / Hour) | 751 (x5 = 3,755) |  ? | 216 | 27 - 165 |
| 10 | 2,307 (769 / Hour) | Evolve: 9,000 per attempt |  ? | 240 | 31 - 187 |
| 11 | 2,430 (810 / Hour) | 909 (x5 = 4,545) |  ? | 264 | 33 - 201 |
| 12 | 2,553 (851 / Hour) | 988 (x5 = 4,940) |  ? | 288 | 37 - 223 |
| 13 | 2,676 (892 / Hour) | 1,067 (x5 = 5,335) |  ? | 312 | 39 - 237 |
| 14 | 2,799 (933 / Hour) | 1,146 (x5 = 5,730) |  ? | 336 | 43 - 259 |
| 15 | 2,922 (974 / Hour) | 1,225 (x5 = 6,125) |  ? | 360 | 45 - 273 |
| 16 | 3,045 (1,015 / Hour) | 1,304 (x5 = 6,520) |  ? | 384 | 49 - 295 |
| 17 | 3,167 (1,056 / Hour) | 1,383 (x5 = 6,915) |  ? | 408 | 51 - 309 |
| 18 | 3,291 (1,097 / Hour) | 1,462 (x5 = 7,310) |  ? | 432 | 55 - 331 |
| 19 | 3,414 (1,138 / Hour) | 1,541 (x5 = 7,705) |  ? | 456 | 57 - 345 |
| 20 | 3,536 (1,179 / Hour) | Evolve: 13,000 per attempt |  ? | 480 | 61 - 367 |
| 21 | 3,663 (1,221 / Hour) | 1,699 (x5 = 8,495) |  ? |  ? |  ? - ? |
| 22 | 3,786 (1,262 / Hour) | 1,778 (x5 = 8,890) |  ? |  ? |  ? - ? |
| 23 | 3,909 (1,303 / Hour) | 1,856 (x5 = 9,280) |  ? |  ? |  ? - ? |
| 24 | 4,032 (1,344 / Hour) | 1,935 (x5 = 9,675) |  ? |  ? |  ? - ? |
| 25 | 4,155 (1,385 / Hour) | 2,014 (x5 = 10,070) |  ? | 600 | 75 - 453 |
| 26 | 4,278 (1,426 / Hour) | 2,093 (x5 = 10,465) |  ? | 624 | 79 - 475 |
| 27 | 4,401 (1,467 / Hour) | 2,172 (x5 = 10,860) |  ? | 648 | 82 - 496 |
| 28 | 4,524 (1,508 / Hour) | 2,251 (x5 = 11,255) |  ? | 672 | 85 - 511 |
| 29 | 4,647 (1,549 / Hour) | 2,330 (x5 = 11,650) |  ? | 696 | 88 - 532 |
| 30 | 4,770 (1,590 / Hour) | Evolve: 17,000 per attempt |  ? | 720 | 91 - 547 |
| 31 | 4,893 (1,631 / Hour) | 2,488 (x5 = 12,440) |  ? | 744 | 94 - 568 |
| 32 | 5,016 (1,672 / Hour) | 2,567 (x5 = 12,835) |  ? | 768 | 97 - 583 |
| 33 | 5,139 (1,713 / Hour) | 2,646 (x5 = 13,230) |  ? | 792 | 100 - 604 |
| 34 | 5,262 (1,754 / Hour) | 2,725 (x5 = 13,625) |  ? | 816 | 103 - 619 |
| 35 | 5,385 (1,795 / Hour) | 2,804 (x5 = 14,020) |  ? | 840 | 106 - 640 |
| 36 | 5,508 (1,836 / Hour) | 2,883 (x5 = 14,415) |  ? | 864 | 109 - 655 |
| 37 | 5,631 (1,877 / Hour) | 2,962 (x5 = 14,810) |  ? | 888 | 112 - 676 |
| 38 | 5,754 (1,918 / Hour) | 3,041 (x5 = 15,205) |  ? | 912 | 115 - 691 |
| 39 | 5,877 (1,959 / Hour) | 3,120 (x5 = 15,600) |  ? | 936 | 118 - 712 |
| 40 | 6,000 (2,000 / Hour) | MAX |  ? | 960 | 121 - 727 |
Total Fish to Max: 291,525
Kronosaurus Level 40
Tournament-Battle Arena Profile Picture
Kronosaurus in Battle
Kronosaurus Level 40 Pictures