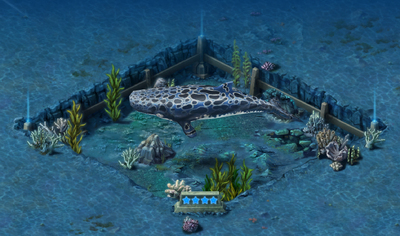 Battle Weakness: Bite
Battle Class: Gold
Diet: Piscivore
Livyatan was a species of whale that lived approximately 12 to 14 million years ago. It was roughly the same size as a modern day sperm whale, but had functional teeth in its upper jaw as well as its lower.

Livyatan shared its habitat with the giant shark Megalodon, and the two were likely top predators of their time. The name Livyatan comes from the Hebrew spelling of "Leviathan", which is a large monster mentioned in the Bible. Livyatan was originally given the name Leviathan until it was discovered that the name had already been assigned to a species of Mastodon.
Information
Cost and Time to Hatch
Availability
Market
DNA Research
13,000 x10
Placement Cost
852,950
Incubation Time
110:27:00
XP
8,530 + 3x26,508
Dimensions
9x9

Initial Message: Some of the Leviathan's teeth measured more than a foot in length.

First Evolution Message: Unlike modern killer whales, scientists think that one Leviathan was able to take down another whale to feed itself.

Second Evolution Message: A modern man would have enough room to fit in the Leviathan skull and jawbone.

Third Evolution Message: Some of the Leviathan teeth were more than a foot long, approximately the same length as the radius of a soccer ball.
Level-Based Stats
| Level | Unmodified Earning Rates (11 Hrs) | Feeding Costs (Fish) | Ferocity | Life | Attack |
| --- | --- | --- | --- | --- | --- |
| 1 | 3,905 (355 / Hour) | 390 (x5 = 1,950) |  ? | N/A | N/A - N/A |
| 2 | 4,301 (391 / Hour) | 646 (x5 = 3,230) |  ? | N/A | N/A - N/A |
| 3 | 4,697 (427 / Hour) | 903 (x5 = 4,515) |  ? | N/A | N/A - N/A |
| 4 | 5,104 (464 / Hour) | 1,159 (x5 = 5,795) |  ? | N/A | N/A - N/A |
| 5 | 5,500 (500 / Hour) | 1,416 (x5 = 7,080) |  ? | 585 | 51 - 309 |
| 6 | 5,896 (536 / Hour) | 1,673 (x5 = 8,365) |  ? | 702 | 62 - 374 |
| 7 | 6,303 (573 / Hour) | 1,929 (x5 = 9,645) |  ? | 819 | 73 - 439 |
| 8 | 6,699 (609 / Hour) | 2,186 (x5 = 10,930) |  ? | 936 | 82 - 496 |
| 9 | 7,094 (645 / Hour) | 2,442 (x5 = 12,210) |  ? | 1,053 | 93 - 561 |
| 10 | 7,501 (682 / Hour) | Evolve: 23,000 per attempt |  ? | 1,170 | 103 - 619 |
| 11 | 7,898 (718 / Hour) | 2,956 (x5 = 14,780) |  ? | 1,287 | 114 - 684 |
| 12 | 8,305 (755 / Hour) | 3,212 (x5 = 16,060) |  ? | 1,404 | 123 - 741 |
| 13 | 8,701 (791 / Hour) | 3,469 (x5 = 17,345) |  ? | 1,521 | 134 - 806 |
| 14 | 9,097 (827 / Hour) | 3,725 (x5 = 18,625) |  ? | 1,638 | 145 - 871 |
| 15 | 9,504 (864 / Hour) | 3,982 (x5 = 19,910) |  ? | 1,755 | 154 - 928 |
| 16 | 9,900 (900 / Hour) | 4,239 (x5 = 21,195) |  ? | 1,872 | 165 - 993 |
| 17 | 10,296 (936 / Hour) | 4,495 (x5 = 22,475) |  ? | 1,989 | 175 - 1,051 |
| 18 | 10,703 (973 / Hour) | 4,752 (x5 = 23,760) |  ? | 2,106 | 186 - 1,116 |
| 19 | 11,099 (1,009 / Hour) | 5,008 (x5 = 25,040) |  ? | 2,223 | 196 - 1,180 |
| 20 | 11,495 (1,045 / Hour) | Evolve: 33,000 per attempt |  ? | 2,340 | 206 - 1,238 |
| 21 | 11,902 (1,082 / Hour) | 5,522 (x5 = 27,610) |  ? | 2,457 | 217 - 1,303 |
| 22 | 12,298 (1,118 / Hour) | 5,778 (x5 = 28,890) |  ? | 2,574 | 226 - 1,360 |
| 23 | 12,705 (1,155 / Hour) | 6,035 (x5 = 30,175) |  ? | 2,691 | 237 - 1,425 |
| 24 | 13,101 (1,191 / Hour) | 6,291 (x5 = 31,455) |  ? | 2,808 | 247 - 1,483 |
| 25 | 13,497 (1,227 / Hour) | 6,548 (x5 = 32,740) |  ? | 2,925 | 258 - 1,548 |
| 26 | 13,904 (1,264 / Hour) | 6,805 (x5 = 34,025) |  ? | 3,042 | 268 - 1,612 |
| 27 | 14,300 (1,300 / Hour) | 7,061 (x5 = 35,305) |  ? | 3,159 | 278 - 1,670 |
| 28 | 14,696 (1,336 / Hour) | 7,318 (x5 = 36,590) |  ? | 3,276 | 289 - 1,735 |
| 29 | 15,103 (1,373 / Hour) | 7,574 (x5 = 37,870) |  ? | 3,393 | 298 - 1,792 |
| 30 | 15,499 (1,409 / Hour) | Evolve: 48,000 per attempt |  ? | 3,510 | 309 - 1,857 |
| 31 | 15,895 (1,445 / Hour) | 8,088 (x5 = 40,440) |  ? | 3,627 | 319 - 1,915 |
| 32 | 16,302 (1,482 / Hour) | 8,344 (x5 = 41,720) |  ? | 3,744 | 330 - 1,980 |
| 33 | 16,698 (1,518 / Hour) | 8,601 (x5 = 43,005) |  ? | 3,861 | 340 - 2,044 |
| 34 | 17,105 (1,555 / Hour) | 8,857 (x5 = 44,285) |  ? | 3,978 | 350 - 2,102 |
| 35 | 17,501 (1,591 / Hour) | 9,114 (x5 = 45,570) |  ? | 4,095 | 361 - 2,167 |
| 36 | 17,897 (1,627 / Hour) | 9,371 (x5 = 46,855) |  ? | 4,212 | 370 - 2,224 |
| 37 | 18,304 (1,664 / Hour) | 9,627 (x5 = 48,135) |  ? | 4,329 | 381 - 2,289 |
| 38 | 18,700 (1,700 / Hour) | 9,884 (x5 = 49,420) |  ? | 4,446 | 392 - 2,354 |
| 39 | 19,096 (1,736 / Hour) | 10,140 (x5 = 50,700) |  ? | 4,563 | 402 - 2,412 |
| 40 | 19,503 (1,773 / Hour) | MAX |  ? | 4,680 | 412 - 2,476 |
Total Fish to Max: 947,700
Leviathan Level 40
Tournament-Battle Arena Profile Picture
Leviathan in Battle
Leviathan Level 40 Pictures