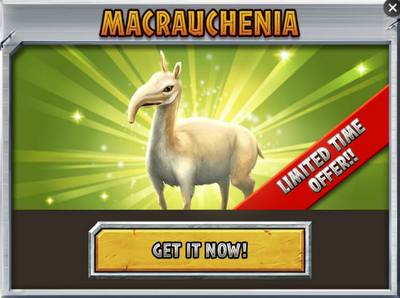 Battle Weakness: Bite
Battle Class: Gold
Macrauchenia (name meaning "long llama", based on the now superseded Latin term for llamas, Auchenia, from Greek terms which literally means "big neck") was a long-necked and long-limbed, three-toed South American ungulate, typifying the order Litopterna. The oldest fossils date to around seven million years ago, and M. patachonica disappears from the fossil record during the late Pleistocene, around 20,000-10,000 years ago.

M. patachonica was the best known member of the family Macraucheniidae, and is known only from fossil finds in South America, primarily from the Luján Formation in Argentina. The type specimen was discovered by Charles Darwin during the voyage of the Beagle. In life, Macrauchenia resembled a humpless camel with a short trunk, though it is not closely related to either camels or proboscideans.
Information
Cost and Time to Hatch
Availability
Limited
DNA Research
20,000 x10
Placement Cost
234,650
Incubation Time
22:03:00
XP
2,347
Dimensions

Initial Message: The name Macrauchenia means "Long neck" in Greek.

First Evolution Message: The Macrauchenia was a distant cousin of the horse.

Second Evolution Message: The Macrauchenia looked like it was created with a mix of other animals, like the long neck of a giraffe or the trunk of an elephant.

Third Evolution Message: The trunk of the Macrauchenia was used to grab leaves from the low branches of trees.
Level-Based Stats
| Level | Unmodified Earning Rates (6 Hrs) | Feeding Costs (Crops) | Ferocity | Life | Attack |
| --- | --- | --- | --- | --- | --- |
| 1 | 4,200 (700 / Hour) | 419 (x5 = 2,095) |  ? |  ? |  ? - ? |
| 2 | 4,632 (772 / Hour) | 696 (x5 = 3,480) |  ? |  ? |  ? - ? |
| 3 | 5,064 (844 / Hour) | 972 (x5 = 4,860) |  ? |  ? |  ? - ? |
| 4 | 5,490 (915 / Hour) | 1,249 (x5 = 6,245) |  ? |  ? |  ? - ? |
| 5 | 5,922 (987 / Hour) | 1,525 (x5 = 7,625) |  ? |  ? |  ? - ? |
| 6 | 6,353 (1,059 / Hour) | 1,801 (x5 = 9,005) |  ? |  ? |  ? - ? |
| 7 | 6,786 (1,131 / Hour) | 2,078 (x5 = 10,390) |  ? |  ? |  ? - ? |
| 8 | 7,218 (1,203 / Hour) | 2,354 (x5 = 11,770) |  ? |  ? |  ? - ? |
| 9 | 7,644 (1,274 / Hour) | 2,630 (x5 = 13,150) |  ? |  ? |  ? - ? |
| 10 | 8,076 (1,346 / Hour) | Evolve: 30,000 per attempt | 279 | 1,995 | 108 - 648 |
| 11 | 8,508 (1,418 / Hour) | 3,183 (x5 = 15,915) | 307 | 2,195 | 118 - 712 |
| 12 | 8,940 (1,490 / Hour) | 3,459 (x5 = 17,295) | 334 | 2,394 | 129 - 777 |
| 13 | 9,372 (1,562 / Hour) | 3,736 (x5 = 18,680) | 362 | 2,594 | 140 - 843 |
| 14 | 9,798 (1,633 / Hour) | 4,012 (x5 = 20,060) | 390 | 2,793 | 150 - 900 |
| 15 | 10,230 (1,705 / Hour) | 4,288 (x5 = 21,440) | 418 | 2,993 | 160 - 964 |
| 16 | 10,662 (1,777 / Hour) | 4,565 (x5 = 22,825) | 446 | 3,192 | 171 - 1,029 |
| 17 | 11,094 (1,849 / Hour) | 4,841 (x5 = 24,205) | 474 | 3,392 | 182 - 1,094 |
| 18 | 11,526 (1,921 / Hour) | 5,117 (x5 = 25,585) | 501 | 3,591 | 193 - 1,159 |
| 19 | 11,952 (1,992 / Hour) | 5,394 (x5 = 26,970) | 529 | 3,791 | 204 - 1,224 |
| 20 | 12,384 (2,064 / Hour) | Evolve: 40,000 per attempt | 557 | 3,990 | 214 - 1,288 |
| 21 | 12,815 (2,136 / Hour) | 5,946 (x5 = 29,730) |  ? |  ? |  ? - ? |
| 22 | 13,248 (2,208 / Hour) | 6,223 (x5 = 31,115) |  ? |  ? |  ? - ? |
| 23 | 13,674 (2,279 / Hour) | 6,499 (x5 = 32,495) |  ? |  ? |  ? - ? |
| 24 | 14,106 (2,351 / Hour) | 6,775 (x5 = 33,875) |  ? |  ? |  ? - ? |
| 25 | 14,537 (2,423 / Hour) | 7,052 (x5 = 35,260) |  ? |  ? |  ? - ? |
| 26 | 14,970 (2,495 / Hour) | 7,328 (x5 = 36,640) |  ? |  ? |  ? - ? |
| 27 | 15,402 (2,567 / Hour) | 7,604 (x5 = 38,020) |  ? |  ? |  ? - ? |
| 28 | 15,828 (2,638 / Hour) | 7,881 (x5 = 39,405) |  ? |  ? |  ? - ? |
| 29 | 16,260 (2,710 / Hour) | 8,157 (x5 = 40,785) |  ? |  ? |  ? - ? |
| 30 | 16,692 (2,782 / Hour) | Evolve: 50,000 per attempt |  ? |  ? |  ? - ? |
| 31 | 17,124 (2,854 / Hour) | 8,710 (x5 = 43,550) |  ? |  ? |  ? - ? |
| 32 | 17,556 (2,926 / Hour) | 8,986 (x5 = 44,930) |  ? |  ? |  ? - ? |
| 33 | 17,982 (2,997 / Hour) | 9,262 (x5 = 46,310) |  ? |  ? |  ? - ? |
| 34 | 18,414 (3,069 / Hour) | 9,539 (x5 = 47,695) |  ? |  ? |  ? - ? |
| 35 | 18,846 (3,141 / Hour) | 9,815 (x5 = 49,075) |  ? |  ? |  ? - ? |
| 36 | 19,278 (3,213 / Hour) | 10,091 (x5 = 50,455) |  ? |  ? |  ? - ? |
| 37 | 19,710 (3,285 / Hour) | 10,368 (x5 = 51,840) |  ? |  ? |  ? - ? |
| 38 | 20,136 (3,356 / Hour) | 10,644 (x5 = 53,220) |  ? |  ? |  ? - ? |
| 39 | 20,568 (3,428 / Hour) | 10,920 (x5 = 54,600) |  ? |  ? |  ? - ? |
| 40 | 21,000 (3,500 / Hour) | MAX |  ? | 7,980 | 428 - 2,570 |
Total Crops to Max: 1,020,595
Macrauchenia Level 40
Tournament-Battle Arena Profile Picture
Macrauchenia in Battle
Macrauchenia Level 40 Pictures