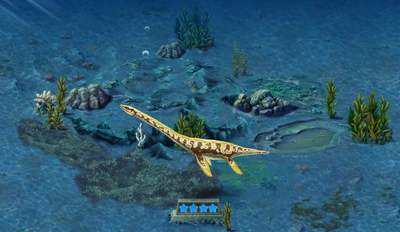 Battle Weakness: Bite
Battle Class: Gold
Diet: Crustaceavore
Mauisaurus ("Maui reptile") is a genus of plesiosaur that lived during the Late Cretaceous period around 77 million years ago in what is now New Zealand. It was the largest plesiosaur, and perhaps the largest marine reptile in New Zealand waters at the time.
At 68 cervical vertebrae, Mauisaurus is notable for having one of the longest necks (in terms of vertebra number) of any plesiosaur. Mauisaurus was fairly large, reaching over 8 metres (26 ft) in length. Like other plesiosaurs, it had a long slender body, with numerous vertebrae, allowing flexible movement. On its underside, Mauisaurus had two sets of large flippers. These aided in swimming at high speeds, but may have also allowed the plesiosaur to venture onto shorelines for short amounts of time. Mauisaurus was a carnivore, with sharp jagged teeth that would have been used to grip fish or squid.
Information
Cost and Time to Hatch
Availability
Market
DNA Research
15,000 x10
Placement Cost
976,400
Incubation Time
130:03:00
XP
9,764
Dimensions
9x9

Initial Message: The name Mauisaurus means "Maui Lizard" in Greek.

First Evolution Message: The Mauisaurus' name refers to a god of the Maori people called Maui.

Second Evolution Message: An official postage stamp in New Zealand bears the picture of the Mauisaurus.

Third Evolution Message: The Mauisaurus is one of the few fossils from the dinosaur ages to be discovered in New Zealand, thus having it on the stamp.
Level-Based Stats
| Level | Unmodified Earning Rates (13 Hrs) | Feeding Costs (Crustaceans) | Ferocity | Life | Attack |
| --- | --- | --- | --- | --- | --- |
| 1 | 4,095 (315 / Hour) | 410 (x5 = 2,050) | N/A | N/A | N/A - N/A |
| 2 | 4,524 (348 / Hour) | 679 (x5 = 3,395) | N/A | N/A | N/A - N/A |
| 3 | 4,940 (380 / Hour) | 949 (x5 = 4,745) | N/A | N/A | N/A - N/A |
| 4 | 5,356 (412 / Hour) | 1,219 (x5 = 6,095) | N/A | N/A | N/A - N/A |
| 5 | 5,785 (445 / Hour) | 1,489 (x5 = 7,445) | 109 | 820 | 52 - 316 |
| 6 | 6,200 (477 / Hour) | 1,758 (x5 = 8,790) | 131 | 984 | 62 - 374 |
| 7 | 6,617 (509 / Hour) | 2,028 (x5 = 10,140) | 153 | 1,148 | 73 - 439 |
| 8 | 7,046 (542 / Hour) | 2,298 (x5 = 11,490) | 174 | 1,312 | 82 - 496 |
| 9 | 7,462 (574 / Hour) | 2,568 (x5 = 12,840) | 196 | 1,476 | 93 - 561 |
| 10 | 7,891 (607 / Hour) | Evolve: 25,000 per attempt | 218 | 1,640 | 104 - 626 |
| 11 | 8,307 (639 / Hour) | 3,107 (x5 = 15,535) |  ? | 1,804 | 114 - 684 |
| 12 | 8,723 (671 / Hour) | 3,377 (x5 = 16,885) |  ? | 1,968 | 124 - 748 |
| 13 | 9,152 (704 / Hour) | 3,647 (x5 = 18,235) |  ? | 2,132 | 134 - 806 |
| 14 | 9,568 (736 / Hour) | 3,916 (x5 = 19,580) |  ? | 2,296 | 145 - 871 |
| 15 | 9,984 (768 / Hour) | 4,186 (x5 = 20,930) |  ? | 2,460 | 156 - 936 |
| 16 | 10,413 (801 / Hour) | 4,456 (x5 = 22,280) |  ? | 2,624 | 165 - 993 |
| 17 | 10,829 (833 / Hour) | 4,726 (x5 = 23,630) |  ? | 2,788 | 176 - 1,058 |
| 18 | 11,245 (865 / Hour) | 4,995 (x5 = 24,975) |  ? | 2,952 | 186 - 1,116 |
| 19 | 11,674 (898 / Hour) | 5,265 (x5 = 26,325) |  ? | 3,116 | 196 - 1,180 |
| 20 | 12,090 (930 / Hour) | Evolve: 35,000 per attempt |  ? | 3,280 | 207 - 1,245 |
| 21 | 12,506 (962 / Hour) | 5,805 (x5 = 29,025) |  ? | 3,444 | 217 - 1,303 |
| 22 | 12,935 (995 / Hour) | 6,074 (x5 = 30,370) |  ? | 3,608 | 228 - 1,368 |
| 23 | 13,351 (1,027 / Hour) | 6,344 (x5 = 31,720) |  ? | 3,772 | 238 - 1,432 |
| 24 | 13,766 (1,059 / Hour) | 6,614 (x5 = 33,070) |  ? | 3,936 | 248 - 1,490 |
| 25 | 14,196 (1,092 / Hour) | 6,884 (x5 = 34,420) |  ? | 4,100 | 259 - 1,555 |
| 26 | 14,612 (1,124 / Hour) | 7,153 (x5 = 35,765) |  ? | 4,264 | 268 - 1,612 |
| 27 | 15,028 (1,156 / Hour) | 7,423 (x5 = 37,115) |  ? | 4,428 | 279 - 1,677 |
| 28 | 15,457 (1,189 / Hour) | 7,693 (x5 = 38,465) |  ? | 4,592 | 290 - 1,742 |
| 29 | 15,873 (1,221 / Hour) | 7,963 (x5 = 39,815) |  ? | 4,756 | 300 - 1,800 |
| 30 | 16,288 (1,253 / Hour) | Evolve: 50,000 per attempt |  ? | 4,920 | 310 - 1,864 |
| 31 | 16,718 (1,286 / Hour) | 8,502 (x5 = 42,510) |  ? | 5,084 | 320 - 1,922 |
| 32 | 17,134 (1,318 / Hour) | 8,772 (x5 = 43,860) |  ? | 5,248 | 331 - 1,987 |
| 33 | 17,550 (1,350 / Hour) | 9,042 (x5 = 45,210) |  ? | 5,412 | 342 - 2,052 |
| 34 | 17,979 (1,383 / Hour) | 9,312 (x5 = 46,560) |  ? | 5,576 | 351 - 2,109 |
| 35 | 18,395 (1,415 / Hour) | 9,581 (x5 = 47,905) |  ? | 5,740 | 362 - 2,174 |
| 36 | 18,824 (1,448 / Hour) | 9,851 (x5 = 49,255) |  ? | 5,904 | 372 - 2,232 |
| 37 | 19,240 (1,480 / Hour) | 10,121 (x5 = 50,605) |  ? | 6,068 | 382 - 2,296 |
| 38 | 19,656 (1,512 / Hour) | 10,391 (x5 = 51,955) |  ? | 6,232 | 393 - 2,361 |
| 39 | 20,085 (1,545 / Hour) | 10,660 (x5 = 53,300) |  ? | 6,396 | 403 - 2,419 |
| 40 | 20,501 (1,577 / Hour) | MAX | 870 | 1 | 414 - 2,484 |
Total Crustaceans to Max: 996,290
Mauisaurus Level 40
Tournament-Battle Arena Profile Picture
Mauisaurus in Battle
Mauisaurus Level 40 Pictures