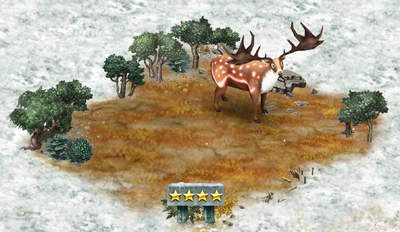 Battle Weakness: Swipe
Battle Class: Bronze
Megaloceros (from Greek: μεγαλος, megalos + κερας, keras, literally "Great Horn"; see also Lister [1987]) is an extinct genus of deer whose members lived throughout Eurasia from the late Pliocene to the Late Pleistocene and were important herbivores during the Ice Ages. The largest species, Megaloceros giganteus, vernacularly known as the "Irish Elk" or "Giant elk", is also the best known.
Largest, best known, and among the last species of the genus, about 2 m (6.6 ft) at the shoulders. Lived throughout Eurasia, from Ireland to China during the last Ice Age. Most members of the genus were extremely large animals that favoured meadows or open woodlands, with most species averaging slightly below 2 metres at the withers. The various species of the Cretan genus Candiacervus – the smallest of which, C. rhopalophorus was just 65 cm high at the shoulder – are sometimes included in Megaloceros as a subgenus. Despite its name, the Irish Elk was not related to the elk or wapiti but instead is closely related to the fallow deer genus Dama, and the genus was part of a Late Neogene Eurasian radiation of fallow deer relatives of which today only 2 taxa remain.
Information
Cost and Time to Hatch
Availability
Market
DNA Research
7,000 x10
Placement Cost
62,100
Incubation Time
31:14:59
XP
621
Dimensions
6x6

Initial Message: The name Megaloceros signifies "Giant Horn" in Greek.

First Evolution Message: The Megaloceros is also known as the Irish Elk.

Second Evolution Message: The Megaloceros' antlers could measure up to 12 feet wide from tip to tip or about twice the size of a grown man.

Third Evolution Message: Even though the Megaloceros was also named "Irish Elk", it had more in common with a deer.
Level-Based Stats
| Level | Unmodified Earning Rates (3 Hrs) | Feeding Costs (Crops) | Ferocity | Life | Attack |
| --- | --- | --- | --- | --- | --- |
| 1 | 1,251 (417 / Hour) | 125 (x5 = 625) | N/A | N/A | N/A - N/A |
| 2 | 1,377 (459 / Hour) | 207 (x5 = 1,035) | N/A | N/A | N/A - N/A |
| 3 | 1,506 (502 / Hour) | 289 (x5 = 1,445) | N/A | N/A | N/A - N/A |
| 4 | 1,635 (545 / Hour) | 371 (x5 = 1,855) | N/A | N/A | N/A - N/A |
| 5 | 1,763 (588 / Hour) | 453 (x5 = 2,265) | 17 | 157 | 15 - 93 |
| 6 | 1,890 (630 / Hour) | 536 (x5 = 2,680) | 20 | 188 | 19 - 115 |
| 7 | 2,019 (673 / Hour) | 618 (x5 = 3,090) | 24 | 219 | 21 - 129 |
| 8 | 2,148 (716 / Hour) | 700 (x5 = 3,500) | 27 | 250 | 25 - 151 |
| 9 | 2,277 (759 / Hour) | 782 (x5 = 3,910) | 30 | 282 | 28 - 172 |
| 10 | 2,403 (801 / Hour) | Evolve: 14,000 per attempt | 34 | 313 | 31 - 187 |
| 11 | 2,532 (844 / Hour) | 947 (x5 = 4,735) | 37 | 344 | 34 - 208 |
| 12 | 2,661 (887 / Hour) | 1,029 (x5 = 5,145) | 40 | 375 | 37 - 223 |
| 13 | 2,787 (929 / Hour) | 1,111 (x5 = 5,555) | 44 | 407 | 40 - 244 |
| 14 | 2,916 (972 / Hour) | 1,194 (x5 = 5,970) | 47 | 438 | 43 - 259 |
| 15 | 3,045 (1,015 / Hour) | 1,276 (x5 = 6,380) | 50 | 469 | 46 - 280 |
| 16 | 3,174 (1,058 / Hour) | 1,358 (x5 = 6,790) | 53 | 500 | 49 - 295 |
| 17 | 3,300 (1,100 / Hour) | 1,440 (x5 = 7,200) | 57 | 532 | 52 - 316 |
| 18 | 3,429 (1,143 / Hour) | 1,523 (x5 = 7,615) | 60 | 563 | 56 - 338 |
| 19 | 3,558 (1,186 / Hour) | 1,605 (x5 = 8,025) | 63 | 594 | 58 - 352 |
| 20 | 3,687 (1,229 / Hour) | Evolve: 21,000 per attempt | 67 | 625 | 62 - 374 |
| 21 | 3,813 (1,271 / Hour) | 1,769 (x5 = 8,845) |  ? | 657 | 64 - 388 |
| 22 | 3,942 (1,314 / Hour) | 1,852 (x5 = 9,260) |  ? | 688 | 68 - 410 |
| 23 | 4,071 (1,357 / Hour) | 1,934 (x5 = 9,670) |  ? | 719 | 70 - 424 |
| 24 | 4,200 (1,400 / Hour) | 2,016 (x5 = 10,080) |  ? | 750 | 74 - 446 |
| 25 | 4,326 (1,442 / Hour) | 2,098 (x5 = 10,490) |  ? | 782 | 78 - 468 |
| 26 | 4,455 (1,485 / Hour) | 2,181 (x5 = 10,905) |  ? | 813 | 80 - 482 |
| 27 | 4,584 (1,528 / Hour) | 2,263 (x5 = 11,315) |  ? | 844 | 84 - 504 |
| 28 | 4,713 (1,571 / Hour) | 2,345 (x5 = 11,725) |  ? | 875 | 86 - 518 |
| 29 | 4,839 (1,613 / Hour) | 2,427 (x5 = 12,135) |  ? | 907 | 90 - 540 |
| 30 | 4,968 (1,656 / Hour) | Evolve: 28,000 per attempt |  ? | 938 | 92 - 554 |
| 31 | 5,097 (1,699 / Hour) | 2,592 (x5 = 12,960) |  ? | 969 | 96 - 576 |
| 32 | 5,223 (1,741 / Hour) | 2,674 (x5 = 13,370) |  ? | 1,000 | 98 - 590 |
| 33 | 5,352 (1,784 / Hour) | 2,756 (x5 = 13,780) |  ? | 1,032 | 102 - 612 |
| 34 | 5,481 (1,827 / Hour) | 2,839 (x5 = 14,195) |  ? | 1,063 | 105 - 633 |
| 35 | 5,610 (1,870 / Hour) | 2,921 (x5 = 14,605) |  ? | 1,094 | 108 - 648 |
| 36 | 5,736 (1,912 / Hour) | 3,003 (x5 = 15,015) |  ? | 1,125 | 111 - 669 |
| 37 | 5,865 (1,955 / Hour) | 3,085 (x5 = 15,425) |  ? | 1,157 | 114 - 684 |
| 38 | 5,994 (1,998 / Hour) | 3,168 (x5 = 15,840) |  ? | 1,188 | 117 - 705 |
| 39 | 6,122 (2,041 / Hour) | 3,250 (x5 = 16,250) |  ? | 1,219 | 120 - 720 |
| 40 | 6,249 (2,083 / Hour) | MAX |  ? | 1,250 | 123 - 741 |
Total Crops to Max: 303,685
Megaloceros Level 40
Tournament-Battle Arena Profile Picture
Megaloceros in Battle
Megaloceros Level 40 Pictures