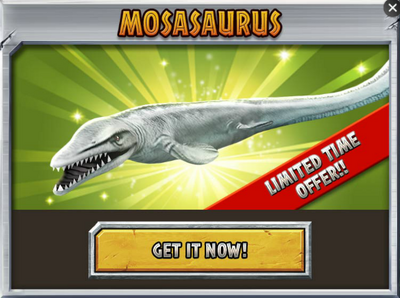 Battle Weakness: Bite
Battle Class: Gold
Diet: Crustaceavore
Mosasaurus (/ˌmoʊzəˈsɔːrəs/; "lizard of the Meuse River") is a genus of mosasaurs, extinct carnivorous aquatic lizards. It existed during the Maastrichtian age of the late Cretaceous period, between about 70 and 66 million years ago, in western Europe and North America. The name means "Meuse lizard", as the first specimen was found near the Meuse River (Latin Mosa + Greek sauros lizard).
Mosasaurus was among the last of the mosasaurids, and among the largest. As with most mosasaurids, the legs and feet of Mosasaurus were modified into flippers, and the front flippers were larger than the hind flippers. The largest known species, M. hoffmannii reached lengths up to 17 m (56 ft), slightly longer than its relatives Tylosaurus and Hainosaurus. Mosasaurus was also more robust than related mosasaurids. The skull was more robust than in other mosasaurids, and the lower jaws (mandibles) attached very tightly to the skull. They had deep, barrel-shaped bodies, and with their fairly large eyes, poor binocular vision, and poorly developed olfactory bulbs, experts believe that Mosasaurus lived near the ocean surface, where they preyed on fish, turtles, ammonites, smaller mosasaurs, birds, pterosaurs, and plesiosaurs.
Although they were able to dive, they evidently did not venture into deeper waters.
The skull of Mosasaurus tapered off into a short, conical tip. The jaws were armed with massive conical teeth. Their paddle-like limbs had five digits in front and four in back. The body ended in a strong tail, which other mosasaurid fossils suggest had a fluke similar to those of sharks and some ichthyosaurs. The body probably remained stiff to reduce drag through the water, while the end of the tail provided strong propulsion.
Information
Cost and Time to Hatch
Availability
Limited
DNA Research
15,000
Placement Cost
171,100
Incubation Time
06:03:00
XP
1,711
Dimensions
8x8

Initial Message: The name of the Mosasaurus signifies "Meuse Lizad" in Greek.

First Evolution Message: The Mosasaurus' remains were discovered in a mine in Holland close to the Meuse river.

Second Evolution Message: Scientists believe that the Mosasaurus are closely related to today's snakes.

Third Evolution Message: It's the discovery of these fossils that led naturalists to believe that extinct species lived on earth.
Level-Based Stats
| Level | Unmodified Earning Rates (7 Hrs) | Feeding Costs (Crustaceans) | Ferocity | Life | Attack |
| --- | --- | --- | --- | --- | --- |
| 1 | 4,949 (707 / Hour) | 494 (x5 = 2,470) | N/A | N/A | N/A - N/A |
| 2 | 5,460 (780 / Hour) | 820 (x5 = 4,100) | N/A | N/A | N/A - N/A |
| 3 | 5,964 (852 / Hour) | 1,146 (x5 = 5,730) | N/A | N/A | N/A - N/A |
| 4 | 6,475 (925 / Hour) | 1,472 (x5 = 7,360) | N/A | N/A | N/A - N/A |
| 5 | 6,979 (997 / Hour) | 1,797 (x5 = 8,985) | 164 | 1,176 | 63 - 381 |
| 6 | 7,490 (1,070 / Hour) | 2,123 (x5 = 10,615) | 197 | 1,411 | 76 - 460 |
| 7 | 7,993 (1,142 / Hour) | 2,449 (x5 = 12,245) | 230 | 1,646 | 88 - 532 |
| 8 | 8,505 (1,215 / Hour) | 2,774 (x5 = 13,870) | 263 | 1,881 | 102 - 612 |
| 9 | 9,009 (1,287 / Hour) | 3,100 (x5 = 15,500) | 296 | 2,117 | 114 - 684 |
| 10 | 9,520 (1,360 / Hour) | Evolve: 25,000 per attempt | 328 | 2,352 | 127 - 763 |
| 11 | 10,024 (1,432 / Hour) | 3,751 (x5 = 18,755) |  ? | 2,587 | 140 - 839 |
| 12 | 10,535 (1,505 / Hour) | 4,077 (x5 = 20,385) |  ? | 2,822 | 152 - 914 |
| 13 | 11,039 (1,577 / Hour) | 4,403 (x5 = 22,015) |  ? | 3,057 | 164 - 986 |
| 14 | 11,550 (1,650 / Hour) | 4,728 (x5 = 23,640) |  ? | 3,292 | 177 - 1,065 |
| 15 | 12,061 (1,723 / Hour) | 5,054 (x5 = 25,270) |  ? | 3,527 | 189 - 1,137 |
| 16 | 12,565 (1,795 / Hour) | 5,380 (x5 = 26,900) |  ? | 3,762 | 202 - 1,216 |
| 17 | 13,076 (1,868 / Hour) | 5,705 (x5 = 28,525) |  ? | 3,998 | 214 - 1,288 |
| 18 | 13,580 (1,940 / Hour) | 6,031 (x5 = 30,155) |  ? | 4,233 | 228 - 1,368 |
| 19 | 14,091 (2,013 / Hour) | 6,357 (x5 = 31,785) |  ? | 4,468 | 240 - 1,440 |
| 20 | 27,341 (3,906 / Hour) | Evolve: 35,000 per attempt |  ? | 4,948 | 253 - 1,519 |
| 21 | 15,106 (2,158 / Hour) | 7,008 (x5 = 35,040) |  ? | 4,938 | 265 - 1,591 |
| 22 | 15,610 (2,230 / Hour) | 7,334 (x5 = 36,670) |  ? |  ? |  ? - ? |
| 23 | 16,121 (2,303 / Hour) | 7,660 (x5 = 38,300) |  ? |  ? |  ? - ? |
| 24 | 16,625 (2,375 / Hour) | 7,985 (x5 = 39,925) |  ? |  ? |  ? - ? |
| 25 | 17,136 (2,448 / Hour) | 8,311 (x5 = 41,555) |  ? | 5,879 | 315 - 1,893 |
| 26 | 17,640 (2,520 / Hour) | 8,637 (x5 = 43,185) |  ? |  ? |  ? - ? |
| 27 | 18,151 (2,593 / Hour) | 8,962 (x5 = 44,810) |  ? |  ? |  ? - ? |
| 28 | 18,655 (2,665 / Hour) | 9,288 (x5 = 46,440) |  ? | 6,584 | 354 - 2,124 |
| 29 | 19,166 (2,738 / Hour) | 9,614 (x5 = 48,070) |  ? | 6,819 | 367 - 2,203 |
| 30 | 19,670 (2,810 / Hour) | Evolve: 50,000 per attempt |  ? |  ? |  ? - ? |
| 31 | 20,181 (2,883 / Hour) | 10,265 (x5 = 51,325) |  ? |  ? |  ? - ? |
| 32 | 20,685 (2,955 / Hour) | 10,591 (x5 = 52,955) |  ? |  ? |  ? - ? |
| 33 | 21,196 (3,028 / Hour) | 10,916 (x5 = 54,580) |  ? |  ? |  ? - ? |
| 34 | 21,707 (3,101 / Hour) | 11,242 (x5 = 56,210) |  ? |  ? |  ? - ? |
| 35 | 22,211 (3,173 / Hour) | 11,568 (x5 = 57,840) |  ? |  ? |  ? - ? |
| 36 | 22,722 (3,246 / Hour) | 11,893 (x5 = 59,465) |  ? |  ? |  ? - ? |
| 37 | 23,226 (3,318 / Hour) | 12,219 (x5 = 61,095) |  ? |  ? |  ? - ? |
| 38 | 23,737 (3,391 / Hour) | 12,545 (x5 = 62,725) |  ? |  ? |  ? - ? |
| 39 | 24,241 (3,463 / Hour) | 12,871 (x5 = 64,355) |  ? |  ? |  ? - ? |
| 40 | 24,752 (3,536 / Hour) | MAX |  ? | 9,405 | 505 - 3,031 |
Total Crustaceans to Max: 1,202,850
Mosasaurus Level 40
Tournament-Battle Arena Profile Picture
Mosasaurus in Battle
Mosasaurus Level 40 Pictures