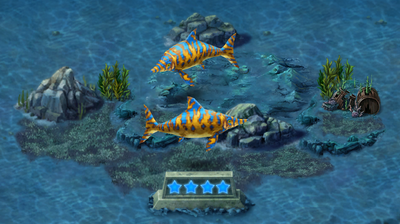 Battle Weakness: Swipe
Battle Class: Gold
Diet: Crustaceavore
Ophthalmosaurus (meaning "eye lizard" in Greek) is an ichthyosaur of the Middle Jurassic period (165-160 million years ago), named for its extremely large eyes. It had a graceful 6 m (19.5 ft) long dolphin-shaped body, and its almost toothless jaw was well adapted for catching squid. Major fossil finds of this genus have been recorded in Europe and North America. Ophthalmosaurus had a body shaped like a tear-drop and a caudal fin like a half-moon. Its forelimbs were more developed than the hind ones, which suggests that the front fins did the steering while the tail did the propelling.
Ophthalmosaurus' chief claim to fame is its eyes (some reaching about 9 inches or 220–230 mm in diameter) which were extremely large in proportion to its body. The eyes occupied almost all of the space in the skull and were protected by bony plates (sclerotic rings), which most likely assisted to maintain the shape of the eyeballs against water pressure at depth. The size of the eyes and the sclerotic rings suggests that Ophthalmosaurus hunted at a depth where there is not much light or that it may have hunted at night when a prey species was more active.
Information
Cost and Time to Hatch
Availability
Market
DNA Research
14,000 x10
Placement Cost
406,100
Incubation Time
120:03:00
XP
4,061
Dimensions
6x6

Initial Message: The name Ophtalmosaurus is greek for "eye lizard".

First Evolution Message: The eyes of the Ophtalmosaurus were a little bigger than a softball ball.

Second Evolution Message: The Ophtalmosaurus had such big eyes to locate its prey in extreme depths.

Third Evolution Message: The Ophtalmosaurus had a bony structure around its eyes to keep them spherical in extreme depths.
Level-Based Stats
| Level | Unmodified Earning Rates (12 Hrs) | Feeding Costs (Crustaceans) | Ferocity | Life | Attack |
| --- | --- | --- | --- | --- | --- |
| 1 | 3,996 (333 / Hour) | 400 (x5 = 2,000) | N/A | N/A | N/A - N/A |
| 2 | 4,416 (368 / Hour) | 663 (x5 = 3,315) | N/A | N/A | N/A - N/A |
| 3 | 4,824 (402 / Hour) | 926 (x5 = 4,630) | N/A | N/A | N/A - N/A |
| 4 | 5,232 (436 / Hour) | 1,189 (x5 = 5,945) | N/A | N/A | N/A - N/A |
| 5 | 5,640 (470 / Hour) | 1,452 (x5 = 7,260) | 106 | 800 | 50 - 302 |
| 6 | 6,048 (504 / Hour) | 1,715 (x5 = 8,575) | 128 | 960 | 61 - 367 |
| 7 | 6,456 (538 / Hour) | 1,979 (x5 = 9,895) | 149 | 1,120 | 70 - 424 |
| 8 | 6,876 (573 / Hour) | 2,242 (x5 = 11,210) | 170 | 1,280 | 81 - 489 |
| 9 | 7,284 (607 / Hour) | 2,505 (x5 = 12,525) | 191 | 1,440 | 91 - 547 |
| 10 | 7,692 (641 / Hour) | Evolve: 24,000 per attempt | 212 | 1,600 | 100 - 604 |
| 11 | 8,100 (675 / Hour) | 3,031 (x5 = 15,155) |  ? | 1,760 | 111 - 669 |
| 12 | 8,508 (709 / Hour) | 3,294 (x5 = 16,470) | 255 | 1,920 | 121 - 727 |
| 13 | 8,928 (744 / Hour) | 3,558 (x5 = 17,790) | 276 | 2,080 | 132 - 792 |
| 14 | 9,336 (778 / Hour) | 3,821 (x5 = 19,105) | 297 | 2,240 | 141 - 849 |
| 15 | 9,744 (812 / Hour) | 4,084 (x5 = 20,420) | 318 | 2,400 | 151 - 907 |
| 16 | 10,152 (846 / Hour) | 4,347 (x5 = 21,735) |  ? | 2,560 | 162 - 972 |
| 17 | 10,560 (880 / Hour) | 4,610 (x5 = 23,050) |  ? | 2,720 | 171 - 1,029 |
| 18 | 10,980 (915 / Hour) | 4,874 (x5 = 24,370) |  ? | 2,880 | 182 - 1,094 |
| 19 | 11,388 (949 / Hour) | 5,137 (x5 = 25,685) |  ? | 3,040 | 192 - 1,152 |
| 20 | 11,796 (983 / Hour) | Evolve: 34,000 per attempt |  ? | 3,200 | 201 - 1,209 |
| 21 | 12,204 (1,017 / Hour) | 5,663 (x5 = 28,315) |  ? | 3,360 | 212 - 1,274 |
| 22 | 12,612 (1,051 / Hour) | 5,926 (x5 = 29,630) |  ? | 3,520 | 222 - 1,332 |
| 23 | 13,020 (1,085 / Hour) | 6,189 (x5 = 30,945) |  ? | 3,680 | 232 - 1,396 |
| 24 | 13,440 (1,120 / Hour) | 6,453 (x5 = 32,265) |  ? | 3,840 | 242 - 1,454 |
| 25 | 13,848 (1,154 / Hour) | 6,716 (x5 = 33,580) |  ? | 4,000 | 252 - 1,512 |
| 26 | 14,256 (1,188 / Hour) | 6,979 (x5 = 34,895) |  ? | 4,160 | 262 - 1,576 |
| 27 | 14,664 (1,222 / Hour) | 7,242 (x5 = 36,210) |  ? | 4,320 | 272 - 1,634 |
| 28 | 15,071 (1,256 / Hour) | 7,505 (x5 = 37,525) |  ? | 4,480 | 283 - 1,699 |
| 29 | 15,492 (1,291 / Hour) | 7,769 (x5 = 38,845) |  ? | 4,640 | 292 - 1,756 |
| 30 | 15,900 (1,325 / Hour) | Evolve: 49,000 per attempt |  ? | 4,800 | 302 - 1,814 |
| 31 | 16,308 (1,359 / Hour) | 8,295 (x5 = 41,475) |  ? | 4,960 | 313 - 1,879 |
| 32 | 16,716 (1,393 / Hour) | 8,558 (x5 = 42,790) |  ? | 5,120 | 322 - 1,936 |
| 33 | 17,124 (1,427 / Hour) | 8,821 (x5 = 44,105) |  ? | 5,280 | 333 - 2,001 |
| 34 | 17,544 (1,462 / Hour) | 9,084 (x5 = 45,420) |  ? | 5,440 | 343 - 2,059 |
| 35 | 17,952 (1,496 / Hour) | 9,348 (x5 = 46,740) |  ? | 5,600 | 352 - 2,116 |
| 36 | 18,360 (1,530 / Hour) | 9,611 (x5 = 48,055) |  ? | 5,760 | 363 - 2,181 |
| 37 | 18,768 (1,564 / Hour) | 9,874 (x5 = 49,370) |  ? | 5,920 | 373 - 2,239 |
| 38 | 19,176 (1,598 / Hour) | 10,137 (x5 = 50,685) |  ? | 6,080 | 384 - 2,304 |
| 39 | 19,584 (1,632 / Hour) | 10,400 (x5 = 52,000) |  ? | 6,240 | 393 - 2,361 |
| 40 | 20,004 (1,667 / Hour) | MAX |  ? | 6,400 | 403 - 2,419 |
Total Crustaceans to Max: 971,985
Ophtalmosaurus Level 40
Tournament-Battle Arena Profile Picture
Ophtalmosaurus in Battle
Ophtalmosaurus Level 40 Pictures