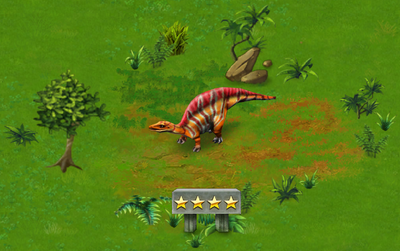 Battle Weakness: Bite
Battle Class: Gold
Ouranosaurus is a genus of herbivorous iguanodont dinosaur that lived during the early Cretaceous at some point between 125 and 112 mya, in what is now Africa. Ouranosaurus measured about 7 to 8.3 metres long. Two rather complete fossils were found in the Echkar Formation, Gadoufaoua deposits, Agadez, Niger, in 1965 and 1972. The animal was named in 1976 by French paleontologist Philippe Taquet; the type species being Ouranosaurus nigeriensis.
The most conspicuous feature of Ouranosaurus is a large "sail" on its back, supported by long, wide, neural spines, that spanned its entire rump and tail, resembling that of Spinosaurus, a well-known meat-eating dinosaur that lived around the same time. These tall neural spines did not closely resemble those of sail-backs such as Dimetrodon of the Permian Period. The supporting spines in a sailback become thinner distally, whereas in Ouranosaurus the spines actually become thicker distally and flatten. The posterior spines were also bound together by ossified tendons, which stiffened the back. Finally, the spine length peaks over the forelimbs.
Information
Cost and Time to Hatch
Availability
Market
DNA Research
7,450 x10
Placement Cost
197,800
Incubation Time
33:48:00
XP
1,978
Dimensions
6x6

Initial Message: "Brave Reptile" is the meaning of the name Ouranosaurus.

First Evolution Message: Whether it was used for head-butting or display, the Ouranosaurus has a pair of bumps above its head.

Second Evolution Message: One of the most recognizable features of the Ouranosaurus was its large sail along its back.

Third Evolution Message: Some scientists think that the sail on the back of the Ouranosaurus may have been a hump of fat.
Level-Based Stats
| Level | Unmodified Earning Rates (18 Hrs) | Feeding Costs (Crops) | Ferocity | Life | Attack |
| --- | --- | --- | --- | --- | --- |
| 1 | 3,816 (212 / Hour) | 381 (x5 = 1,905) |  ? | N/A | N/A - N/A |
| 2 | 4,212 (234 / Hour) | 632 (x5 = 3,160) |  ? | N/A | N/A - N/A |
| 3 | 4,590 (255 / Hour) | 883 (x5 = 4,415) |  ? | N/A | N/A - N/A |
| 4 | 4,986 (277 / Hour) | 1,134 (x5 = 5,670) |  ? | N/A | N/A - N/A |
| 5 | 5,382 (299 / Hour) | 1,385 (x5 = 6,925) | 76 | 572 | 37 - 223 |
| 6 | 5,778 (321 / Hour) | 1,636 (x5 = 8,180) | 91 | 687 | 44 - 266 |
| 7 | 6,156 (342 / Hour) | 1,887 (x5 = 9,435) | 107 | 801 | 51 - 309 |
| 8 | 6,552 (364 / Hour) | 2,138 (x5 = 10,690) | 122 | 916 | 58 - 352 |
| 9 | 6,948 (386 / Hour) | 2,389 (x5 = 11,945) | 137 | 1,030 | 66 - 396 |
| 10 | 7,344 (408 / Hour) | Evolve: 18,650 per attempt | 152 | 1,144 | 73 - 439 |
| 11 | 7,722 (429 / Hour) | 2,891 (x5 = 14,455) | 167 | 1,259 | 80 - 482 |
| 12 | 8,117 (451 / Hour) | 3,142 (x5 = 15,710) | 182 | 1,373 | 87 - 525 |
| 13 | 8,514 (473 / Hour) | 3,393 (x5 = 16,965) | 198 | 1,488 | 94 - 568 |
| 14 | 8,910 (495 / Hour) | 3,644 (x5 = 18,220) | 213 | 1,602 | 102 - 612 |
| 15 | 9,288 (516 / Hour) | 3,895 (x5 = 19,475) | 228 | 1,716 | 109 - 655 |
| 16 | 9,684 (538 / Hour) | 4,146 (x5 = 20,730) |  ? | 1,831 | 116 - 698 |
| 17 | 10,080 (560 / Hour) | 4,397 (x5 = 21,985) |  ? | 1,945 | 123 - 741 |
| 18 | 10,458 (581 / Hour) | 4,648 (x5 = 23,240) |  ? | 2,060 | 130 - 784 |
| 19 | 10,854 (603 / Hour) | 4,899 (x5 = 24,495) |  ? | 2,174 | 138 - 828 |
| 20 | 11,250 (625 / Hour) | Evolve: 19,950 per attempt |  ? | 2,288 | 145 - 871 |
| 21 | 11,646 (647 / Hour) | 5,401 (x5 = 27,005) |  ? | 2,403 | 152 - 914 |
| 22 | 12,024 (668 / Hour) | 5,652 (x5 = 28,260) |  ? | 2,517 | 159 - 957 |
| 23 | 12,420 (690 / Hour) | 5,903 (x5 = 29,515) |  ? | 2,632 | 166 - 1,000 |
| 24 | 12,816 (712 / Hour) | 6,154 (x5 = 30,770) |  ? | 2,746 | 174 - 1,044 |
| 25 | 13,212 (734 / Hour) | 6,405 (x5 = 32,025) |  ? | 2,860 | 181 - 1,087 |
| 26 | 13,590 (755 / Hour) | 6,656 (x5 = 33,280) |  ? | 2,975 | 188 - 1,130 |
| 27 | 13,986 (777 / Hour) | 6,907 (x5 = 34,535) |  ? | 3,089 | 195 - 1,173 |
| 28 | 14,382 (799 / Hour) | 7,158 (x5 = 35,790) |  ? | 3,204 | 202 - 1,216 |
| 29 | 14,778 (821 / Hour) | 7,409 (x5 = 37,045) |  ? | 3,318 | 210 - 1,260 |
| 30 | 15,156 (842 / Hour) | Evolve: 27,500 per attempt |  ? | 3,432 | 217 - 1,303 |
| 31 | 15,552 (864 / Hour) | 7,911 (x5 = 39,555) | 470 | 3,547 | 224 - 1,346 |
| 32 | 15,948 (886 / Hour) | 8,162 (x5 = 40,810) |  ? | 3,661 | 231 - 1,389 |
| 33 | 16,343 (908 / Hour) | 8,413 (x5 = 42,065) |  ? | 3,776 | 238 - 1,432 |
| 34 | 16,722 (929 / Hour) | 8,664 (x5 = 43,320) |  ? | 3,890 | 246 - 1,476 |
| 35 | 17,118 (951 / Hour) | 8,915 (x5 = 44,575) |  ? | 4,004 | 253 - 1,519 |
| 36 | 17,514 (973 / Hour) | 9,166 (x5 = 45,830) |  ? | 4,119 | 260 - 1,562 |
| 37 | 17,910 (995 / Hour) | 9,417 (x5 = 47,085) |  ? | 4,233 | 267 - 1,605 |
| 38 | 18,288 (1,016 / Hour) | 9,668 (x5 = 48,340) |  ? | 4,348 | 274 - 1,648 |
| 39 | 18,648 (1,036 / Hour) | 9,919 (x5 = 49,595) |  ? | 4,432 | 282 - 1,692 |
| 40 | 19,080 (1,060 / Hour) | MAX | 607 | 4,576 | 289 - 1,735 |
Total Crops to Max: 927,000
Ouranosaurus Level 40
Tournament-Battle Arena Profile Picture
Ouranosaurus in Battle
Ouranosaurus Level 40 Pictures