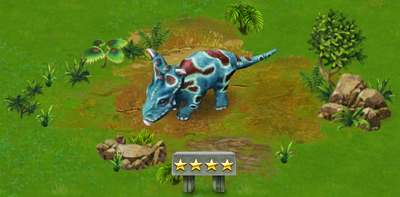 Battle Weakness: Charge
Battle Class: Gold
Pachyrhinosaurus is an extinct genus of centrosaurine ceratopsid dinosaurs from the Late Cretaceous Period of North America. The first examples were discovered by Charles M. Sternberg in Alberta, Canada, in 1946, and named in 1950. Over a dozen partial skulls and a large assortment of other fossils from various species have been found in Alberta and Alaska. A great number were not avaliable for study until the 1980s, resulting in a relatively recent inscrease of interest in the Pachyrhinosaurus.
Three species have been identified. P . lakustai, from the Wapiti Formation, the bonebed horizon of which is roughly equivalent age to the upper Bearpaw and lower Horseshoe Canyon Formations, is known to have existed from about 73.5-72.5 mya. P. canadensis is younger, known only from the lower Horseshoe Canyon Formation about 71.5-71 Mya. Fossils of the youngest species, P. perotorum, have been recovered from the Prince Creek Formation of Alaska, and date to 70-69 mya. The presence of three known species makes this genus the most speciose among the centrosaurines.
The largest Pachyrhinosaurus species were 8 metres (26 ft) long. It weighed about 4 tonnes. They were herbivorous and possessed strong cheek teeth to help them chew tough, fibrous plants.
Instead of horns, their skulls bore massive, flattened bosses; a large boss over the nose and a smaller one over the eyes. A prominent pair of horns grew from the frill and extended upwards. The skull also bore several smaller horns or ornaments that varied between individuals and between species. In P. canadensis and P. perotorum, the bosses over the nose and eyes nearly grew together, and were separated only by a narrow groove. In P. lakustai, the two bosses were separated by a wide gap. In P. canadensis and P. lakustai, the frill bore two additional small, curved, backward-pointed horns. These were not present in P. perotorum, and in fact some specimens of P. lakustai also lack them, which may indicate that the presence of these horns varied by age or sex.
Information
Cost and Time to Hatch
Availability
Market
DNA Research
11,650 x10
Placement Cost
262,150
Incubation Time
42:03:00
XP
10,092
Dimensions
6x6

Initial Message: Pachyrhinosaurus mean "thick-nose reptile" and refers to the animal's bony facial pad, also known as the boss.

First Evolution Message: Paleontologists thought that the facial pad on the Pachyrhinosaurus face was a scar and not a normal feature.

Second Evolution Message: The skull of the Pachyrhinosaurus was imposing with only 3 other dinosaurs with a bigger skull.

Third Evolution Message: The Pachyrhinosaurus was almost the same size and weight as a rhinoceros
Level-Based Stats
| Level | Unmodified Earning Rates (24 Hrs) | Feeding Costs (Crops) | Ferocity | Life | Attack |
| --- | --- | --- | --- | --- | --- |
| 1 | 4,488 (187 / Hour) | 449 (x5 = 2,245) |  ? | N/A | N/A - N/A |
| 2 | 4,968 (207 / Hour) | 745 (x5 = 3,725) |  ? | N/A | N/A - N/A |
| 3 | 5,424 (226 / Hour) | 1,040 (x5 = 5,200) | 72 | N/A | N/A - N/A |
| 4 | 5,880 (245 / Hour) | 1,336 (x5 = 6,680) |  ? | N/A | N/A - N/A |
| 5 | 6,335 (264 / Hour) | 1,632 (x5 = 8,160) | 120 | 899 | 57 - 345 |
| 6 | 6,792 (283 / Hour) | 1,928 (x5 = 9,640) | 143 | 1,079 | 68 - 410 |
| 7 | 7,272 (303 / Hour) | 2,223 (x5 = 11,115) | 167 | 1,259 | 80 - 482 |
| 8 | 7,728 (322 / Hour) | 2,519 (x5 = 12,595) | 191 | 1,439 | 91 - 547 |
| 9 | 8,183 (341 / Hour) | 2,815 (x5 = 14,075) | 215 | 1,619 | 102 - 612 |
| 10 | 8,640 (360 / Hour) | Evolve: 19,650 per attempt | 239 | 1,798 | 114 - 684 |
| 11 | 9,096 (379 / Hour) | 3,406 (x5 = 17,030) | 263 | 1,978 | 124 - 748 |
| 12 | 9,576 (399 / Hour) | 3,702 (x5 = 18,510) | 286 | 2,158 | 136 - 820 |
| 13 | 10,032 (418 / Hour) | 3,998 (x5 = 19,990) | 310 | 2,338 | 147 - 885 |
| 14 | 10,488 (437 / Hour) | 4,294 (x5 = 21,470) | 334 | 2,518 | 159 - 957 |
| 15 | 10,944 (456 / Hour) | 4,589 (x5 = 22,945) | 358 | 2,697 | 170 - 1,022 |
| 16 | 11,400 (475 / Hour) | 4,885 (x5 = 24,425) | 382 | 2,877 | 182 - 1,094 |
| 17 | 11,880 (495 / Hour) | 5,181 (x5 = 25,905) | 405 | 3,057 | 193 - 1,159 |
| 18 | 12,335 (514 / Hour) | 5,477 (x5 = 27,385) | 429 | 3,237 | 204 - 1,224 |
| 19 | 12,792 (533 / Hour) | 5,772 (x5 = 28,860) | 453 | 3,417 | 216 - 1,296 |
| 20 | 13,248 (552 / Hour) | Evolve: 20,450 per attempt | 477 | 3,596 | 226 - 1,360 |
| 21 | 13,703 (571 / Hour) | 6,364 (x5 = 31,820) | 501 | 3,776 | 238 - 1,432 |
| 22 | 14,184 (591 / Hour) | 6,660 (x5 = 33,300) | 525 | 3,956 | 249 - 1,497 |
| 23 | 14,640 (610 / Hour) | 6,955 (x5 = 34,775) | 548 | 4,136 | 261 - 1,569 |
| 24 | 15,096 (629 / Hour) | 7,251 (x5 = 36,255) | 572 | 4,316 | 272 - 1,634 |
| 25 | 15,552 (648 / Hour) | 7,547 (x5 = 37,735) | 596 | 4,495 | 283 - 1,699 |
| 26 | 16,032 (668 / Hour) | 7,843 (x5 = 39,215) | 620 | 4,675 | 295 - 1,771 |
| 27 | 16,488 (687 / Hour) | 8,138 (x5 = 40,690) | 644 | 4,855 | 306 - 1,836 |
| 28 | 16,944 (706 / Hour) | 8,434 (x5 = 42,170) | 668 | 5,035 | 318 - 1,908 |
| 29 | 17,400 (725 / Hour) | 8,730 (x5 = 43,650) | 691 | 5,215 | 328 - 1,972 |
| 30 | 17,856 (744 / Hour) | Evolve: 30,500 per attempt | 715 | 5,394 | 340 - 2,044 |
| 31 | 18,336 (764 / Hour) | 9,321 (x5 = 46,605) | 739 |  ? |  ? - ? |
| 32 | 18,792 (783 / Hour) | 9,617 (x5 = 48,085) | 763 |  ? |  ? - ? |
| 33 | 19,248 (802 / Hour) | 9,913 (x5 = 49,565) | 787 |  ? |  ? - ? |
| 34 | 19,704 (821 / Hour) | 10,209 (x5 = 51,045) | 810 |  ? |  ? - ? |
| 35 | 20,160 (840 / Hour) | 10,504 (x5 = 52,520) | 834 |  ? |  ? - ? |
| 36 | 20,640 (860 / Hour) | 10,800 (x5 = 54,000) | 858 |  ? |  ? - ? |
| 37 | 21,096 (879 / Hour) | 11,096 (x5 = 55,480) | 882 |  ? |  ? - ? |
| 38 | 21,552 (898 / Hour) | 11,392 (x5 = 56,960) | 906 |  ? |  ? - ? |
| 39 | 22,007 (917 / Hour) | 11,687 (x5 = 58,435) | 930 |  ? |  ? - ? |
| 40 | 22,464 (936 / Hour) | MAX | 953 | 7,192 | 453 - 2,721 |
Total Crops to Max: 1,092,260
Pachyrhinosaurus Level 40
Tournament-Battle Arena Profile Picture
Pachyrhinosaurus in Battle
Pachyrhinosaurus Level 40 Pictures