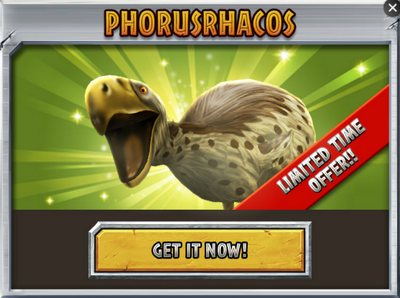 Battle Weakness: Swipe
Battle Class: Gold
Phorusrhacos is an extinct genus of giant flightless terror birds that lived in Miocene Patagonia. Phorusrhacos grew up to 2.5 metres (8.2 ft) tall and weighed approximately 130 kilograms (290 lb).They had large skulls, up to sixty centimetres (24 in) long, armed with powerful, hook-tipped beaks. The structure of the beak and the large claws on the toes show that they were carnivorous.
Most phorusrhacids were very fast runners. All members possessed a large, sharp beak, a powerful neck and sharp talons. However, even with these attributes, the phorusrhacids are often assumed to have preyed on relatively small animals (about the size of a rabbit) that could be dispatched with a minimum of struggle. This is due to the fact that with the phorusrhacids' beak proportions, the jaw could not generate a great deal of bite force with which to kill the prey.
The bones of the beak were tightly fused together, making the beak more resilient to force from the front to back direction, thus suggesting that it could cause a great amount of harm through pecking as opposed to side-to-side head movements like shaking prey. Generally speaking, it is thought that a terror bird would use its feet to injure prey by kicking it, and to hold the prey down and dispatch by pecking at it with its large beak. Larger prey may also have been attacked by pecking and kicking, or by using the beak as a blade to strike at or slash vital organs.
Information
Cost and Time to Hatch
Availability
Limited
DNA Research
20,000 x10
Placement Cost
166,250
Incubation Time
22:02:59
XP
Dimensions
6x6

Initial Message: The Phorusrhacos is also known as "Terror Bird".

First Evolution Message: The Phorusrhacos means "Branch holder" in Greek

Second Evolution Message: In addition to Terror Bird, the Phorusrhacos had a number of other names like Darwinornis, Titanornis, Stereornis and Liornis.

Third Evolution Message: In order to incapacitate its victims, the Phorusrhacos grabbed them with its talons and smashed them on the ground.
Level-Based Stats
| Level | Unmodified Earning Rates (8 Hrs) | Feeding Costs (Meat) | Ferocity | Life | Attack |
| --- | --- | --- | --- | --- | --- |
| 1 | 4,048 (506 / Hour) | 405 (x5 = 2,025) |  ? |  ? |  ? - ? |
| 2 | 4,464 (558 / Hour) | 671 (x5 = 3,355) |  ? |  ? |  ? - ? |
| 3 | 4,880 (610 / Hour) | 937 (x5 = 4,685) |  ? |  ? |  ? - ? |
| 4 | 5,296 (662 / Hour) | 1,204 (x5 = 6,020) |  ? |  ? |  ? - ? |
| 5 | 5,712 (714 / Hour) | 1,470 (x5 = 7,350) |  ? | 709 | 55 - 331 |
| 6 | 6,128 (766 / Hour) | 1,737 (x5 = 8,685) |  ? | 851 | 66 - 396 |
| 7 | 6,544 (818 / Hour) | 2,003 (x5 = 10,015) |  ? | 993 | 76 - 460 |
| 8 | 6,960 (870 / Hour) | 2,270 (x5 = 11,350) |  ? | 1,134 | 87 - 525 |
| 9 | 7,376 (922 / Hour) | 2,536 (x5 = 12,680) |  ? | 1,276 | 99 - 597 |
| 10 | 7,792 (974 / Hour) | Evolve: 30,000 per attempt |  ? | 1,418 | 110 - 662 |
| 11 | 8,200 (1,025 / Hour) | 3,069 (x5 = 15,345) |  ? |  ? |  ? - ? |
| 12 | 8,616 (1,077 / Hour) | 3,336 (x5 = 16,680) |  ? |  ? |  ? - ? |
| 13 | 9,032 (1,129 / Hour) | 3,602 (x5 = 18,010) |  ? |  ? |  ? - ? |
| 14 | 9,448 (1,181 / Hour) | 3,869 (x5 = 19,345) |  ? |  ? |  ? - ? |
| 15 | 9,864 (1,233 / Hour) | 4,135 (x5 = 20,675) |  ? |  ? |  ? - ? |
| 16 | 10,280 (1,285 / Hour) | 4,402 (x5 = 22,010) |  ? |  ? |  ? - ? |
| 17 | 10,696 (1,337 / Hour) | 4,668 (x5 = 23,340) |  ? |  ? |  ? - ? |
| 18 | 11,112 (1,389 / Hour) | 4,934 (x5 = 24,670) |  ? |  ? |  ? - ? |
| 19 | 11,528 (1,441 / Hour) | 5,201 (x5 = 26,005) |  ? |  ? |  ? - ? |
| 20 | 11,944 (1,493 / Hour) | Evolve: 40,000 per attempt | 405 | 2,835 | 219 - 1,317 |
| 21 | 12,360 (1,545 / Hour) | 5,734 (x5 = 28,670) | 426 | 2,977 | 230 - 1,382 |
| 22 | 12,776 (1,597 / Hour) | 6,000 (x5 = 30,000) |  ? |  ? |  ? - ? |
| 23 | 13,192 (1,649 / Hour) | 6,267 (x5 = 31,335) |  ? |  ? |  ? - ? |
| 24 | 13,600 (1,700 / Hour) | 6,533 (x5 = 32,665) |  ? |  ? |  ? - ? |
| 25 | 14,016 (1,752 / Hour) | 6,800 (x5 = 34,000) |  ? |  ? |  ? - ? |
| 26 | 14,431 (1,804 / Hour) | 7,066 (x5 = 35,330) |  ? |  ? |  ? - ? |
| 27 | 14,848 (1,856 / Hour) | 7,333 (x5 = 36,665) |  ? |  ? |  ? - ? |
| 28 | 15,263 (1,908 / Hour) | 7,599 (x5 = 37,995) |  ? |  ? |  ? - ? |
| 29 | 15,680 (1,960 / Hour) | 7,866 (x5 = 39,330) |  ? |  ? |  ? - ? |
| 30 | 16,096 (2,012 / Hour) | Evolve: 50,000 per attempt |  ? |  ? |  ? - ? |
| 31 | 16,512 (2,064 / Hour) | 8,399 (x5 = 41,995) |  ? |  ? |  ? - ? |
| 32 | 16,928 (2,116 / Hour) | 8,665 (x5 = 43,325) |  ? |  ? |  ? - ? |
| 33 | 17,344 (2,168 / Hour) | 8,932 (x5 = 44,660) |  ? |  ? |  ? - ? |
| 34 | 17,760 (2,220 / Hour) | 9,198 (x5 = 45,990) |  ? |  ? |  ? - ? |
| 35 | 18,176 (2,272 / Hour) | 9,464 (x5 = 47,320) |  ? |  ? |  ? - ? |
| 36 | 18,592 (2,324 / Hour) | 9,731 (x5 = 48,655) |  ? |  ? |  ? - ? |
| 37 | 19,000 (2,375 / Hour) | 9,997 (x5 = 49,985) |  ? |  ? |  ? - ? |
| 38 | 19,416 (2,427 / Hour) | 10,264 (x5 = 51,320) |  ? |  ? |  ? - ? |
| 39 | 19,832 (2,479 / Hour) | 10,530 (x5 = 52,650) |  ? |  ? |  ? - ? |
| 40 | 20,248 (2,531 / Hour) | MAX |  ? | 1 |  ? - ? |
Total Meat to Max: 984,135
Phorusrhacos Level 40
Tournament-Battle Arena Profile Picture
Phorusrhacos in Battle
Phorusrhacos Level 40 Pictures