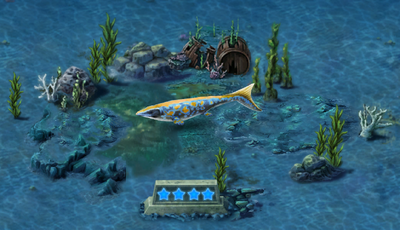 Battle Weakness: Swipe
Battle Class: Bronze
Diet: Crustaceavore
Platecarpus ("flat wrist") is an extinct genus of aquatic lizards belonging to the mosasaur family, living around 84–81 million years ago during the middle Santonian to early Campanian, of the Late Cretaceous period. Fossils have been found in the United States and a possible specimen in Belgium and Africa. A well-preserved specimen of Platecarpus shows that it fed on moderate-sized fish, and it has been hypothesized to have fed on squid, and ammonites as well. Like other mosasaurs, it was initially thought to have swum in an eel-like fashion, although another study suggests that it swam more like modern sharks.
Platecarpus had a long, down-turned tail with a large dorsal lobe on it, steering flippers, and jaws lined with conical teeth. It grew up to 4.3 m (14 ft) long, with half of that length taken up by its tail. The platecarpine mosasaurs had evolved into the very specialized plioplatecarpine group by the end of the Cretaceous.
An exceptionally well-preserved specimen of P. tympaniticus known as LACM 128319 shows skin impressions, pigments around the nostrils, bronchial tubes, and the presence of a high-profile tail fluke, showing that it and other mosasaurs did not necessarily have an eel-like swimming method, but were more powerful, fast swimmers. It is held in the Natural History Museum of Los Angeles County
Information
Cost and Time to Hatch
Availability
Market
DNA Research
3,000 x10
Placement Cost
53,800
Incubation Time
14:27:00
XP
3,468
Dimensions
6x6

Initial Message: On the roof of its mouth, the Platecarpus had 2 rows of curved teeth leading its victims straight to its belly.

First Evolution Message: With its thick eardrums, the Platecarpus is able to go in deep waters to chase fish.

Second Evolution Message: Ambushing its prey allowed the Platecarpus to swallow them whole.

Third Evolution Message: The name Platecarpus means "flat wrist" in Greek.
Level-Based Stats
| Level | Unmodified Earning Rates (4 Hrs) | Feeding Costs (Crustaceans) | Ferocity | Life | Attack |
| --- | --- | --- | --- | --- | --- |
| 1 | 1,660 (415 / Hour) | 166 (x5 = 830) |  ? | N/A | N/A - N/A |
| 2 | 1,832 (458 / Hour) | 275 (x5 = 1,375) |  ? | N/A | N/A - N/A |
| 3 | 2,000 (500 / Hour) | 384 (x5 = 1,920) |  ? | N/A | N/A - N/A |
| 4 | 2,172 (543 / Hour) | 493 (x5 = 2,465) |  ? | N/A | N/A - N/A |
| 5 | 2,340 (585 / Hour) | 602 (x5 = 3,010) |  ? | 208 | 21 - 129 |
| 6 | 2,512 (628 / Hour) | 712 (x5 = 3,560) |  ? | 249 | 25 - 151 |
| 7 | 2,680 (670 / Hour) | 821 (x5 = 4,105) |  ? | 291 | 28 - 172 |
| 8 | 2,842 (711 / Hour) | 930 (x5 = 4,650) |  ? | 332 | 33 - 201 |
| 9 | 3,024 (756 / Hour) | 1,039 (x5 = 5,195) |  ? | 374 | 37 - 223 |
| 10 | 3,192 (798 / Hour) | Evolve: 12,000 per attempt |  ? | 415 | 42 - 252 |
| 11 | 3,362 (841 / Hour) | 1,258 (x5 = 6,290) |  ? | 457 | 45 - 273 |
| 12 | 3,532 (883 / Hour) | 1,367 (x5 = 6,835) |  ? | 498 | 49 - 295 |
| 13 | 3,702 (926 / Hour) | 1,476 (x5 = 7,380) |  ? | 540 | 54 - 324 |
| 14 | 3,872 (968 / Hour) | 1,586 (x5 = 7,930) |  ? | 581 | 57 - 345 |
| 15 | 4,042 (1,011 / Hour) | 1,695 (x5 = 8,475) |  ? | 623 | 62 - 374 |
| 16 | 4,212 (1,053 / Hour) | 1,804 (x5 = 9,020) |  ? | 664 | 66 - 396 |
| 17 | 4,383 (1,096 / Hour) | 1,913 (x5 = 9,565) |  ? | 706 | 69 - 417 |
| 18 | 4,553 (1,138 / Hour) | 2,022 (x5 = 10,110) |  ? | 747 | 74 - 446 |
| 19 | 4,723 (1,181 / Hour) | 2,132 (x5 = 10,660) |  ? | 789 | 78 - 468 |
| 20 | 4,896 (1,224 / Hour) | Evolve: 17,000 per attempt |  ? | 830 | 82 - 496 |
| 21 | 5,064 (1,266 / Hour) | 2,350 (x5 = 11,750) |  ? | 872 | 86 - 518 |
| 22 | 5,236 (1,309 / Hour) | 2,459 (x5 = 12,295) |  ? | 913 | 90 - 540 |
| 23 | 5,404 (1,351 / Hour) | 2,568 (x5 = 12,840) |  ? | 955 | 94 - 568 |
| 24 | 5,576 (1,394 / Hour) | 2,678 (x5 = 13,390) |  ? | 996 | 98 - 590 |
| 25 | 5,748 (1,437 / Hour) | 2,787 (x5 = 13,935) |  ? | 1,038 | 103 - 619 |
| 26 | 5,916 (1,479 / Hour) | 2,896 (x5 = 14,480) |  ? | 1,079 | 106 - 640 |
| 27 | 6,088 (1,522 / Hour) | 3,005 (x5 = 15,025) |  ? | 1,121 | 110 - 662 |
| 28 | 6,256 (1,564 / Hour) | 3,114 (x5 = 15,570) |  ? | 1,162 | 115 - 691 |
| 29 | 6,428 (1,607 / Hour) | 3,224 (x5 = 16,120) |  ? | 1,204 | 118 - 712 |
| 30 | 6,596 (1,649 / Hour) | Evolve: 22,000 per attempt |  ? | 1,245 | 123 - 741 |
| 31 | 6,768 (1,692 / Hour) | 3,442 (x5 = 17,210) |  ? | 1,287 | 127 - 763 |
| 32 | 6,936 (1,734 / Hour) | 3,551 (x5 = 17,755) |  ? | 1,328 | 130 - 784 |
| 33 | 7,108 (1,777 / Hour) | 3,661 (x5 = 18,305) |  ? | 1,370 | 135 - 813 |
| 34 | 7,280 (1,820 / Hour) | 3,770 (x5 = 18,850) |  ? | 1,411 | 139 - 835 |
| 35 | 7,448 (1,862 / Hour) | 3,879 (x5 = 19,395) |  ? | 1,453 | 144 - 864 |
| 36 | 7,619 (1,905 / Hour) | 3,988 (x5 = 19,940) |  ? | 1,494 | 147 - 885 |
| 37 | 7,788 (1,947 / Hour) | 4,097 (x5 = 20,485) |  ? | 1,536 | 151 - 907 |
| 38 | 7,960 (1,990 / Hour) | 4,207 (x5 = 21,035) |  ? | 1,577 | 156 - 936 |
| 39 | 8,127 (2,032 / Hour) | 4,316 (x5 = 21,580) |  ? | 1,619 | 159 - 957 |
| 40 | 8,300 (2,075 / Hour) | MAX |  ? | 1,660 | 164 - 986 |
Total Crustaceans to Max: 403,335
Platecarpus Level 40
Tournament-Battle Arena Profile Picture
Platecarpus in Battle
Platecarpus Level 40 Pictures