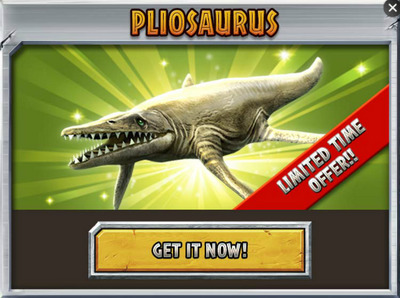 Battle Weakness: Bite.
Battle Class: Gold
Diet: Piscivore
Pliosaurus (meaning 'more lizard') is an extinct genus of thalassophonean pliosaurid known from the Kimmeridgian and Tithonian stages (Late Jurassic) of Europe and South America. Their diet would have included fish, cephalopods, and marine reptiles. This genus has contained many species in the past but recent reviews found only six to be valid, while the validity of two additional species awaits a petition to the ICZN.
Using Liopleurodon, another large pliosaurid, as a guide, a specimen found in the Svalbard islands of northern Europe has been estimated to have been 15 metres (49 ft) long, 45,000 kilograms (99,000 lb) in weight and had teeth 30 centimetres (12 in) long. It is estimated to have lived approximately 147 million years ago. Later on, thorough scrutiny of this Svalbard specimen revealed that it was not as massive as originally claimed; total length estimates have been revised to 10–13 metres (33–43 ft)[9] and was named Pliosaurus funkei in Knutsen et al. 2012, with estimated skull lengths of 160–200 cm and a forelimb length of 300 cm for the holotype (PMO 214.135), and an estimated skull length of 200–250 cm for the referred specimen (PMO 214.136), suggesting that the animal had proportionally bigger flippers than other pliosaurs compared to the skull size and dimensions of the vertebrae.
Information
Cost and Time to Hatch
Availability
Limited
DNA Research
15,000 x10
Placement Cost
160,750
Incubation Time
6:03:00
XP
1,452
Dimensions

Initial Message: The name Pliosaurus means Pliocene lizard in greek

First Evolution Message: The neck vertebra of the Pliosaurus was the size of a dinner plate.

Second Evolution Message: The teeth of the Pliosaurus were the size of bananas.

Third Evolution Message: During their era, predatory-wise, the Pliosaurus acted just like the Killer whales of present time.
Level-Based Stats
| Level | Unmodified Earning Rates (7 Hrs) | Feeding Costs (Fish) | Ferocity | Life | Attack |
| --- | --- | --- | --- | --- | --- |
| 1 | 4,648 (664 / Hour) | 465 (x5 = 2,325) |  ? |  ? |  ? - ? |
| 2 | 5,124 (732 / Hour) | 770 (x5 = 3,850) |  ? |  ? |  ? - ? |
| 3 | 5,607 (801 / Hour) | 1,076 (x5 = 5,380) |  ? |  ? |  ? - ? |
| 4 | 6,083 (869 / Hour) | 1,382 (x5 = 6,910) |  ? |  ? |  ? - ? |
| 5 | 6,559 (937 / Hour) | 1,688 (x5 = 8,440) |  ? |  ? |  ? - ? |
| 6 | 7,035 (1,005 / Hour) | 1,994 (x5 = 9,970) |  ? |  ? |  ? - ? |
| 7 | 7,511 (1,073 / Hour) | 2,300 (x5 = 11,500) |  ? |  ? |  ? - ? |
| 8 | 7,987 (1,141 / Hour) | 2,606 (x5 = 13,030) |  ? |  ? |  ? - ? |
| 9 | 8,463 (1,209 / Hour) | 2,912 (x5 = 14,560) |  ? |  ? |  ? - ? |
| 10 | 8,939 (1,277 / Hour) | Evolve: 25,000 per attempt | 233 | 1,628 | 126 - 756 |
| 11 | 9,422 (1,346 / Hour) | 3,524 (x5 = 17,620) |  ? |  ? |  ? - ? |
| 12 | 9,898 (1,414 / Hour) | 3,830 (x5 = 19,150) |  ? |  ? |  ? - ? |
| 13 | 10,374 (1,482 / Hour) | 4,136 (x5 = 20,680) |  ? |  ? |  ? - ? |
| 14 | 10,850 (1,550 / Hour) | 4,442 (x5 = 22,210) |  ? |  ? |  ? - ? |
| 15 | 11,326 (1,618 / Hour) | 4,748 (x5 = 23,740) |  ? |  ? |  ? - ? |
| 16 | 11,802 (1,686 / Hour) | 5,054 (x5 = 25,270) |  ? |  ? |  ? - ? |
| 17 | 12,278 (1,754 / Hour) | 5,360 (x5 = 26,800) |  ? |  ? |  ? - ? |
| 18 | 12,761 (1,823 / Hour) | 5,666 (x5 = 28,330) |  ? |  ? |  ? - ? |
| 19 | 13,237 (1,891 / Hour) | 5,972 (x5 = 29,860) |  ? |  ? |  ? - ? |
| 20 | 13,713 (1,959 / Hour) | Evolve: 35,000 per attempt |  ? |  ? |  ? - ? |
| 21 | 14,189 (2,027 / Hour) | 6,583 (x5 = 32,915) |  ? |  ? |  ? - ? |
| 22 | 14,665 (2,095 / Hour) | 6,889 (x5 = 34,445) |  ? |  ? |  ? - ? |
| 23 | 15,141 (2,163 / Hour) | 7,195 (x5 = 35,975) |  ? |  ? |  ? - ? |
| 24 | 15,617 (2,231 / Hour) | 7,501 (x5 = 37,505) |  ? |  ? |  ? - ? |
| 25 | 16,093 (2,299 / Hour) | 7,807 (x5 = 39,035) |  ? |  ? |  ? - ? |
| 26 | 16,576 (2,368 / Hour) | 8,113 (x5 = 40,565) |  ? |  ? |  ? - ? |
| 27 | 17,052 (2,436 / Hour) | 8,419 (x5 = 42,095) |  ? |  ? |  ? - ? |
| 28 | 17,528 (2,504 / Hour) | 8,725 (x5 = 43,625) |  ? |  ? |  ? - ? |
| 29 | 18,004 (2,572 / Hour) | 9,031 (x5 = 45,155) |  ? |  ? |  ? - ? |
| 30 | 18,480 (2,640 / Hour) | Evolve: 50,000 per attempt |  ? |  ? |  ? - ? |
| 31 | 18,956 (2,708 / Hour) | 9,643 (x5 = 48,215) |  ? |  ? |  ? - ? |
| 32 | 19,432 (2,776 / Hour) | 9,949 (x5 = 49,745) |  ? |  ? |  ? - ? |
| 33 | 19,915 (2,845 / Hour) | 10,255 (x5 = 51,275) |  ? |  ? |  ? - ? |
| 34 | 20,391 (2,913 / Hour) | 10,561 (x5 = 52,805) |  ? |  ? |  ? - ? |
| 35 | 20,867 (2,981 / Hour) | 10,867 (x5 = 54,335) |  ? |  ? |  ? - ? |
| 36 | 21,343 (3,049 / Hour) | 11,173 (x5 = 55,865) |  ? |  ? |  ? - ? |
| 37 | 21,819 (3,117 / Hour) | 11,479 (x5 = 57,395) |  ? |  ? |  ? - ? |
| 38 | 22,295 (3,185 / Hour) | 11,785 (x5 = 58,925) |  ? |  ? |  ? - ? |
| 39 | 22,771 (3,253 / Hour) | 12,090 (x5 = 60,450) |  ? |  ? |  ? - ? |
| 40 | 23,247 (3,321 / Hour) | MAX |  ? |  ? |  ? - ? |
Total Fish to Max: 1,129,950
Pliosaurus Level 40
Tournament-Battle Arena Profile Picture
Pliosaurus in Battle
Pliosaurus Level 40 Pictures