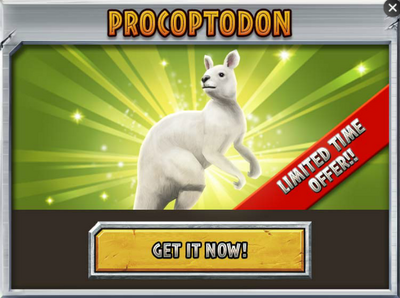 Battle Weakness: Swipe
Battle Class: Gold
Procoptodon is a genus of giant short-faced kangaroo living in Australia during the Pleistocene epoch. P. goliah, the largest-known kangaroo that ever existed, stood approximately 2 m (6.6 ft). They weighed about 200–240 kg (440–530 lb). Other members of the genus are smaller, however; Procoptodon gilli is the smallest of all of the sthenurine kangaroos, standing approximately 1 m (3 ft 3 in) tall.

Procoptodon goliah was mainly known for living in semiarid areas of South Australia and New South Wales. These environments were harsh, characterised by vast areas of treeless, wind-blown sand dunes. However, around Lake Menindee, in western New South Wales, had a cooler, wetter climate at the time Procoptodon existed. The surrounding area was a mosaic of sclerophyll forest, woodland, savannah and plains, but sand dunes would have also formed along the edges of the Menindee. Fossilized footprints have been found on Kangaroo Island
Information
Cost and Time to Hatch
Availability
Limited
DNA Research
20,000 x10
Placement Cost
317,400
Incubation Time
22:03:00
XP
3,174 + 4 x 5,292
Dimensions
8 x 8

Initial Message: The name Procoptodon means "Forward Hill Tooth" in Greek.

First Evolution Message: The Giant Short-Faced Kangaroo is another name for the Procoptodon

Second Evolution Message: Procoptodons disappeared because they were hunted to extinction by humans.

Third Evolution Message: The Procoptodon is the only kangaroo that could reach leaves above its head with its long arms.
Level-Based Stats
| Level | Unmodified Earning Rates (8 Hrs) | Feeding Costs (Crops) | Ferocity | Life | Attack |
| --- | --- | --- | --- | --- | --- |
| 1 | 4,352 (544 / Hour) | 435 (x5 = 2,175) |  ? | N/A | N/A - N/A |
| 2 | 4,800 (600 / Hour) | 721 (x5 = 3,605) |  ? | N/A | N/A - N/A |
| 3 | 5,240 (655 / Hour) | 1,007 (x5 = 5,035) |  ? | N/A | N/A - N/A |
| 4 | 5,688 (711 / Hour) | 1,293 (x5 = 6,465) |  ? | N/A | N/A - N/A |
| 5 | 6,442 (805 / Hour) | 1,579 (x5 = 7,895) |  ? | 1,034 | 56 - 338 |
| 6 | 6,913 (864 / Hour) | 1,866 (x5 = 9,330) |  ? | 1,240 | 67 - 403 |
| 7 | 7,375 (922 / Hour) | 2,152 (x5 = 10,760) |  ? | 1,447 | 78 - 468 |
| 8 | 7,845 (981 / Hour) | 2,438 (x5 = 12,190) |  ? | 1,653 | 88 - 532 |
| 9 | 8,316 (1,040 / Hour) | 2,724 (x5 = 13,620) |  ? | 1,860 | 100 - 604 |
| 10 | 8,786 (1,098 / Hour) | Evolve: 30,000 per attempt |  ? | 2,067 | 111 - 669 |
| 11 | 11,098 (1,387 / Hour) | 3,297 (x5 = 16,485) |  ? | 2,273 | 122 - 734 |
| 12 | 11,662 (1,458 / Hour) | 3,583 (x5 = 17,915) |  ? | 2,480 | 133 - 799 |
| 13 | 12,227 (1,528 / Hour) | 3,869 (x5 = 19,345) |  ? | 2,687 | 145 - 871 |
| 14 | 12,791 (1,599 / Hour) | 4,155 (x5 = 20,775) |  ? | 2,893 | 156 - 936 |
| 15 | 13,356 (1,670 / Hour) | 4,441 (x5 = 22,205) |  ? | 3,100 | 166 - 1,000 |
| 16 | 13,910 (1,739 / Hour) | 4,728 (x5 = 23,640) |  ? | 3,306 | 177 - 1,065 |
| 17 | 14,474 (1,809 / Hour) | 5,014 (x5 = 25,070) |  ? | 3,513 | 189 - 1,137 |
| 18 | 15,039 (1,880 / Hour) | 5,300 (x5 = 26,500) |  ? | 3,720 | 200 - 1,202 |
| 19 | 15,603 (1,950 / Hour) | 5,586 (x5 = 27,930) |  ? | 3,926 | 211 - 1,267 |
| 20 | 16,158 (2,020 / Hour) | Evolve: 40,000 per attempt |  ? | 4,133 | 222 - 1,332 |
| 21 | 13,272 (1,659 / Hour) | 6,159 (x5 = 30,795) |  ? | 4,340 | 234 - 1,404 |
| 22 | 13,720 (1,715 / Hour) | 6,445 (x5 = 32,225) |  ? |  ? |  ? - ? |
| 23 | 14,168 (1,771 / Hour) | 6,731 (x5 = 33,655) |  ? |  ? |  ? - ? |
| 24 | 14,608 (1,826 / Hour) | 7,017 (x5 = 35,085) |  ? |  ? |  ? - ? |
| 25 | 15,056 (1,882 / Hour) | 7,303 (x5 = 36,515) |  ? |  ? |  ? - ? |
| 26 | 15,504 (1,938 / Hour) | 7,590 (x5 = 37,950) |  ? |  ? |  ? - ? |
| 27 | 15,952 (1,994 / Hour) | 7,876 (x5 = 39,380) |  ? |  ? |  ? - ? |
| 28 | 16,400 (2,050 / Hour) | 8,162 (x5 = 40,810) |  ? |  ? |  ? - ? |
| 29 | 16,840 (2,105 / Hour) | 8,448 (x5 = 42,240) |  ? |  ? |  ? - ? |
| 30 | 17,288 (2,161 / Hour) | Evolve: 50,000 per attempt |  ? |  ? |  ? - ? |
| 31 | 17,736 (2,217 / Hour) | 9,021 (x5 = 45,105) |  ? |  ? |  ? - ? |
| 32 | 18,184 (2,273 / Hour) | 9,307 (x5 = 46,535) |  ? |  ? |  ? - ? |
| 33 | 18,624 (2,328 / Hour) | 9,593 (x5 = 47,965) |  ? |  ? |  ? - ? |
| 34 | 19,072 (2,384 / Hour) | 9,879 (x5 = 49,395) |  ? |  ? |  ? - ? |
| 35 | 19,520 (2,440 / Hour) | 10,166 (x5 = 50,830) |  ? |  ? |  ? - ? |
| 36 | 19,968 (2,496 / Hour) | 10,452 (x5 = 52,260) |  ? |  ? |  ? - ? |
| 37 | 20,408 (2,551 / Hour) | 10,738 (x5 = 53,690) |  ? |  ? |  ? - ? |
| 38 | 20,856 (2,607 / Hour) | 11,024 (x5 = 55,120) |  ? |  ? |  ? - ? |
| 39 | 21,304 (2,663 / Hour) | 11,310 (x5 = 56,550) |  ? |  ? |  ? - ? |
| 40 | 21,752 (2,719 / Hour) | MAX |  ? | 8,265 | 444 - 2,664 |
Total Crops to Max: 1,057,045
Procoptodon Level 40
Tournament-Battle Arena Profile Picture
Procoptodon in Battle
Procoptodon Level 40 Pictures