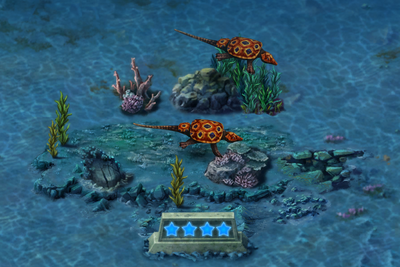 Battle Weakness: Charge
Battle Class: Sliver
Diet: Crustaceavore
Psephoderma (meaning "pebbly skin", from the Ancient Greek psepho (ψῆφος), "pebbly", and derma (δέρμα), "skin" is a genus of placodont that was very similar to its relatives Placochelys and Cyamodus. Psephoderma had a flattened skull and a narrow, straight rostrum. Inside this skull, embedded in the jaws, were rounded teeth specialized for crushing the shellfish it ate.
Unlike most placodonts, Psephoderma had a carapace that was divided into two pieces, one on the shoulders and back, another on the rear end. Psephoderma grew to 180 cm long and lived in the Late Triassic (Norian), about 210 million years ago. It was one of the last placodonts to live.
Information
Cost and Time to Hatch
Availability
Market
DNA Research
7,000 x10
Placement Cost
131,650
Incubation Time
42:03:00
XP
Dimensions
5x5

Initial Message: The name of the Psephoderma means "pebbly skin" in Greek

First Evolution Message: The name of the Psephoderma refers to the hexagonal plates that was covering this reptile.

Second Evolution Message: The Psephoderma was an odd animal with its turtle-like head, a segmented body and the tail of a rat.

Third Evolution Message: The Psephoderma's extinction may have been caused by it not being a fast swimmer and well suited for marine life.
Level-Based Stats
| Level | Unmodified Earning Rates (6 Hrs) | Feeding Costs (Crustaceans) | Ferocity | Life | Attack |
| --- | --- | --- | --- | --- | --- |
| 1 | 3,252 (542 / Hour) | 325 (x5 = 1,625) |  ? | N/A | N/A - N/A |
| 2 | 3,582 (597 / Hour) | 538 (x5 = 2,690) |  ? | N/A | N/A - N/A |
| 3 | 3,918 (653 / Hour) | 752 (x5 = 3,760) |  ? | N/A | N/A - N/A |
| 4 | 4,248 (708 / Hour) | 966 (x5 = 4,830) |  ? | N/A | N/A - N/A |
| 5 | 4,584 (764 / Hour) | 1,180 (x5 = 5,900) |  ? | 529 | 40 - 244 |
| 6 | 4,914 (819 / Hour) | 1,394 (x5 = 6,970) |  ? | 634 | 49 - 295 |
| 7 | 5,250 (875 / Hour) | 1,608 (x5 = 8,040) |  ? | 740 | 57 - 345 |
| 8 | 5,586 (931 / Hour) | 1,821 (x5 = 9,105) |  ? | 845 | 64 - 388 |
| 9 | 5,916 (986 / Hour) | 2,035 (x5 = 10,175) |  ? | 951 | 73 - 439 |
| 10 | 6,252 (1,042 / Hour) | Evolve: 17,000 per attempt |  ? | 1,057 | 81 - 489 |
| 11 | 6,582 (1,097 / Hour) | 2,463 (x5 = 12,315) |  ? | 1,162 | 90 - 540 |
| 12 | 6,918 (1,153 / Hour) | 2,677 (x5 = 13,385) |  ? | 1,268 | 97 - 583 |
| 13 | 7,248 (1,208 / Hour) | 2,891 (x5 = 14,455) |  ? | 1,374 | 105 - 633 |
| 14 | 7,584 (1,264 / Hour) | 3,104 (x5 = 15,520) |  ? | 1,479 | 114 - 684 |
| 15 | 7,914 (1,319 / Hour) | 3,318 (x5 = 16,590) |  ? | 1,585 | 122 - 734 |
| 16 | 8,250 (1,375 / Hour) | 3,532 (x5 = 17,660) |  ? | 1,690 | 129 - 777 |
| 17 | 8,586 (1,431 / Hour) | 3,746 (x5 = 18,730) |  ? | 1,796 | 138 - 828 |
| 18 | 8,916 (1,486 / Hour) | 3,960 (x5 = 19,800) |  ? | 1,902 | 146 - 878 |
| 19 | 9,252 (1,542 / Hour) | 4,174 (x5 = 20,870) |  ? | 2,007 | 154 - 928 |
| 20 | 9,582 (1,597 / Hour) | Evolve: 27,000 per attempt |  ? | 2,113 | 162 - 972 |
| 21 | 9,918 (1,653 / Hour) | 4,601 (x5 = 23,005) |  ? | 2,219 | 170 - 1,022 |
| 22 | 10,248 (1,708 / Hour) | 4,815 (x5 = 24,075) |  ? | 2,324 | 178 - 1,072 |
| 23 | 10,584 (1,764 / Hour) | 5,029 (x5 = 25,145) |  ? | 2,430 | 187 - 1,123 |
| 24 | 10,913 (1,819 / Hour) | 5,243 (x5 = 26,215) |  ? | 2,535 | 194 - 1,166 |
| 25 | 11,250 (1,875 / Hour) | 5,457 (x5 = 27,285) |  ? | 2,641 | 202 - 1,216 |
| 26 | 11,586 (1,931 / Hour) | 5,670 (x5 = 28,350) |  ? | 2,747 | 211 - 1,267 |
| 27 | 11,916 (1,986 / Hour) | 5,884 (x5 = 29,420) |  ? | 2,852 | 219 - 1,317 |
| 28 | 12,252 (2,042 / Hour) | 6,098 (x5 = 30,490) |  ? | 2,958 | 226 - 1,360 |
| 29 | 12,582 (2,097 / Hour) | 6,312 (x5 = 31,560) |  ? | 3,064 | 235 - 1,411 |
| 30 | 12,918 (2,153 / Hour) | Evolve: 42,000 per attempt |  ? | 3,169 | 243 - 1,461 |
| 31 | 13,248 (2,208 / Hour) | 6,740 (x5 = 33,700) |  ? | 3,275 | 252 - 1,512 |
| 32 | 13,584 (2,264 / Hour) | 6,953 (x5 = 34,765) |  ? | 3,380 | 259 - 1,555 |
| 33 | 13,914 (2,319 / Hour) | 7,167 (x5 = 35,835) |  ? | 3,486 | 267 - 1,605 |
| 34 | 14,250 (2,375 / Hour) | 7,381 (x5 = 36,905) |  ? | 3,592 | 276 - 1,656 |
| 35 | 14,586 (2,431 / Hour) | 7,595 (x5 = 37,975) |  ? | 3,697 | 284 - 1,706 |
| 36 | 14,916 (2,486 / Hour) | 7,809 (x5 = 39,045) |  ? | 3,806 | 291 - 1,749 |
| 37 | 15,252 (2,542 / Hour) | 8,023 (x5 = 40,115) |  ? | 3,909 | 300 - 1,800 |
| 38 | 15,582 (2,597 / Hour) | 8,236 (x5 = 41,180) |  ? | 4,014 | 308 - 1,850 |
| 39 | 15,918 (2,653 / Hour) | 8,450 (x5 = 42,250) |  ? | 4,120 | 315 - 1,893 |
| 40 | 16,248 (2,708 / Hour) | MAX |  ? | 4,225 | 324 - 1,944 |
Total Crustaceans to Max: 789,735
Psephoderma Level 40
Tournament-Battle Arena Profile Picture
Psephoderma in Battle
Psephoderma Level 40 Pictures