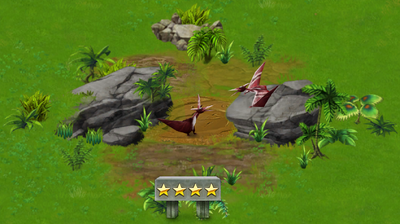 Battle Weakness: Swipe
Battle Class: Sliver
Pterodactylus (/ˌtɛrəˈdæktɪləs/ TERR-ə-DAK-til-əs, from the Greek: πτεροδάκτυλος, pterodaktulos, meaning "winged finger") is an extinct flying reptile genus of pterosaurs, whose members are popularly known as pterodactyls ( /ˌtɛrəˈdæktɪlz/). It is currently thought to contain only a single species, Pterodactylus antiquus, the first pterosaur species to be named and identified as a flying reptile.
The fossil remains of this species have been found primarily in the Solnhofen limestone of Bavaria, Germany, dated to the late Jurassic Period (early Tithonian), about 150.8–148.5 million years ago, though more fragmentary remains have been tentatively identified from elsewhere in Europe and in Africa.
It was a carnivore and probably preyed upon fish and other small animals. Like all pterosaurs, Pterodactylus had wings formed by a skin and muscle membrane stretching from its elongated fourth finger to its hind limbs. It was supported internally by collagen fibres and externally by keratinous ridges.
Pterodactylus, Pteranodon and Tapejara are the only three carnivores that live on herbivore habitat.
Information
Cost and Time to Hatch
Availability
Market
DNA Research
4,000 x10
Placement Cost
133,400
Incubation Time
22:03:00
XP
1,334
Dimensions
6x6

Initial Message: The name Pterodactylus means "wing fingers".

First Evolution Message: The mixture of batlike and birdlike features within the Pterodactylus was remarkable.

Second Evolution Message: Almost 100 different species of Pterosaurs were identified and there have been many more!

Third Evolution Message: Just like seagulls, Pterodactylus flew over the coastlines to catch small fish.
Level-Based Stats
| Level | Unmodified Earning Rates (12 Hrs) | Feeding Costs (Meat) | Ferocity | Life | Attack |
| --- | --- | --- | --- | --- | --- |
| 1 | 3,252 (271 / Hour) | 325 (x5 = 1,625) |  ? | N/A | N/A - N/A |
| 2 | 3,588 (299 / Hour) | 538 (x5 = 2,690) |  ? | N/A | N/A - N/A |
| 3 | 3,912 (326 / Hour) | 752 (x5 = 3,760) |  ? | N/A | N/A - N/A |
| 4 | 4,248 (354 / Hour) | 966 (x5 = 4,830) |  ? | N/A | N/A - N/A |
| 5 | 4,584 (382 / Hour) | 1,180 (x5 = 5,900) | 49 | 407 | 42 - 252 |
| 6 | 4,920 (410 / Hour) | 1,394 (x5 = 6,970) | 59 | 488 | 50 - 302 |
| 7 | 5,256 (438 / Hour) | 1,608 (x5 = 8,040) | 69 | 569 | 58 - 352 |
| 8 | 5,580 (465 / Hour) | 1,821 (x5 = 9,105) | 78 | 650 | 67 - 403 |
| 9 | 5,916 (493 / Hour) | 2,035 (x5 = 10,175) | 88 | 732 | 75 - 453 |
| 10 | 6,252 (521 / Hour) | Evolve: 15,050 per attempt | 98 | 813 | 84 - 504 |
| 11 | 6,588 (549 / Hour) | 2,463 (x5 = 12,315) | 108 | 894 | 92 - 554 |
| 12 | 7,430 (619 / Hour) | 2,677 (x5 = 13,385) | 117 | 975 | 100 - 604 |
| 13 | 7,248 (604 / Hour) | 2,891 (x5 = 14,455) | 127 | 1,057 | 109 - 655 |
| 14 | 7,584 (632 / Hour) | 3,104 (x5 = 15,520) | 137 | 1,138 | 117 - 705 |
| 15 | 7,920 (660 / Hour) | 3,318 (x5 = 16,590) | 147 | 1,219 | 126 - 756 |
| 16 | 8,256 (688 / Hour) | 3,532 (x5 = 17,660) | 156 | 1,300 | 134 - 806 |
| 17 | 8,580 (715 / Hour) | 3,746 (x5 = 18,730) | 166 | 1,382 | 142 - 856 |
| 18 | 8,916 (743 / Hour) | 3,960 (x5 = 19,800) | 176 | 1,463 | 151 - 907 |
| 19 | 9,252 (771 / Hour) | 4,174 (x5 = 20,870) | 186 | 1,544 | 159 - 957 |
| 20 | 9,588 (799 / Hour) | Evolve: 18,650 per attempt | 195 | 1,625 | 168 - 1,008 |
| 21 | 9,912 (826 / Hour) | 4,601 (x5 = 23,005) | 205 | 1,707 | 176 - 1,058 |
| 22 | 10,248 (854 / Hour) | 4,815 (x5 = 24,075) | 215 | 1,788 | 184 - 1,108 |
| 23 | 10,584 (882 / Hour) | 5,029 (x5 = 25,145) | 225 | 1,869 | 193 - 1,159 |
| 24 | 10,920 (910 / Hour) | 5,243 (x5 = 26,215) | 234 | 1,950 | 201 - 1,209 |
| 25 | 11,256 (938 / Hour) | 5,457 (x5 = 27,285) | 244 | 2,032 | 210 - 1,260 |
| 26 | 11,580 (965 / Hour) | 5,670 (x5 = 28,350) | 254 | 2,113 | 218 - 1,310 |
| 27 | 11,916 (993 / Hour) | 5,884 (x5 = 29,420) | 264 | 2,194 | 226 - 1,360 |
| 28 | 12,864 (1,072 / Hour) | 6,098 (x5 = 30,490) | 273 | 2,275 | 235 - 1,411 |
| 29 | 12,588 (1,049 / Hour) | 6,312 (x5 = 31,560) | 283 | 2,357 | 243 - 1,461 |
| 30 | 12,912 (1,076 / Hour) | Evolve: 22,500 per attempt | 293 | 2,438 | 252 - 1,512 |
| 31 | 13,248 (1,104 / Hour) | 6,740 (x5 = 33,700) | 303 | 2,519 | 260 - 1,562 |
| 32 | 13,584 (1,132 / Hour) | 6,953 (x5 = 34,765) | 312 | 2,600 | 268 - 1,612 |
| 33 | 13,920 (1,160 / Hour) | 7,167 (x5 = 35,835) | 322 | 2,682 | 277 - 1,663 |
| 34 | 14,256 (1,188 / Hour) | 7,381 (x5 = 36,905) | 332 | 2,763 | 285 - 1,713 |
| 35 | 14,580 (1,215 / Hour) | 7,595 (x5 = 37,975) | 342 | 2,844 | 294 - 1,764 |
| 36 | 14,916 (1,243 / Hour) | 7,809 (x5 = 39,045) | 351 | 2,925 | 302 - 1,814 |
| 37 | 15,252 (1,271 / Hour) | 8,023 (x5 = 40,115) | 361 | 3,007 | 310 - 1,864 |
| 38 | 15,588 (1,299 / Hour) | 8,236 (x5 = 41,180) | 371 | 3,088 | 319 - 1,915 |
| 39 | 15,912 (1,326 / Hour) | 8,450 (x5 = 42,250) | 381 | 3,169 | 327 - 1,965 |
| 40 | 16,248 (1,354 / Hour) | MAX | 390 | 3,250 | 336 - 2,016 |
Total Meat to Max: 789,735
Pterodactylus Level 40
Tournament-Battle Arena Profile Picture
Pterodactylus in Battle
Pterodactylus Level 40 Pictures