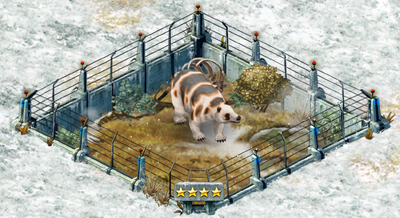 Battle Weakness: Bite
Battle Class: Silver
Sarkastodon means "Flash-Tearing Tooth". Sarkastodon is an extinct genus within the family Oxyaenidae that lived during the upper Eocene, approximately 35 million years ago. It was a large, carnivorous animal that lived in what is today Mongolia.

Sarkastodon is known only from a skull and jawbones. Sarkastodon, like creodonts in general, was probably a hypercarnivore that preyed on large mammals in its range during the Late Eocene, such as brontotheres, chalicotheres, and rhinoceroses. Its weight is estimated at 800 kg (1,800 lb)
Information
Cost and Time to Hatch
Availability
Market
DNA Research
12,000 x10
Placement Cost
291,100
Incubation Time
72:12:00
XP
2,911
Dimensions
7x7

Initial Message: The name Sarkastodon means "Flash-Tearing Tooth" in Greek.

First Evolution Message: The teeth of the Sarkastodon were well adapted to crush bones.

Second Evolution Message: Except for its long fluffy tail, the Sarkastodon resembles a modern grizzly bear.

Third Evolution Message: Just like the modern Grizzly bear, the Sarkastodon fed on fish, plants and other animals.
Level-Based Stats
| Level | Unmodified Earning Rates (7 Hours) | Feeding Costs (Meat) | Ferocity | Life | Attack |
| --- | --- | --- | --- | --- | --- |
| 1 | 2,751 (393 / Hour) | 275 (x5 = 1,375) |  ? | N/A | N/A - N/A |
| 2 | 3,031 (433 / Hour) | 455 (x5 = 2,275) |  ? | N/A | N/A - N/A |
| 3 | 3,311 (473 / Hour) | 636 (x5 = 3,180) |  ? | N/A | N/A - N/A |
| 4 | 3,597 (514 / Hour) | 817 (x5 = 4,085) |  ? | N/A | N/A - N/A |
| 5 | 3,878 (554 / Hour) | 998 (x5 = 4,990) |  ? | 344 | 36 - 216 |
| 6 | 4,158 (594 / Hour) | 1,179 (x5 = 5,895) |  ? | 413 | 43 - 259 |
| 7 | 4,445 (635 / Hour) | 1,360 (x5 = 6,800) |  ? | 482 | 50 - 302 |
| 8 | 4,725 (675 / Hour) | 1,541 (x5 = 7,705) |  ? | 550 | 57 - 345 |
| 9 | 5,005 (715 / Hour) | 1,722 (x5 = 8,610) |  ? | 619 | 64 - 388 |
| 10 | 5,285 (755 / Hour) | Evolve: 24,000 per attempt |  ? | 688 | 72 - 432 |
| 11 | 5,572 (796 / Hour) | 2,084 (x5 = 10,420) |  ? | 757 | 79 - 475 |
| 12 | 5,852 (836 / Hour) | 2,265 (x5 = 11,325) |  ? | 825 | 85 - 511 |
| 13 | 6,132 (876 / Hour) | 2,446 (x5 = 12,230) |  ? | 894 | 92 - 554 |
| 14 | 6,418 (917 / Hour) | 2,627 (x5 = 13,135) |  ? | 963 | 99 - 597 |
| 15 | 6,699 (957 / Hour) | 2,808 (x5 = 14,040) |  ? | 1,032 | 106 - 640 |
| 16 | 6,979 (997 / Hour) | 2,989 (x5 = 14,945) |  ? | 1,100 | 114 - 684 |
| 17 | 7,266 (1,038 / Hour) | 3,169 (x5 = 15,845) |  ? | 1,169 | 121 - 727 |
| 18 | 7,546 (1,078 / Hour) | 3,350 (x5 = 16,750) |  ? | 1,238 | 128 - 770 |
| 19 | 7,826 (1,118 / Hour) | 3,531 (x5 = 17,655) |  ? | 1,307 | 135 - 813 |
| 20 | 8,106 (1,158 / Hour) | Evolve: 36,000 per attempt |  ? | 1,375 | 142 - 856 |
| 21 | 8,393 (1,199 / Hour) | 3,893 (x5 = 19,465) |  ? | 1,444 | 150 - 900 |
| 22 | 8,673 (1,239 / Hour) | 4,074 (x5 = 20,370) |  ? | 1,513 | 157 - 943 |
| 23 | 8,953 (1,279 / Hour) | 4,255 (x5 = 21,275) |  ? | 1,582 | 163 - 979 |
| 24 | 9,240 (1,320 / Hour) | 4,436 (x5 = 22,180) |  ? | 1,650 | 170 - 1,022 |
| 25 | 9,520 (1,360 / Hour) | 4,617 (x5 = 23,085) |  ? | 1,719 | 177 - 1,065 |
| 26 | 9,800 (1,400 / Hour) | 4,798 (x5 = 23,990) |  ? | 1,788 | 184 - 1,108 |
| 27 | 10,080 (1,440 / Hour) | 4,979 (x5 = 24,895) |  ? | 1,857 | 192 - 1,152 |
| 28 | 10,367 (1,481 / Hour) | 5,160 (x5 = 25,800) |  ? | 1,925 | 199 - 1,195 |
| 29 | 10,647 (1,521 / Hour) | 5,341 (x5 = 26,705) |  ? | 1,994 | 206 - 1,238 |
| 30 | 10,927 (1,561 / Hour) | Evolve: 48,000 per attempt |  ? | 2,063 | 213 - 1,281 |
| 31 | 11,214 (1,602 / Hour) | 5,703 (x5 = 28,515) |  ? | 2,132 | 220 - 1,324 |
| 32 | 11,494 (1,642 / Hour) | 5,884 (x5 = 29,420) |  ? | 2,200 | 228 - 1,368 |
| 33 | 11,774 (1,682 / Hour) | 6,064 (x5 = 30,320) |  ? | 2,269 | 235 - 1,411 |
| 34 | 12,061 (1,723 / Hour) | 6,245 (x5 = 31,225) |  ? | 2,338 | 242 - 1,454 |
| 35 | 12,341 (1,763 / Hour) | 6,426 (x5 = 32,130) |  ? | 2,407 | 248 - 1,490 |
| 36 | 12,621 (1,803 / Hour) | 6,607 (x5 = 33,035) |  ? | 2,475 | 255 - 1,533 |
| 37 | 12,901 (1,843 / Hour) | 6,788 (x5 = 33,940) |  ? | 2,544 | 262 - 1,576 |
| 38 | 13,187 (1,884 / Hour) | 6,969 (x5 = 34,845) |  ? | 2,613 | 270 - 1,620 |
| 39 | 13,468 (1,924 / Hour) | 7,150 (x5 = 35,750) |  ? | 2,682 | 277 - 1,663 |
| 40 | 13,747 (1,964 / Hour) | MAX |  ? | 2,750 | 284 - 1,706 |
Total Meat to Max: 668,205
Sarkastodon Level 40
Tournament-Battle Arena Profile Picture
Sarkastodon in Battle
Sarkastodon Level 40 Pictures