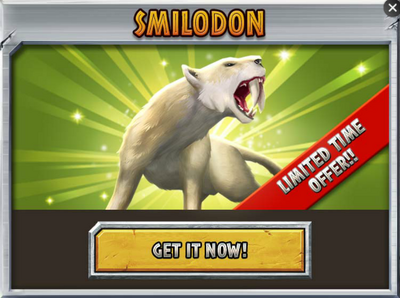 Battle Weakness: Swipe
Battle Class: Gold
Smilodon is an extinct genus of machairodont felid. It is one of the most famous prehistoric mammals, and the best known saber-toothed cat. Although commonly known as the saber-toothed tiger, it was not closely related to the tiger or other modern cats. Smilodon lived in the Americas during the Pleistocene epoch (2.5 mya–10,000 years ago). The genus was named in 1842, based on fossils from Brazil. Three species are recognized today: S. gracilis, S. fatalis, and S. populator. The two latter species were probably descended from S. gracilis, which itself probably evolved from Megantereon. The largest collection of Smilodon fossils has been obtained from the Rancho La Brea Tar Pits in Los Angeles, California.
Overall, Smilodon was more robustly built than any extant cat, with particularly well-developed forelimbs and exceptionally long upper canine teeth. Its jaw had a bigger gape than that of modern cats, and its upper canines were slender and fragile, being adapted for precision killing. S. gracilis was the smallest species at 55 to 100 kg (120 to 220 lb) in weight. S. fatalis had a weight of 160 to 280 kg (350 to 620 lb) and height of 100 cm (39 in). Both of these species are mainly known from North America, but remains from South America have also been attributed to them. S. populator from South America was the largest species, at 220 to 400 kg (490 to 880 lb) in weight and 120 cm (47 in) in height, and was among the largest known felids. The coat pattern of Smilodon is unknown, but it has been artistically restored with plain or spotted patterns.
Information
Cost and Time to Hatch
Availability
Limited
DNA Research
x10
Placement Cost
299,150
Incubation Time
22:03:00
XP
2,992
Dimensions
8x8

Initial Message: The name Smilodon means "Saber Tooth" in Greek.

First Evolution Message: The purpose of the Smilodon's fangs is still a mystery.

Second Evolution Message: The fangs of the Smilodon could reach a foot long or the same size as a foot long sub.

Third Evolution Message: The Smilodon hunted its prey by jumping on them from the low branches of a tree.
Level-Based Stats
| Level | Unmodified Earning Rates (7 Hrs) | Feeding Costs (Meat) | Ferocity | Life | Attack |
| --- | --- | --- | --- | --- | --- |
| 1 | 4,102 (586 / Hour) | 410 (x5 = 2,050) |  ? |  ? |  ? - ? |
| 2 | 4,522 (646 / Hour) | 679 (x5 = 3,395) |  ? |  ? |  ? - ? |
| 3 | 4,942 (706 / Hour) | 949 (x5 = 4,745) |  ? |  ? |  ? - ? |
| 4 | 5,362 (766 / Hour) | 1,219 (x5 = 6,095) |  ? |  ? |  ? - ? |
| 5 | 5,782 (826 / Hour) | 1,489 (x5 = 7,445) |  ? | 718 | 56 - 338 |
| 6 | 6,202 (886 / Hour) | 1,758 (x5 = 8,790) |  ? |  ? |  ? - ? |
| 7 | 6,622 (946 / Hour) | 2,028 (x5 = 10,140) |  ? |  ? |  ? - ? |
| 8 | 7,042 (1,006 / Hour) | 2,298 (x5 = 11,490) |  ? |  ? |  ? - ? |
| 9 | 7,462 (1,066 / Hour) | 2,568 (x5 = 12,840) |  ? |  ? |  ? - ? |
| 10 | 7,882 (1,126 / Hour) | Evolve: 30,000 per attempt | 205 | 1,435 | 111 - 669 |
| 11 | 8,302 (1,186 / Hour) | 3,107 (x5 = 15,535) |  ? |  ? |  ? - ? |
| 12 | 8,729 (1,247 / Hour) | 3,377 (x5 = 16,885) |  ? |  ? |  ? - ? |
| 13 | 9,149 (1,307 / Hour) | 3,647 (x5 = 18,235) |  ? |  ? |  ? - ? |
| 14 | 9,569 (1,367 / Hour) | 3,916 (x5 = 19,580) |  ? |  ? |  ? - ? |
| 15 | 9,989 (1,427 / Hour) | 4,186 (x5 = 20,930) |  ? |  ? |  ? - ? |
| 16 | 10,409 (1,487 / Hour) | 4,456 (x5 = 22,280) |  ? |  ? |  ? - ? |
| 17 | 10,829 (1,547 / Hour) | 4,726 (x5 = 23,630) |  ? |  ? |  ? - ? |
| 18 | 11,249 (1,607 / Hour) | 4,995 (x5 = 24,975) |  ? |  ? |  ? - ? |
| 19 | 11,669 (1,667 / Hour) | 5,265 (x5 = 26,325) |  ? |  ? |  ? - ? |
| 20 | 12,089 (1,727 / Hour) | Evolve: 40,000 per attempt | 410 | 2,870 | 222 - 1,332 |
| 21 | 12,509 (1,787 / Hour) | 5,805 (x5 = 29,025) |  ? |  ? |  ? - ? |
| 22 | 12,929 (1,847 / Hour) | 6,074 (x5 = 30,370) |  ? |  ? |  ? - ? |
| 23 | 13,349 (1,907 / Hour) | 6,344 (x5 = 31,720) |  ? |  ? |  ? - ? |
| 24 | 13,768 (1,967 / Hour) | 6,614 (x5 = 33,070) |  ? |  ? |  ? - ? |
| 25 | 14,189 (2,027 / Hour) | 6,884 (x5 = 34,420) |  ? |  ? |  ? - ? |
| 26 | 14,616 (2,088 / Hour) | 7,153 (x5 = 35,765) |  ? |  ? |  ? - ? |
| 27 | 15,036 (2,148 / Hour) | 7,423 (x5 = 37,115) |  ? |  ? |  ? - ? |
| 28 | 15,456 (2,208 / Hour) | 7,693 (x5 = 38,465) |  ? |  ? |  ? - ? |
| 29 | 15,876 (2,268 / Hour) | 7,963 (x5 = 39,815) |  ? |  ? |  ? - ? |
| 30 | 16,295 (2,328 / Hour) | Evolve: 50,000 per attempt |  ? |  ? |  ? - ? |
| 31 | 16,716 (2,388 / Hour) | 8,502 (x5 = 42,510) |  ? |  ? |  ? - ? |
| 32 | 17,136 (2,448 / Hour) | 8,772 (x5 = 43,860) |  ? |  ? |  ? - ? |
| 33 | 17,556 (2,508 / Hour) | 9,042 (x5 = 45,210) |  ? |  ? |  ? - ? |
| 34 | 17,976 (2,568 / Hour) | 9,312 (x5 = 46,560) |  ? |  ? |  ? - ? |
| 35 | 18,396 (2,628 / Hour) | 9,581 (x5 = 47,905) |  ? |  ? |  ? - ? |
| 36 | 18,816 (2,688 / Hour) | 9,851 (x5 = 49,255) |  ? |  ? |  ? - ? |
| 37 | 19,236 (2,748 / Hour) | 10,121 (x5 = 50,605) |  ? |  ? |  ? - ? |
| 38 | 19,656 (2,808 / Hour) | 10,391 (x5 = 51,955) |  ? |  ? |  ? - ? |
| 39 | 20,076 (2,868 / Hour) | 10,660 (x5 = 53,300) |  ? |  ? |  ? - ? |
| 40 | 20,503 (2,929 / Hour) | MAX |  ? | 5,740 | 442 - 2,656 |
Total Meat to Max: 996,290
Smilodon Level 40
Tournament-Battle Arena Profile Picture
Smilodon in Battle
Smilodon Level 40 Pictures