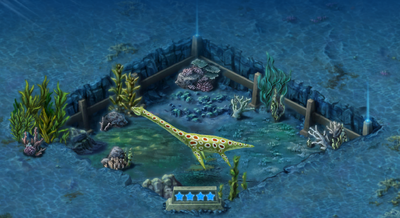 Battle Weakness: Bite
Battle class: Gold
Diet: Piscivore
Styxosaurus is a genus of plesiosaur of the family Elasmosauridae. Styxosaurus lived during the Santonian and Campanian ages of the Cretaceous period. Styxosaurus was a large plesiosaur,
one of several species of a group collectively called elasmosaurs that appeared in the Late Cretaceous. Elasmosaurs typically have a neck that is at least half the length of the body, and composed of 60-72 vertebrae. Styxosaurus was around 11–12 metres (36–39 ft) long, with about half of the length being composed of its 5.25 metres (17.2 ft) neck. Its sharp teeth were conical and were adapted to puncture and hold rather than to cut; like other plesiosaurs, Styxosaurus swallowed its food whole.
Information
Cost and Time to Hatch
Availability
Market
DNA Research
11,000 x10
Placement Cost
582,500
Incubation Time
92:27:00
XP
5,825
Dimensions
8x8

Initial Message: The Styxosaurus would swallow stones to help its digestion.

First Evolution Message: The long neck of the Styxosaurus was almost half the size of its total length.

Second Evolution Message: The Styxosaurus would swallow its prey whole.

Third Evolution Message: The name Styxosaurus means Styx lizard.
Level-Based Stats
| Level | Unmodified Earning Rates (9 Hrs) | Feeding Costs (Fish) | Ferocity | Life | Attack |
| --- | --- | --- | --- | --- | --- |
| 1 | 3,699 (411 / Hour) | 370 (x5 = 1,850) |  ? | N/A | N/A - N/A |
| 2 | 4,076 (453 / Hour) | 613 (x5 = 3,065) |  ? | N/A | N/A - N/A |
| 3 | 4,455 (495 / Hour) | 856 (x5 = 4,280) |  ? | N/A | N/A - N/A |
| 4 | 4,842 (538 / Hour) | 1,100 (x5 = 5,500) |  ? | N/A | N/A - N/A |
| 5 | 5,220 (580 / Hour) | 1,343 (x5 = 6,715) | 74 | 555 | 49 - 295 |
| 6 | 5,598 (622 / Hour) | 1,587 (x5 = 7,935) | | 666 | 58 - 352 |
| 7 | 5,976 (664 / Hour) | 1,830 (x5 = 9,150) | 104 | 777 | 68 - 410 |
| 8 | 6,354 (706 / Hour) | 2,074 (x5 = 10,370) | 119 | 888 | 79 - 475 |
| 9 | 6,732 (748 / Hour) | 2,317 (x5 = 11,585) | 134 | 999 | 88 - 532 |
| 10 | 7,119 (791 / Hour) | Evolve: 21,000 per attempt | 148 | 1,110 | 98 - 590 |
| 11 | 7,497 (833 / Hour) | 2,804 (x5 = 14,020) |  ? | 1,221 | 108 - 648 |
| 12 | 7,875 (875 / Hour) | 3,047 (x5 = 15,235) |  ? | 1,332 | 117 - 705 |
| 13 | 8,253 (917 / Hour) | 3,291 (x5 = 16,455) |  ? | 1,443 | 127 - 763 |
| 14 | 8,631 (959 / Hour) | 3,534 (x5 = 17,670) |  ? | 1,554 | 136 - 820 |
| 15 | 9,009 (1,001 / Hour) | 3,778 (x5 = 18,890) |  ? | 1,665 | 147 - 885 |
| 16 | 9,396 (1,044 / Hour) | 4,021 (x5 = 20,105) |  ? | 1,776 | 157 - 943 |
| 17 | 9,774 (1,086 / Hour) | 4,265 (x5 = 21,325) |  ? | 1,887 | 166 - 1,000 |
| 18 | 10,152 (1,128 / Hour) | 4,508 (x5 = 22,540) |  ? | 1,998 | 176 - 1,058 |
| 19 | 10,530 (1,170 / Hour) | 4,751 (x5 = 23,755) |  ? | 2,109 | 186 - 1,116 |
| 20 | 10,908 (1,212 / Hour) | Evolve: 31,000 per attempt |  ? | 2,220 | 195 - 1,173 |
| 21 | 11,286 (1,254 / Hour) | 5,238 (x5 = 26,190) |  ? | 2,331 | 205 - 1,231 |
| 22 | 11,673 (1,297 / Hour) | 5,482 (x5 = 27,410) |  ? | 2,442 | 216 - 1,296 |
| 23 | 12,051 (1,339 / Hour) | 5,725 (x5 = 28,625) |  ? | 2,553 | 225 - 1,353 |
| 24 | 12,429 (1,381 / Hour) | 5,969 (x5 = 29,845) |  ? | 2,664 | 235 - 1,411 |
| 25 | 12,807 (1,423 / Hour) | 6,212 (x5 = 31,060) |  ? | 2,775 | 244 - 1,468 |
| 26 | 13,185 (1,465 / Hour) | 6,456 (x5 = 32,280) |  ? | 2,886 | 254 - 1,526 |
| 27 | 13,563 (1,507 / Hour) | 6,699 (x5 = 33,495) |  ? | 2,997 | 264 - 1,584 |
| 28 | 13,950 (1,550 / Hour) | 6,942 (x5 = 34,710) |  ? | 3,108 | 273 - 1,641 |
| 29 | 14,328 (1,592 / Hour) | 7,186 (x5 = 35,930) |  ? | 3,219 | 284 - 1,706 |
| 30 | 14,706 (1,634 / Hour) | Evolve: 46,000 per attempt |  ? | 3,330 | 294 - 1,764 |
| 31 | 15,084 (1,676 / Hour) | 7,673 (x5 = 38,365) |  ? | 3,441 | 303 - 1,821 |
| 32 | 15,462 (1,718 / Hour) | 7,916 (x5 = 39,580) |  ? | 3,552 | 313 - 1,879 |
| 33 | 15,840 (1,760 / Hour) | 8,160 (x5 = 40,800) |  ? | 3,663 | 322 - 1,936 |
| 34 | 16,227 (1,803 / Hour) | 8,403 (x5 = 42,015) |  ? | 3,774 | 332 - 1,994 |
| 35 | 16,605 (1,845 / Hour) | 8,646 (x5 = 43,230) |  ? | 3,885 | 342 - 2,052 |
| 36 | 16,983 (1,887 / Hour) | 8,890 (x5 = 44,450) |  ? | 3,996 | 352 - 2,116 |
| 37 | 17,361 (1,929 / Hour) | 9,133 (x5 = 45,665) |  ? | 3,996 | 352 - 2,116 |
| 38 | 17,739 (1,971 / Hour) | 9,377 (x5 = 46,885) |  ? | 4,218 | 372 - 2,232 |
| 39 | 18,117 (2,013 / Hour) | 9,620 (x5 = 48,100) |  ? | 4,329 | 381 - 2,289 |
| 40 | 18,504 (2,056 / Hour) | MAX |  ? | 4,440 | 391 - 2,347 |
Total Fish to Max: 899,080
Styxosaurus Level 40
Tournament-Battle Arena Profile Picture
Styxosaurus in Battle
Styxosaurus Level 40 Pictures