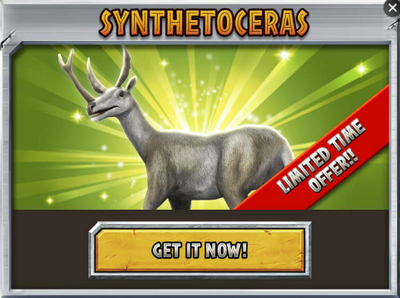 Battle weakness: Charge
Battle class: Gold
Synthetoceras tricornatus is a large, extinct protoceratid artiodactyl, endemic to North America from the Miocene epoch, 13.6—5.33 Ma, existing for approximately 8.27 million years. With a length of 2 m (6 ft 8 in), Synthetoceras was the largest member of its family. It was also the last, and had what is considered to be the protoceratids' strangest set of horns.
The two horns above its eyes looked fairly normal and similar to those of many modern horned mammals, but on its snout it had a bizarre, long horn with a forked tip that gave it a Y shape. Only males had this strange horn, and they probably used it in territorial fights
Information
Cost and Time to Hatch
Availability
Limited
DNA Research
20,000 x10
Placement Cost
237,450
Incubation Time
22:03:00
XP
2,375
Dimensions
7x7

Initial Message: The name Synthetoceras means "Combined Horn" in Greek.

First Evolution Message: The Synthetoceras lived in large herds.

Second Evolution Message: The Synthetoceras was an artiodactyl, which means an animal with an even number of toes on its foot.

Third Evolution Message: The Synthetoceras had a foot-long horn that branched off and ended in a V-shape.
Level-Based Stats
| Level | Unmodified Earning Rates (8 Hrs) | Feeding Costs (Crops) | Ferocity | Life | Attack |
| --- | --- | --- | --- | --- | --- |
| 1 | 4,248 (531 / Hour) | 425 (x5 = 2,125) |  ? | N/A | N/A - N/A |
| 2 | 4,688 (586 / Hour) | 704 (x5 = 3,520) |  ? | N/A | N/A - N/A |
| 3 | 5,120 (640 / Hour) | 984 (x5 = 4,920) |  ? | N/A | N/A - N/A |
| 4 | 5,560 (695 / Hour) | 1,263 (x5 = 6,315) |  ? | N/A | N/A - N/A |
| 5 | 5,992 (749 / Hour) | 1,543 (x5 = 7,715) |  ? | 1,010 | 55 - 331 |
| 6 | 6,432 (804 / Hour) | 1,823 (x5 = 9,115) |  ? | 1,212 | 66 - 396 |
| 7 | 6,864 (858 / Hour) | 2,102 (x5 = 10,510) |  ? | 1,414 | 76 - 460 |
| 8 | 7,304 (913 / Hour) | 2,382 (x5 = 11,910) |  ? | 1,615 | 87 - 525 |
| 9 | 7,736 (967 / Hour) | 2,662 (x5 = 13,310) |  ? | 1,817 | 98 - 590 |
| 10 | 8,175 (1,022 / Hour) | Evolve: 30,000 per attempt |  ? | 2,019 | 109 - 655 |
| 11 | 8,608 (1,076 / Hour) | 3,221 (x5 = 16,105) |  ? | 2,221 | 120 - 720 |
| 12 | 9,048 (1,131 / Hour) | 3,500 (x5 = 17,500) |  ? | 2,423 | 130 - 784 |
| 13 | 9,480 (1,185 / Hour) | 3,780 (x5 = 18,900) |  ? | 2,625 | 141 - 849 |
| 14 | 9,920 (1,240 / Hour) | 4,060 (x5 = 20,300) |  ? | 2,827 | 152 - 914 |
| 15 | 10,352 (1,294 / Hour) | 4,339 (x5 = 21,695) |  ? | 3,029 | 163 - 979 |
| 16 | 10,792 (1,349 / Hour) | 4,619 (x5 = 23,095) |  ? | 3,230 | 174 - 1,044 |
| 17 | 11,224 (1,403 / Hour) | 4,899 (x5 = 24,495) |  ? | 3,432 | 184 - 1,108 |
| 18 | 11,664 (1,458 / Hour) | 5,178 (x5 = 25,890) |  ? | 3,634 | 195 - 1,173 |
| 19 | 12,096 (1,512 / Hour) | 5,458 (x5 = 27,290) |  ? | 3,836 | 206 - 1,238 |
| 20 | 12,536 (1,567 / Hour) | Evolve: 40,000 per attempt |  ? | 4,038 | 217 - 1,303 |
| 21 | 12,968 (1,621 / Hour) | 6,017 (x5 = 30,085) |  ? | 4,240 | 228 - 1,368 |
| 22 | 13,400 (1,675 / Hour) | 6,297 (x5 = 31,485) |  ? | 4,442 | 238 - 1,432 |
| 23 | 13,840 (1,730 / Hour) | 6,576 (x5 = 32,880) |  ? | 4,644 | 249 - 1,497 |
| 24 | 14,272 (1,784 / Hour) | 6,856 (x5 = 34,280) |  ? | 4,845 | 260 - 1,562 |
| 25 | 14,712 (1,839 / Hour) | 7,136 (x5 = 35,680) |  ? | 5,047 | 271 - 1,627 |
| 26 | 15,143 (1,893 / Hour) | 7,415 (x5 = 37,075) |  ? | 5,249 | 282 - 1,692 |
| 27 | 15,584 (1,948 / Hour) | 7,695 (x5 = 38,475) |  ? | 5,451 | 292 - 1,756 |
| 28 | 16,016 (2,002 / Hour) | 7,974 (x5 = 39,870) |  ? | 5,653 | 303 - 1,821 |
| 29 | 16,456 (2,057 / Hour) | 8,254 (x5 = 41,270) |  ? | 5,855 | 314 - 1,886 |
| 30 | 16,888 (2,111 / Hour) | Evolve: 50,000 per attempt |  ? | 6,057 | 325 - 1,951 |
| 31 | 17,328 (2,166 / Hour) | 8,813 (x5 = 44,065) |  ? |  ? |  ? - ? |
| 32 | 17,760 (2,220 / Hour) | 9,093 (x5 = 45,465) |  ? |  ? |  ? - ? |
| 33 | 18,200 (2,275 / Hour) | 9,373 (x5 = 46,865) |  ? |  ? |  ? - ? |
| 34 | 18,632 (2,329 / Hour) | 9,652 (x5 = 48,260) |  ? |  ? |  ? - ? |
| 35 | 19,072 (2,384 / Hour) | 9,932 (x5 = 49,660) |  ? |  ? |  ? - ? |
| 36 | 19,504 (2,438 / Hour) | 10,211 (x5 = 51,055) |  ? |  ? |  ? - ? |
| 37 | 19,944 (2,493 / Hour) | 10,491 (x5 = 52,455) |  ? |  ? |  ? - ? |
| 38 | 20,376 (2,547 / Hour) | 10,771 (x5 = 53,855) |  ? |  ? |  ? - ? |
| 39 | 20,816 (2,602 / Hour) | 11,050 (x5 = 55,250) |  ? |  ? |  ? - ? |
| 40 | 21,248 (2,656 / Hour) | MAX | 1,127 | 8,075 | 434 - 2,606 |
Total Crops to Max: 1,032,740
Synthetoceras Level 40
Tournament-Battle Arena Profile Picture
Synthetoceras in Battle
Synthetoceras Level 40 Pictures