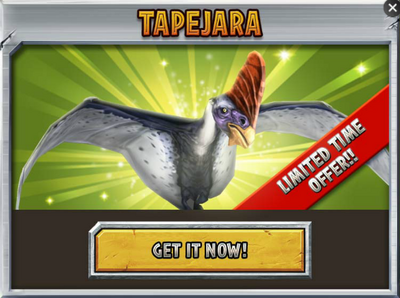 Battle Weakness: Swipe
Battle Class: Gold
Tapejara (from a Tupi word meaning "the old being") is a genus of Brazilian pterosaur from the Cretaceous Period (Santana Formation, dating to about 112 Ma ago). Tapejara crests consisted of a semicircular crest over the snout, and a bony prong which extended back behind the head.
The game's Tapejara appears to be based on Tapejara navigans, which is now considered a species of Tupandactylus.
Tapejara, Pteranodon and Pterodactylus are the only three carnivores that live on herbivore habitat.
Information
Cost and Time to Hatch
Availability
Limited
DNA Research
N/A
Placement Cost
292
Incubation Time
12:00
XP
85
Dimensions
8x8

Initial Message: Tapejara gets its name from the extinct South American language, Tupi, meaning "old being".

First Evolution Message: The large crest on its head was composed of both bone and soft tissue.

Second Evolution Message: Tapejara was likely cathermal which means it was active for short periods 24 hours a day

Third Evolution Message: There is much contention about whether Tapejara was a piscivore (fish eater) or a frugivore (fruit eater).
Level-Based Stats
| Level | Unmodified Earning Rates (12 Hrs) | Feeding Costs (Meat) | Ferocity | Life | Attack |
| --- | --- | --- | --- | --- | --- |
| 1 | 3,656 (305 / Hour) | 332 (x5 = 1,660) | 17 | N/A | N/A - N/A |
| 2 | 4,039 (337 / Hour) | 551 (x5 = 2,755) | 34 | N/A | N/A - N/A |
| 3 | 4,408 (367 / Hour) | 770 (x5 = 3,850) | 50 | N/A | N/A - N/A |
| 4 | 4,778 (398 / Hour) | 988 (x5 = 4,940) |  ? | N/A | N/A - N/A |
| 5 | 5,161 (430 / Hour) | 1,207 (x5 = 6,035) | 84 | 582 | 45 - 273 |
| 6 | 5,530 (461 / Hour) | 1,426 (x5 = 7,130) | 104 | 698 | 54 - 324 |
| 7 | 5,913 (493 / Hour) | 1,645 (x5 = 8,225) | 117 | 815 | 63 - 377 |
| 8 | 6,283 (524 / Hour) | 1,863 (x5 = 9,315) | 133 | 931 | 72 - 432 |
| 9 | 6,652 (554 / Hour) | 2,082 (x5 = 10,410) | 150 | 1,048 | 81 - 489 |
| 10 | 6,396 (533 / Hour) | Evolve: 7,500 per attempt | 167 | 1,164 | 90 - 548 |
| 11 | 6,738 (562 / Hour) | 2,520 (x5 = 12,600) | 183 | 1,281 | 99 - 609 |
| 12 | 7,080 (590 / Hour) | 2,738 (x5 = 13,690) | 200 | 1,397 | 108 - 672 |
| 13 | 7,416 (618 / Hour) | 2,957 (x5 = 14,785) | 217 | 1,514 | 117 - 737 |
| 14 | 7,764 (647 / Hour) | 3,176 (x5 = 15,880) | 233 | 1,630 | 126 - 804 |
| 15 | 8,100 (675 / Hour) | 3,395 (x5 = 16,975) | 250 | 1,747 | 135 - 873 |
| 16 | 8,436 (703 / Hour) | 3,614 (x5 = 18,070) | 256 | 1,862 | 144 - 864 |
| 17 | 8,778 (732 / Hour) | 3,832 (x5 = 19,160) | 283 | 1,980 | 153 - 1,017 |
| 18 | 9,120 (760 / Hour) | 4,051 (x5 = 20,255) | 300 | 2,096 | 162 - 1,092 |
| 19 | 9,462 (789 / Hour) | 4,270 (x5 = 21,350) | 316 | 2,213 | 171 - 1,169 |
| 20 | 9,804 (817 / Hour) | Evolve: 10,250 per attempt | 333 | 2,328 | 180 - 1,080 |
| 21 | 10,140 (845 / Hour) | 4,707 (x5 = 23,535) | 350 | 2,444 | 189 - 1,137 |
| 22 | 10,488 (874 / Hour) | 4,926 (x5 = 24,630) | 366 | 2,562 | 198 - 1,412 |
| 23 | 10,823 (902 / Hour) | 5,145 (x5 = 25,725) | 383 | 2,677 | 207 - 1,245 |
| 24 | 11,172 (931 / Hour) | 5,364 (x5 = 26,820) | 399 | 2,793 | 399 - 1,296 |
| 25 | 11,508 (959 / Hour) | 5,582 (x5 = 27,910) | 416 | 2,910 | 225 - 1,353 |
| 26 | 11,856 (988 / Hour) | 5,801 (x5 = 29,005) | 433 | 3,026 | 234 - 1,404 |
| 27 | 12,192 (1,016 / Hour) | 6,020 (x5 = 30,100) | 499 | 3,143 | 242 - 1,454 |
| 28 | 12,528 (1,044 / Hour) | 6,238 (x5 = 31,190) | 466 | 3,259 | 252 - 1,512 |
| 29 | 12,876 (1,073 / Hour) | 6,457 (x5 = 32,285) | 483 | 3,375 | 260 - 1,562 |
| 30 | 13,212 (1,101 / Hour) | Evolve: 15,900 per attempt | 490 | 3,492 | 270 - 1,620 |
| 31 | 13,560 (1,130 / Hour) | 6,895 (x5 = 34,475) | 516 | 3,608 | 278 - 1,670 |
| 32 | 13,896 (1,158 / Hour) | 7,114 (x5 = 35,570) | 532 | 3,724 | 288 - 1,728 |
| 33 | 14,232 (1,186 / Hour) | 7,333 (x5 = 36,665) | 549 | 3,841 | 296 - 1,778 |
| 34 | 14,580 (1,215 / Hour) | 7,551 (x5 = 37,755) | 566 | 3,957 | 306 - 1,836 |
| 35 | 14,916 (1,243 / Hour) | 7,770 (x5 = 38,850) | 582 | 4,074 | 314 - 1,886 |
| 36 | 15,264 (1,272 / Hour) | 7,989 (x5 = 39,945) | 599 | 4,193 | 324 - 1,944 |
| 37 | 15,600 (1,300 / Hour) | 8,208 (x5 = 41,040) | 616 | 4,306 | 332 - 1,994 |
| 38 | 15,947 (1,329 / Hour) | 8,426 (x5 = 42,130) | 632 | 4,423 | 342 - 2,052 |
| 39 | 16,284 (1,357 / Hour) | 8,645 (x5 = 43,225) | 649 | 4,539 | 350 - 2,102 |
| 40 | 16,620 (1,385 / Hour) | MAX | 665 | 4,655 | 360 - 2,160 |
Total Meat to Max: 807,940
Tapejara Level 40
Tournament-Battle Arena Profile Picture
Tapejara in Battle
Tapejara Level 40 Pictures