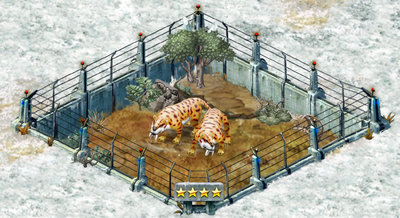 Battle weakness: Swipe
Battle Class: Silver
Thylacosmilus is an extinct genus of saber-toothed metatherian that inhabited South America from the Late Miocene to Pliocene epochs. Remains of this animal have been found primarily in Catamarca, Entre Ríos, and La Pampa Provinces in northern Argentina. Body mass for sparassodonts are difficult to estimate, since that these animals have relatively large heads in proportion with their bodies which generates overestimations, particularly when is compared only with skulls of modern members of Carnivora, which have different locomotory and functional adaptations, or the recent predatory marsupials, which doesn't exceed the 30 kg of body mass.
The methods used or are based of Thylacosmilus based, like the study by Ercoli and Prevosti (2011) using linear regression equations with postcranial elements like tibiae, humeri and ulnae that supports directly the body weight, from both extinct and modern members of carnivorans and metatherians suggests that this animal weighed between 80 to 120 kilograms (180 to 260 lb), and one estimate suggesting up to 150 kg (330 lb), about the same size as a modern jaguar. The differences in weight estimations possibly are due the individual size variation of the specimens studied in each analysis, as well as the different samples and methods used; in any case, the weight estimations are consistent for generalist terrestrial species or with certain degree of cursoriality. This mass would make it one of the largest known carnivorous metatherians.
Information
Cost and Time to Hatch
Availability
Market
DNA Research
14,000 x10
Placement Cost
364,300
Incubation Time
97:48:00
XP
3,643
Dimensions
7x7

Initial Message: The name Thylacosmilus means "Pouched Sabre" in Greek.

First Evolution Message: The Thylacosmilus raised their children in pouches just like modern day kangaroos.

Second Evolution Message: Throughout its life, the fangs of the Thylascosmilus kept growing.

Third Evolution Message: The Thylacosmilus was about the size of a modern day jaguar.
Level-Based Stats
| Level | Unmodified Earning Rates (8 Hrs) | Feeding Costs (Meat) | Ferocity | Life | Attack |
| --- | --- | --- | --- | --- | --- |
| 1 | 2,952 (369 / Hour) | 295 (x5 = 1,475) | N/A | N/A | N/A - N/A |
| 2 | 3,256 (407 / Hour) | 489 (x5 = 2,445) | N/A | N/A | N/A - N/A |
| 3 | 3,552 (444 / Hour) | 683 (x5 = 3,415) | N/A | N/A | N/A - N/A |
| 4 | 3,856 (482 / Hour) | 877 (x5 = 4,385) | N/A | N/A | N/A - N/A |
| 5 | 4,160 (520 / Hour) | 1,071 (x5 = 5,355) | 45 | 369 | 38 - 230 |
| 6 | 4,464 (558 / Hour) | 1,265 (x5 = 6,325) |  ? | 443 | 46 - 280 |
| 7 | 4,768 (596 / Hour) | 1,459 (x5 = 7,295) |  ? | 517 | 54 - 324 |
| 8 | 5,064 (633 / Hour) | 1,653 (x5 = 8,265) |  ? | 590 | 61 - 367 |
| 9 | 5,368 (671 / Hour) | 1,847 (x5 = 9,235) |  ? | 664 | 69 - 417 |
| 10 | 5,672 (709 / Hour) | Evolve: 28,000 per attempt |  ? | 738 | 76 - 460 |
| 11 | 5,976 (747 / Hour) | 2,235 (x5 = 11,175) |  ? | 812 | 84 - 504 |
| 12 | 6,280 (785 / Hour) | 2,430 (x5 = 12,150) |  ? | 885 | 92 - 554 |
| 13 | 6,584 (823 / Hour) | 2,624 (x5 = 13,120) |  ? | 959 | 99 - 597 |
| 14 | 6,880 (860 / Hour) | 2,818 (x5 = 14,090) |  ? | 1,033 | 106 - 640 |
| 15 | 7,184 (898 / Hour) | 3,012 (x5 = 15,060) |  ? | 1,107 | 115 - 691 |
| 16 | 7,487 (936 / Hour) | 3,206 (x5 = 16,030) |  ? | 1,180 | 122 - 734 |
| 17 | 7,792 (974 / Hour) | 3,400 (x5 = 17,000) |  ? | 1,254 | 129 - 777 |
| 18 | 8,096 (1,012 / Hour) | 3,594 (x5 = 17,970) |  ? | 1,328 | 138 - 828 |
| 19 | 8,400 (1,050 / Hour) | 3,788 (x5 = 18,940) |  ? | 1,402 | 145 - 871 |
| 20 | 8,696 (1,087 / Hour) | Evolve: 40,000 per attempt |  ? | 1,475 | 152 - 914 |
| 21 | 9,000 (1,125 / Hour) | 4,176 (x5 = 20,880) |  ? | 1,549 | 160 - 964 |
| 22 | 9,304 (1,163 / Hour) | 4,370 (x5 = 21,850) |  ? | 1,623 | 168 - 1,008 |
| 23 | 9,608 (1,201 / Hour) | 4,565 (x5 = 22,825) |  ? | 1,697 | 175 - 1,051 |
| 24 | 9,912 (1,239 / Hour) | 4,759 (x5 = 23,795) |  ? | 1,770 | 183 - 1,101 |
| 25 | 10,208 (1,276 / Hour) | 4,953 (x5 = 24,765) |  ? | 1,844 | 190 - 1,144 |
| 26 | 10,512 (1,314 / Hour) | 5,147 (x5 = 25,735) |  ? | 1,918 | 198 - 1,188 |
| 27 | 10,816 (1,352 / Hour) | 5,341 (x5 = 26,705) |  ? | 1,992 | 206 - 1,238 |
| 28 | 11,120 (1,390 / Hour) | 5,535 (x5 = 27,675) |  ? | 2,065 | 213 - 1,281 |
| 29 | 11,424 (1,428 / Hour) | 5,729 (x5 = 28,645) |  ? | 2,139 | 220 - 1,324 |
| 30 | 11,728 (1,466 / Hour) | Evolve: 50,000 per attempt |  ? | 2,213 | 229 - 1,375 |
| 31 | 12,024 (1,503 / Hour) | 6,117 (x5 = 30,585) |  ? | 2,287 | 236 - 1,418 |
| 32 | 12,328 (1,541 / Hour) | 6,311 (x5 = 31,555) |  ? | 2,360 | 243 - 1,461 |
| 33 | 12,632 (1,579 / Hour) | 6,506 (x5 = 32,530) |  ? | 2,434 | 252 - 1,512 |
| 34 | 12,936 (1,617 / Hour) | 6,700 (x5 = 33,500) |  ? | 2,508 | 259 - 1,555 |
| 35 | 13,240 (1,655 / Hour) | 6,894 (x5 = 34,470) |  ? | 2,582 | 266 - 1,598 |
| 36 | 13,536 (1,692 / Hour) | 7,088 (x5 = 35,440) |  ? | 2,655 | 274 - 1,648 |
| 37 | 13,840 (1,730 / Hour) | 7,282 (x5 = 36,410) |  ? | 2,729 | 282 - 1,692 |
| 38 | 14,144 (1,768 / Hour) | 7,476 (x5 = 37,380) |  ? | 2,803 | 290 - 1,742 |
| 39 | 14,448 (1,806 / Hour) | 7,670 (x5 = 38,350) |  ? | 2,877 | 297 - 1,785 |
| 40 | 14,752 (1,844 / Hour) | MAX |  ? | 2,950 | 304 - 1,828 |
Total Meat to Max: 716,825
Thylacosmilus Level 40
Tournament-Battle Arena Profile Picture
Thylacosmilus in Battle
Thylacosmilus Level 40 Pictures