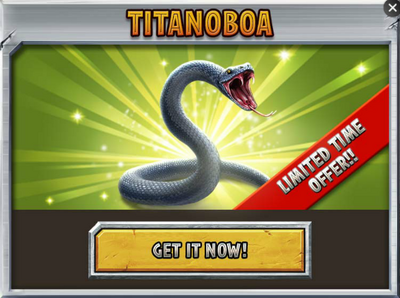 Weakness: Bite
Battle Class: Gold
Titanoboa is a an extinct genus of snake that lived approximately 60 to 58 million years ago, during the Paleocene epoch, a 10-million-year period immediately following the dinosaur extinction event. The only known species is Titanoboa cerrejonensis, the largest, longest, and heaviest snake ever discovered, which surpassed the previous record holder, Gigantophis. Some people speculate that the Titanoboa is the "large snake" that was said to be at least 59 metres long,
which a pilot saw from his helicopter returning from a mission. When the pilot got closer to get a good look at it, the snake suddenly reared back it's head and neck and was almost as if it was daring the helicopter to come closer. By comparing the sizes and shapes of its fossilized vertebrae to those of extant snakes, researchers estimated that the largest individuals of T. cerrejonensis found had a total length around 12.8 m (42 ft) and weighed about 1,135 kg (2,500 lb; 1.12 long tons; 1.25 short tons).
Information
Cost and Time to Hatch
Availability
Limited
DNA Research
20,000
Placement Cost
447,850
Incubation Time
22:03:00
XP
4,479
Dimensions
9x9

Initial Message: The name Titanoboa means "Giant Boa" in Greek.

First Evolution Message: Being 50 feet in length (more than 8 times the height of a normal human being), the Titanoboa is the biggest snake ever discovered.

Second Evolution Message: The Titanoboa looked like a boa constrictor, but hunted while being submerged underwater and snatched its prey when it got too close to water.

Third Evolution Message: The Titanoboa had a diameter of 3 feet at the thickest part of its body which is the equivalent to the diameter of a manhole cover.
Level-Based Stats
| Level | Unmodified Earning Rates (9 Hrs) | Feeding Costs (Meat) | Ferocity | Life | Attack |
| --- | --- | --- | --- | --- | --- |
| 1 | 4,851 (539 / Hour) | 484 (x5 = 2,420) |  ? |  ? |  ? - ? |
| 2 | 5,346 (594 / Hour) | 804 (x5 = 4,020) |  ? |  ? |  ? - ? |
| 3 | 5,841 (649 / Hour) | 1,123 (x5 = 5,615) |  ? |  ? |  ? - ? |
| 4 | 6,345 (705 / Hour) | 1,442 (x5 = 7,210) |  ? |  ? |  ? - ? |
| 5 | 6,840 (760 / Hour) | 1,761 (x5 = 8,805) |  ? | 849 | 66 - 396 |
| 6 | 7,335 (815 / Hour) | 2,080 (x5 = 10,400) |  ? | 1,019 | 79 - 475 |
| 7 | 7,839 (871 / Hour) | 2,399 (x5 = 11,995) |  ? | 1,189 | 92 - 554 |
| 8 | 8,334 (926 / Hour) | 2,718 (x5 = 13,590) |  ? | 1,358 | 105 - 633 |
| 9 | 8,829 (981 / Hour) | 3,037 (x5 = 15,185) |  ? | 1,528 | 118 - 712 |
| 10 | 9,324 (1,036 / Hour) | Evolve: 30,000 per attempt |  ? | 1,698 | 132 - 792 |
| 11 | 9,828 (1,092 / Hour) | 3,676 (x5 = 18,380) |  ? | 1,868 | 145 - 871 |
| 12 | 10,323 (1,147 / Hour) | 3,995 (x5 = 19,975) |  ? | 2,037 | 157 - 943 |
| 13 | 10,818 (1,202 / Hour) | 4,314 (x5 = 21,570) |  ? | 2,207 | 170 - 1,022 |
| 14 | 11,313 (1,257 / Hour) | 4,633 (x5 = 23,165) |  ? | 2,377 | 183 - 1,101 |
| 15 | 11,817 (1,313 / Hour) | 4,952 (x5 = 24,760) |  ? | 2,547 | 196 - 1,180 |
| 16 | 12,312 (1,368 / Hour) | 5,271 (x5 = 26,355) |  ? | 2,716 | 210 - 1,260 |
| 17 | 12,807 (1,423 / Hour) | 5,590 (x5 = 27,950) |  ? | 2,886 | 223 - 1,339 |
| 18 | 13,302 (1,478 / Hour) | 5,909 (x5 = 29,545) |  ? | 3,056 | 236 - 1,418 |
| 19 | 13,806 (1,534 / Hour) | 6,228 (x5 = 31,140) |  ? | 3,226 | 249 - 1,497 |
| 20 | 14,301 (1,589 / Hour) | Evolve: 40,000 per attempt |  ? | 3,395 | 262 - 1,576 |
| 21 | 14,796 (1,644 / Hour) | 6,867 (x5 = 34,335) |  ? | 3,565 | 276 - 1,656 |
| 22 | 15,300 (1,700 / Hour) | 7,186 (x5 = 35,930) |  ? | 3,735 | 289 - 1,735 |
| 23 | 15,795 (1,755 / Hour) | 7,505 (x5 = 37,525) |  ? | 3,905 | 301 - 1,807 |
| 24 | 16,289 (1,810 / Hour) | 7,824 (x5 = 39,120) |  ? | 4,074 | 314 - 1,886 |
| 25 | 16,785 (1,865 / Hour) | 8,143 (x5 = 40,715) |  ? | 4,244 | 327 - 1,965 |
| 26 | 17,289 (1,921 / Hour) | 8,462 (x5 = 42,310) |  ? | 4,414 | 340 - 2,044 |
| 27 | 17,784 (1,976 / Hour) | 8,781 (x5 = 43,905) |  ? | 4,584 | 354 - 2,124 |
| 28 | 18,279 (2,031 / Hour) | 9,100 (x5 = 45,500) |  ? | 4,753 | 367 - 2,203 |
| 29 | 18,774 (2,086 / Hour) | 9,419 (x5 = 47,095) |  ? | 4,923 | 380 - 2,282 |
| 30 | 19,278 (2,142 / Hour) | Evolve: 50,000 per attempt |  ? | 5,093 | 393 - 2,361 |
| 31 | 19,773 (2,197 / Hour) | 10,058 (x5 = 50,290) |  ? | 5,263 | 406 - 2,440 |
| 32 | 20,268 (2,252 / Hour) | 10,377 (x5 = 51,885) |  ? | 5,432 | 420 - 2,520 |
| 33 | 20,772 (2,308 / Hour) | 10,696 (x5 = 53,480) |  ? | 5,602 | 433 - 2,599 |
| 34 | 21,267 (2,363 / Hour) | 11,015 (x5 = 55,075) |  ? | 5,772 | 446 - 2,678 |
| 35 | 21,762 (2,418 / Hour) | 11,334 (x5 = 56,670) |  ? | 5,942 | 458 - 2,750 |
| 36 | 22,257 (2,473 / Hour) | 11,653 (x5 = 58,265) |  ? | 6,111 | 471 - 2,829 |
| 37 | 22,761 (2,529 / Hour) | 11,972 (x5 = 59,860) |  ? | 6,281 | 484 - 2,908 |
| 38 | 23,256 (2,584 / Hour) | 12,291 (x5 = 61,455) |  ? | 6,451 | 498 - 2,988 |
| 39 | 23,751 (2,639 / Hour) | 12,610 (x5 = 63,050) |  ? | 6,621 | 511 - 3,067 |
| 40 | 24,246 (2,694 / Hour) | MAX |  ? | 6,790 | 524 - 3,146 |
Total Meat to Max: 1,178,545
Titanoboa Level 40
Tournament-Battle Arena Profile Picture
Titanoboa in Battle
Titanoboa Level 40 Pictures