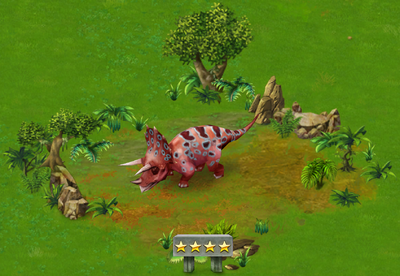 Battle weakness : Charge
Battle Class : Bronze
Triceratops is a genus of herbivorous ceratopsid dinosaur that first appeared during the late Maastrichtian stage of the late Cretaceous period, about 68 million years ago (mya) in what is now North America. It is one of the last known non-avian dinosaur genera, and became extinct in the Cretaceous–Paleogene extinction event 66 million years ago. The name Triceratops, which literally means "three-horned face", is derived from the Ancient Greek words τρί- (tri-) meaning "three", κέρας (kéras) meaning "horn", and ὤψ (ōps) meaning "face". Triceratops were long thought to have used their horns and frills in combat with predators such as Tyrannosaurus.
Individual Triceratops are estimated to have reached about 7.9 to 9.0 m (25.9–29.5 ft) in length, 2.9 to 3.0 m (9.5 to 9.8 ft) in height, and 6.1–12.0 tonnes (13,000–26,000 lb) in weight. The most distinctive feature is their large skull, among the largest of all land animals. Triceratops were herbivorous, and because of their low head, their primary food was probably low growth, although they may have been able to knock down taller plants with their horns, beak, and bulk. The jaws were tipped with a deep, narrow beak, believed to have been better at grasping and plucking than biting.
Information
Cost and Time to Hatch
Availability
Market
DNA Research
N/A x10
Placement Cost
200
Incubation Time
00:12:00
XP
2
Dimensions
7x7

Initial Message: The Triceratops had a 6 feet long frill, that's as big as a tall person!

First Evolution Message: The Triceratops was one of the last dinosaurs to disappear from the surface of the Earth.

Second Evolution Message: The Triceratops could charge predators with its 3 striking horns, one above its mouth and 2 above its head.

Third Evolution Message: The name Triceratops means "three-horned face" in Greek.
Level-Based Stats
| Level | Unmodified Earning Rates (5 Min) | Feeding Costs (Crops) | Ferocity | Life | Attack |
| --- | --- | --- | --- | --- | --- |
| 1 | 100 (1,250 / Hour) | 10 (x5 = 50) |  ? | N/A | N/A - N/A |
| 2 | 110 (1,375 / Hour) | 16 (x5 = 80) |  ? | N/A | N/A - N/A |
| 3 | 120 (1,500 / Hour) | 23 (x5 = 115) |  ? | N/A | N/A - N/A |
| 4 | 130 (1,625 / Hour) | 29 (x5 = 145) |  ? | N/A | N/A - N/A |
| 5 | 141 (1,763 / Hour) | 36 (x5 = 180) | 2 | 13 | 2 - 14 |
| 6 | 151 (1,888 / Hour) | 42 (x5 = 210) | 2 | 15 | 2 - 14 |
| 7 | 161 (2,013 / Hour) | 49 (x5 = 245) | 2 | 18 | 2 - 14 |
| 8 | 171 (2,138 / Hour) | 56 (x5 = 280) | 3 | 20 | 2 - 14 |
| 9 | 182 (2,275 / Hour) | 62 (x5 = 310) | 3 | 23 | 2 - 14 |
| 10 | 192 (2,400 / Hour) | Evolve: 700 per attempt | 3 | 25 | 3 - 21 |
| 11 | 202 (2,525 / Hour) | 75 (x5 = 375) | 3 | 28 | 3 - 21 |
| 12 | 212 (2,650 / Hour) | 82 (x5 = 410) | 4 | 30 | 3 - 21 |
| 13 | 223 (2,788 / Hour) | 88 (x5 = 440) | 4 | 33 | 3 - 21 |
| 14 | 233 (2,913 / Hour) | 95 (x5 = 475) | 4 | 35 | 3 - 21 |
| 15 | 243 (3,038 / Hour) | 102 (x5 = 510) | 4 | 38 | 4 - 28 |
| 16 | 253 (3,163 / Hour) | 108 (x5 = 540) | 5 | 40 | 4 - 28 |
| 17 | 264 (3,300 / Hour) | 115 (x5 = 575) | 5 | 43 | 4 - 28 |
| 18 | 274 (3,425 / Hour) | 121 (x5 = 605) | 5 | 45 | 4 - 28 |
| 19 | 284 (3,550 / Hour) | 128 (x5 = 640) | 6 | 48 | 4 - 28 |
| 20 | 294 (3,675 / Hour) | Evolve: 2,150 per attempt | 6 | 50 | 6 - 36 |
| 21 | 305 (3,813 / Hour) | 141 (x5 = 705) | 6 | 53 | 6 - 36 |
| 22 | 315 (3,938 / Hour) | 148 (x5 = 740) | 6 | 55 | 6 - 36 |
| 23 | 325 (4,063 / Hour) | 154 (x5 = 770) | 7 | 58 | 6 - 36 |
| 24 | 335 (4,188 / Hour) | 161 (x5 = 805) | 7 | 60 | 6 - 36 |
| 25 | 346 (4,325 / Hour) | 167 (x5 = 835) | 7 | 63 | 7 - 43 |
| 26 | 356 (4,450 / Hour) | 174 (x5 = 870) | 7 | 65 | 7 - 43 |
| 27 | 366 (4,575 / Hour) | 181 (x5 = 905) | 8 | 68 | 7 - 43 |
| 28 | 376 (4,700 / Hour) | 187 (x5 = 935) | 8 | 70 | 7 - 43 |
| 29 | 387 (4,838 / Hour) | 194 (x5 = 970) | 8 | 73 | 7 - 43 |
| 30 | 397 (4,963 / Hour) | Evolve: 3,500 per attempt | 8 | 75 | 8 - 50 |
| 31 | 407 (5,088 / Hour) | 207 (x5 = 1,035) | 9 | 78 | 8 - 50 |
| 32 | 417 (5,213 / Hour) | 213 (x5 = 1,065) | 9 | 80 | 8 - 50 |
| 33 | 428 (5,350 / Hour) | 220 (x5 = 1,100) | 9 | 83 | 8 - 50 |
| 34 | 438 (5,475 / Hour) | 227 (x5 = 1,135) | 10 | 85 | 8 - 50 |
| 35 | 448 (5,600 / Hour) | 233 (x5 = 1,165) | 10 | 88 | 9 - 57 |
| 36 | 459 (5,738 / Hour) | 240 (x5 = 1,200) | 10 | 90 | 9 - 57 |
| 37 | 469 (5,863 / Hour) | 246 (x5 = 1,230) | 10 | 93 | 9 - 57 |
| 38 | 479 (5,988 / Hour) | 253 (x5 = 1,265) | 11 | 95 | 9 - 57 |
| 39 | 489 (6,113 / Hour) | 260 (x5 = 1,300) | 11 | 98 | 9 - 57 |
| 40 | 500 (6,250 / Hour) | MAX | 11 | 100 | 10 - 64 |
Total Crops to Max: 24,215
Triceratops Level 40
Tournament-Battle Arena Profile Picture
Triceratops in Battle
Triceratops Level 40 Pictures