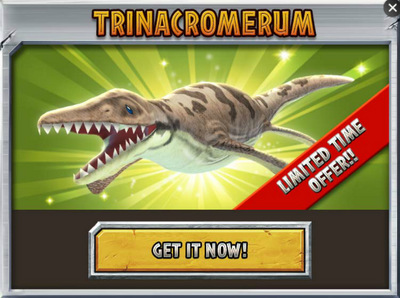 Battle Weakness: Swipe
Battle Class: Gold
Diet: Crustaceavore
Trinacromerum is an extinct genus of sauropterygian reptile, a member of the polycotylid plesiosaurs. It contains two species, T. bentonianum and T. kirki. Specimens have been discovered in the Late Cretaceous fossil deposits of what is now modern Kansas and Manitoba. Trinacromerum was 3 meters (9.8 feet) long. Its teeth show that it fed on small fish. The long flippers of Trinacromerum enabled it to achieve high swimming speeds.
Its physical appearance was described by Richard Ellis as akin to a "four-flippered penguin". Its name means "three tipped femur".
Sauropterygia ("lizard flippers") is an extinct, diverse taxon of aquatic reptiles that developed from terrestrial ancestors soon after the end-Permian extinction and flourished during the Mesozoic before they became extinct at the end of that era. At the beginning of the Cretaceous only a single lineage, the Xenopsaria, represented by the two groups Elasmosauridae and Polycotylidae, was still present. Sauropterygians are united by a radical adaptation of their pectoral girdle, adapted to support powerful flipper strokes. Some later sauropterygians, such as the pliosaurs, developed a similar mechanism in their pelvis.
Information
Cost and Time to Hatch
Availability
Limited
DNA Research
15,000 x10
Placement Cost
92,350
Incubation Time
6:03:00
XP
924
Dimensions
6x6

Initial Message: In the late 1800's, the first specimens of Trinacromerum were discovered.

First Evolution Message: At the beginning, the Trinacromerum was confused with another dinosaur, namely the Dolichorhynchops.

Second Evolution Message: The Trinacromerum used flippers that look like wings to fly underwater.

Third Evolution Message: The name Trinacromerum means "three-tipped femur" in Greek.
Level-Based Stats
| Level | Unmodified Earning Rates (8 Hrs) | Feeding Costs (Crustaceans) | Ferocity | Life | Attack |
| --- | --- | --- | --- | --- | --- |
| 1 | 4,752 (594 / Hour) | 475 (x5 = 2,375) | N/A | N/A | N/A - N/A |
| 2 | 5,240 (655 / Hour) | 787 (x5 = 3,935) | N/A | N/A | N/A - N/A |
| 3 | 5,728 (716 / Hour) | 1,100 (x5 = 5,500) | N/A | N/A | N/A - N/A |
| 4 | 6,208 (776 / Hour) | 1,412 (x5 = 7,060) | N/A | N/A | N/A - N/A |
| 5 | 6,696 (837 / Hour) | 1,725 (x5 = 8,625) | 158 | 1,129 | 61 - 367 |
| 6 | 7,184 (898 / Hour) | 2,037 (x5 = 10,185) | 189 | 1,354 | 73 - 439 |
| 7 | 7,672 (959 / Hour) | 2,350 (x5 = 11,750) | 221 | 1,580 | 85 - 511 |
| 8 | 8,160 (1,020 / Hour) | 2,662 (x5 = 13,310) | 252 | 1,805 | 97 - 583 |
| 9 | 8,648 (1,081 / Hour) | 2,975 (x5 = 14,875) | 284 | 2,031 | 109 - 655 |
| 10 | 9,136 (1,142 / Hour) | Evolve: 25,000 per attempt | 315 | 2,257 | 121 - 727 |
| 11 | 9,624 (1,203 / Hour) | 3,600 (x5 = 18,000) | 347 | 2,482 | 134 - 806 |
| 12 | 10,112 (1,264 / Hour) | 3,912 (x5 = 19,560) | 378 | 2,708 | 146 - 878 |
| 13 | 10,600 (1,325 / Hour) | 4,225 (x5 = 21,125) | 410 | 2,934 | 158 - 950 |
| 14 | 11,080 (1,385 / Hour) | 4,537 (x5 = 22,685) | 441 | 3,159 | 170 - 1,022 |
| 15 | 11,568 (1,446 / Hour) | 4,850 (x5 = 24,250) | 473 | 3,385 | 182 - 1,094 |
| 16 | 12,056 (1,507 / Hour) | 5,162 (x5 = 25,810) | 504 | 3,610 | 194 - 1,166 |
| 17 | 12,544 (1,568 / Hour) | 5,475 (x5 = 27,375) | 535 | 3,836 | 206 - 1,238 |
| 18 | 13,032 (1,629 / Hour) | 5,787 (x5 = 28,935) | 567 | 4,062 | 218 - 1,310 |
| 19 | 13,520 (1,690 / Hour) | 6,100 (x5 = 30,500) | 598 | 4,287 | 230 - 1,382 |
| 20 | 14,008 (1,751 / Hour) | Evolve: 35,000 per attempt | 630 | 4,513 | 242 - 1,454 |
| 21 | 14,496 (1,812 / Hour) | 6,725 (x5 = 33,625) |  ? |  ? |  ? - ? |
| 22 | 14,984 (1,873 / Hour) | 7,038 (x5 = 35,190) |  ? |  ? |  ? - ? |
| 23 | 15,464 (1,933 / Hour) | 7,350 (x5 = 36,750) |  ? |  ? |  ? - ? |
| 24 | 15,952 (1,994 / Hour) | 7,663 (x5 = 38,315) |  ? |  ? |  ? - ? |
| 25 | 16,440 (2,055 / Hour) | 7,975 (x5 = 39,875) |  ? |  ? |  ? - ? |
| 26 | 16,928 (2,116 / Hour) | 8,288 (x5 = 41,440) |  ? |  ? |  ? - ? |
| 27 | 17,416 (2,177 / Hour) | 8,600 (x5 = 43,000) |  ? |  ? |  ? - ? |
| 28 | 17,904 (2,238 / Hour) | 8,913 (x5 = 44,565) |  ? |  ? |  ? - ? |
| 29 | 18,392 (2,299 / Hour) | 9,225 (x5 = 46,125) |  ? |  ? |  ? - ? |
| 30 | 18,880 (2,360 / Hour) | Evolve: 50,000 per attempt |  ? |  ? |  ? - ? |
| 31 | 19,368 (2,421 / Hour) | 9,850 (x5 = 49,250) |  ? |  ? |  ? - ? |
| 32 | 19,856 (2,482 / Hour) | 10,163 (x5 = 50,815) |  ? |  ? |  ? - ? |
| 33 | 20,336 (2,542 / Hour) | 10,475 (x5 = 52,375) |  ? |  ? |  ? - ? |
| 34 | 20,824 (2,603 / Hour) | 10,788 (x5 = 53,940) |  ? |  ? |  ? - ? |
| 35 | 21,312 (2,664 / Hour) | 11,100 (x5 = 55,500) |  ? |  ? |  ? - ? |
| 36 | 21,800 (2,725 / Hour) | 11,413 (x5 = 57,065) |  ? |  ? |  ? - ? |
| 37 | 22,288 (2,786 / Hour) | 11,725 (x5 = 58,625) |  ? |  ? |  ? - ? |
| 38 | 22,776 (2,847 / Hour) | 12,038 (x5 = 60,190) |  ? |  ? |  ? - ? |
| 39 | 23,264 (2,908 / Hour) | 12,350 (x5 = 61,750) |  ? |  ? |  ? - ? |
| 40 | 23,752 (2,969 / Hour) | MAX |  ? |  ? |  ? - ? |
Total Crustaceans to Max: 1,154,250
Trinacromerum Level 40
Tournament-Battle Arena Profile Picture
Trinacromerum in Battle
Trinacromerum Level 40 Pictures