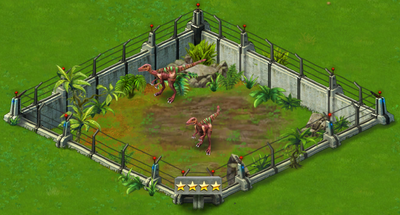 Battle Weakness: Swipe
Battle Class: Silver
Troodon is a genus of relatively small, bird-like dinosaurs known dfinitvely from the Campanian age of the Creataceous period (77 mya), though possible additional species are known from later in the Campanian and also from the early Maastrichtian age. It includes at least one species, Troodon formosus, though many fossils possibly representing several species have been classified in this genus. These species ranged widely, with fossil remains recovered from as far north as Alaska and as far south as Wyoming and even possibly Texas and New Mexico.
One study was based on multiple Troodon teeth that have been collected from Late Cretaceous deposits from northern Alaska. These teeth are much larger than those collected from more southern sites, providing evidence that northern Alaskan populations of Troodon grew to larger average body size. This study also provides an analysis of the proportions and wear patterns of a large sample of Troodon teeth. It proposes that the wear patterns of all Troodon teeth suggest a diet of soft foods - inconsistent with bone chewing, invertebrate exoskeletons, or tough plant items. This study hypothesizes a diet primarily consisting of meat. Like living megapode birds, it was superprecocial, displaying little if any parental care, and probably buried its eggs similarly.
Information
Cost and Time to Hatch
Availability
Market
DNA Research
6,250 x10
Placement Cost
186,000
Incubation Time
31:15:00
XP
1,860
Dimensions
7x7

Initial Message: The meaning of the name Troodon, "wounding tooth", comes from its shape, curved and serrated teeth.

First Evolution Message: Traits from both crocodilians and birds could be identified within the Troodon.

Second Evolution Message: The brain of the Troodon was large for its size and was probably most developed than any dinosaurs'.

Third Evolution Message: During the course of a week, a female Troodon could lay 2 eggs per day, which were brooded by the male.
Level-Based Stats
| Level | Unmodified Earning Rates (11 Hrs) | Feeding Costs (Meat) | Ferocity | Life | Attack |
| --- | --- | --- | --- | --- | --- |
| 1 | 2,750 (250 / Hour) | 275 (x5 = 1,375) |  ? | N/A | N/A - N/A |
| 2 | 3,036 (276 / Hour) | 455 (x5 = 2,275) |  ? | N/A | N/A - N/A |
| 3 | 3,311 (301 / Hour) | 636 (x5 = 3,180) |  ? | N/A | N/A - N/A |
| 4 | 3,597 (327 / Hour) | 817 (x5 = 4,085) |  ? | N/A | N/A - N/A |
| 5 | 3,883 (353 / Hour) | 998 (x5 = 4,990) |  ? | 344 | 36 - 216 |
| 6 | 4,158 (378 / Hour) | 1,179 (x5 = 5,895) |  ? | 413 | 43 - 259 |
| 7 | 4,444 (404 / Hour) | 1,360 (x5 = 6,800) |  ? | 482 | 50 - 302 |
| 8 | 4,719 (429 / Hour) | 1,541 (x5 = 7,705) |  ? | 550 | 57 - 345 |
| 9 | 5,005 (455 / Hour) | 1,722 (x5 = 8,610) |  ? | 619 | 64 - 388 |
| 10 | 5,291 (481 / Hour) | Evolve: 18,450 per attempt |  ? | 688 | 72 - 432 |
| 11 | 5,566 (506 / Hour) | 2,084 (x5 = 10,420) |  ? | 757 | 79 - 475 |
| 12 | 5,852 (532 / Hour) | 2,265 (x5 = 11,325) |  ? | 825 | 85 - 511 |
| 13 | 6,138 (558 / Hour) | 2,446 (x5 = 12,230) |  ? | 894 | 92 - 554 |
| 14 | 6,413 (583 / Hour) | 2,627 (x5 = 13,135) | 116 | 963 | 99 - 597 |
| 15 | 6,699 (609 / Hour) | 2,808 (x5 = 14,040) |  ? | 1,032 | 106 - 640 |
| 16 | 6,985 (635 / Hour) | 2,989 (x5 = 14,945) |  ? | 1,100 | 114 - 684 |
| 17 | 7,260 (660 / Hour) | 3,169 (x5 = 15,845) |  ? | 1,169 | 121 - 727 |
| 18 | 7,546 (686 / Hour) | 3,350 (x5 = 16,750) |  ? | 1,238 | 128 - 770 |
| 19 | 7,832 (712 / Hour) | 3,531 (x5 = 17,655) |  ? | 1,307 | 135 - 813 |
| 20 | 8,107 (737 / Hour) | Evolve: 20,000 per attempt |  ? | 1,375 | 142 - 856 |
| 21 | 8,393 (763 / Hour) | 3,893 (x5 = 19,465) |  ? | 1,444 | 150 - 900 |
| 22 | 8,668 (788 / Hour) | 4,074 (x5 = 20,370) |  ? | 1,513 | 157 - 943 |
| 23 | 8,954 (814 / Hour) | 4,255 (x5 = 21,275) |  ? | 1,582 | 163 - 979 |
| 24 | 9,240 (840 / Hour) | 4,436 (x5 = 22,180) |  ? | 1,650 | 170 - 1,022 |
| 25 | 9,515 (865 / Hour) | 4,617 (x5 = 23,085) |  ? | 1,719 | 177 - 1,065 |
| 26 | 9,801 (891 / Hour) | 4,798 (x5 = 23,990) |  ? | 1,788 | 184 - 1,108 |
| 27 | 10,086 (917 / Hour) | 4,979 (x5 = 24,895) |  ? | 1,857 | 192 - 1,152 |
| 28 | 10,362 (942 / Hour) | 5,160 (x5 = 25,800) |  ? | 1,925 | 199 - 1,195 |
| 29 | 10,648 (968 / Hour) | 5,341 (x5 = 26,705) |  ? | 1,994 | 206 - 1,238 |
| 30 | 10,934 (994 / Hour) | Evolve: 26,500 per attempt | 248 | 2,063 | 213 - 1,281 |
| 31 | 11,209 (1,019 / Hour) | 5,703 (x5 = 28,515) |  ? | 2,132 | 220 - 1,324 |
| 32 | 11,495 (1,045 / Hour) | 5,884 (x5 = 29,420) |  ? | 2,200 | 228 - 1,368 |
| 33 | 11,781 (1,071 / Hour) | 6,064 (x5 = 30,320) |  ? | 2,269 | 235 - 1,411 |
| 34 | 12,056 (1,096 / Hour) | 6,245 (x5 = 31,225) |  ? | 2,338 | 242 - 1,454 |
| 35 | 12,342 (1,122 / Hour) | 6,426 (x5 = 32,130) |  ? | 2,407 | 248 - 1,490 |
| 36 | 12,617 (1,147 / Hour) | 6,607 (x5 = 33,035) |  ? | 2,475 | 255 - 1,533 |
| 37 | 12,902 (1,173 / Hour) | 6,788 (x5 = 33,940) |  ? | 2,544 | 262 - 1,576 |
| 38 | 13,189 (1,199 / Hour) | 6,969 (x5 = 34,845) |  ? | 2,613 | 270 - 1,620 |
| 39 | 13,464 (1,224 / Hour) | 7,150 (x5 = 35,750) |  ? | 2,682 | 277 - 1,663 |
| 40 | 13,749 (1,250 / Hour) | MAX | 330 | 2,750 | 284 - 1,706 |
Total Meat to Max: 668,205
Troodon Level 40
Tournament-Battle Arena Profile Picture
Troodon in Battle
Troodon Level 40 Pictures