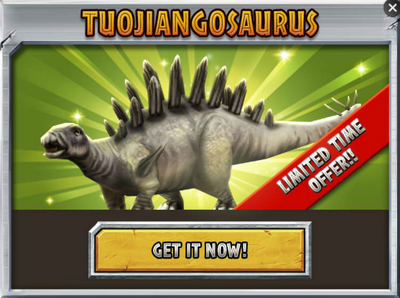 Battle Weakness: Charge
Battle Class: Gold
Tuojiangosaurus is a genus of herbivorous stegosaurid dinosaur from the Late Jurassic Period, recovered from the Upper Shaxmiao Formation of what is now Sichuan Province in China.Physically similar to the North American Stegosaurus, Tuojiangosaurus is the best understood of the Chinese stegosaurids. It was around 7 metres long and 2 metres high. In 2010, Gregory S. Paul estimated the weight of a 6.5 metres long Tuojiangosaurus at 2.8 tonnes.

Like Kentrosaurus, Tuojiangosaurus had two rows of plates along the spine, which became taller over the hip region. Those at the neck and front trunk were rounded or pear-shaped; the plates at the rear back became more triangular and pointed. All plates have a thickened central section, as if they were modified spikes. Dong estimated there were about seventeen pairs of plates and spikes. Tuojiangosaurus had at least two outward-pointing, rather robust, spikes on each side of the end of the tail, angled at approximately 45 degrees to the vertical. In stegosaurids, this spike arrangement has become affectionately known as the "thagomizer".
Tuojiangosaurus is important to Level 88 to Jurassic Park Dr. Grant Mission: "The Caretakers". It is necessary to move the Triceratops, Pachycephalosaurus and Tuojiangosaurus to complete mission.
Information
Cost and Time to Hatch
Availability
Limited
DNA Research
N/A
Placement Cost
70
Incubation Time
00:11:59
XP
48 + 48 + 48 + 48
Dimensions
6x6

Initial Message: The Tuojiangosaurus's spikes and plates were not attached to its skeleton.

First Evolution Message: The Tuojiangosaurus had shoulder spikes to protect its sides.

Second Evolution Message: Strong muscles and 4 spikes on its tail helped the Tuojiangosaurus defend himself.

Third Evolution Message: The name Tuojiangosaurus means "Tuo river lizard" in Greek, which is where it was discovered.
Level-Based Stats
| Level | Unmodified Earning Rates (1 Hour) | Feeding Costs (Crops) | Ferocity | Life | Attack |
| --- | --- | --- | --- | --- | --- |
| 1 | 2,555 (2,555 / Hour) | 255 (x5 = 1,275) | 17 | N/A | N/A - N/A |
| 2 | 2,817 (2,817 / Hour) | 423 (x5 = 2,115) | 34 | N/A | N/A - N/A |
| 3 | 3,079 (3,079 / Hour) | 591 (x5 = 2,955) | 51 | N/A | N/A - N/A |
| 4 | 3,341 (3,341 / Hour) | 759 (x5 = 3,795) | 68 | N/A | N/A - N/A |
| 5 | 3,981 (3,981 / Hour) | 927 (x5 = 4,635) | 85 | 607 | 33 - 201 |
| 6 | 4,270 (4,270 / Hour) | 1,096 (x5 = 5,480) | 102 | 729 | 39 - 237 |
| 7 | 4,560 (4,560 / Hour) | 1,264 (x5 = 6,320) | 119 | 850 | 45 - 273 |
| 8 | 4,389 (4,389 / Hour) | 1,432 (x5 = 7,160) | 136 | 971 | 52 - 316 |
| 9 | 4,651 (4,651 / Hour) | 1,600 (x5 = 8,000) | 153 | 1,093 | 58 - 352 |
| 10 | 4,913 (4,913 / Hour) | Evolve: 2,000 per attempt | 170 | 1,214 | 66 - 396 |
| 11 | 5,176 (5,176 / Hour) | 1,936 (x5 = 9,680) | 187 | 1,335 | 72 - 432 |
| 12 | 5,438 (5,438 / Hour) | 2,104 (x5 = 10,520) | 204 | 1,457 | 79 - 475 |
| 13 | 5,700 (5,700 / Hour) | 2,272 (x5 = 11,360) | 221 | 1,578 | 85 - 511 |
| 14 | 5,962 (5,962 / Hour) | 2,440 (x5 = 12,200) | 237 | 1,700 | 92 - 554 |
| 15 | 6,224 (6,224 / Hour) | 2,608 (x5 = 13,040) | 254 | 1,821 | 98 - 590 |
| 16 | 6,486 (6,486 / Hour) | 2,777 (x5 = 13,885) | 271 | 1,942 | 104 - 626 |
| 17 | 6,748 (6,748 / Hour) | 2,945 (x5 = 14,725) | 288 | 2,064 | 111 - 669 |
| 18 | 7,010 (7,010 / Hour) | 3,113 (x5 = 15,565) | 305 | 2,185 | 117 - 705 |
| 19 | 7,272 (7,272 / Hour) | 3,281 (x5 = 16,405) | 322 | 2,306 | 124 - 748 |
| 20 | 7,534 (7,534 / Hour) | Evolve: 3,750 per attempt | 339 | 2,428 | 130 - 784 |
| 21 | 7,795 (7,795 / Hour) | 3,617 (x5 = 18,085) | 356 | 2,549 | 138 - 828 |
| 22 | 8,057 (8,057 / Hour) | 3,785 (x5 = 18,925) | 373 | 2,670 | 144 - 864 |
| 23 | 8,320 (8,320 / Hour) | 3,953 (x5 = 19,765) | 390 | 2,792 | 150 - 900 |
| 24 | 8,582 (8,582 / Hour) | 4,121 (x5 = 20,605) | 407 | 2,913 | 157 - 943 |
| 25 | 8,844 (8,844 / Hour) | 4,290 (x5 = 21,450) | 424 | 3,035 | 163 - 979 |
| 26 | 9,106 (9,106 / Hour) | 4,458 (x5 = 22,290) | 441 | 3,156 | 170 - 1,022 |
| 27 | 9,368 (9,368 / Hour) | 4,626 (x5 = 23,130) | 458 | 3,277 | 176 - 1,058 |
| 28 | 9,630 (9,630 / Hour) | 4,794 (x5 = 23,970) | 474 | 3,399 | 183 - 1,101 |
| 29 | 9,892 (9,892 / Hour) | 4,962 (x5 = 24,810) | 491 | 3,520 | 189 - 1,137 |
| 30 | 10,154 (10,154 / Hour) | Evolve: 6,500 per attempt | 508 | 3,641 | 195 - 1,173 |
| 31 | 10,417 (10,417 / Hour) | 5,298 (x5 = 26,490) | 525 | 3,763 | 202 - 1,216 |
| 32 | 10,679 (10,679 / Hour) | 5,466 (x5 = 27,330) | 542 | 3,884 | 208 - 1,252 |
| 33 | 10,941 (10,941 / Hour) | 5,634 (x5 = 28,170) | 559 | 4,005 | 216 - 1,296 |
| 34 | 11,203 (11,203 / Hour) | 5,802 (x5 = 29,010) | 576 | 4,127 | 222 - 1,332 |
| 35 | 11,465 (11,465 / Hour) | 5,971 (x5 = 29,855) | 593 | 4,248 | 229 - 1,375 |
| 36 | 11,727 (11,727 / Hour) | 6,139 (x5 = 30,695) | 610 | 4,370 | 235 - 1,411 |
| 37 | 11,989 (11,989 / Hour) | 6,307 (x5 = 31,535) | 627 | 4,491 | 241 - 1,447 |
| 38 | 12,251 (12,251 / Hour) | 6,475 (x5 = 32,375) | 644 | 4,612 | 248 - 1,490 |
| 39 | 12,513 (12,513 / Hour) | 6,643 (x5 = 33,215) | 661 | 4,734 | 254 - 1,526 |
| 40 | 12,775 (12,775 / Hour) | MAX | 678 | 4,855 | 261 - 1,569 |
Total Crops to Max: 620,820
Tuojiangosaurus Level 40
Tournament-Battle Arena Profile Picture
Tuojiangosaurus in Battle
Tuojiangosaurus Level 40 Pictures