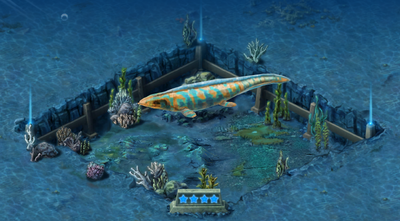 Battle Weakness: Bite
Battle Class: Bronze
Diet: Piscivore
Tylosaurus (Greek τυλος/tylos "protuberance, knob" + Greek σαυρος/sauros "lizard") was a mosasaur, a large, predatory marine lizard closely related to modern monitor lizards and to snakes.
A distinguishing characteristic of Tylosaurus is its elongated, cylindrical premaxilla (snout) from which it takes its name and which may have been used to ram and stun prey and also in intraspecific combat. Early restorations showing Tylosaurus with a dorsal crest were based on misidentified tracheal cartilage, but when the error was discovered, depicting mosasaurs with such crests was already a trend.
Along with plesiosaurs, sharks, fish, and other mosasaurs, Tylosaurus was a dominant predator of the Western Interior Seaway during the Late Cretaceous. The genus was among the largest of the mosasaurs (along with Mosasaurus hoffmannii), with the possibly conspecific Hainosaurus bernardi reaching lengths up to 12.2 m (40 ft), and T. pembinensis reaching comparable sizes. T. proriger, the largest species of Tylosaurus, reached lengths of about 14 m (46 ft).
Information
Cost and Time to Hatch
Availability
Market
DNA Research
4,000 x10
Placement Cost
146,900
Incubation Time
18:03:00
XP
1,469
Dimensions
8x8

Initial Message: The name Tylosaurus means "Knob lizard" in Greek.

First Evolution Message: Any small creature that would cross the path of the Tylosaurus could become part of its diet.

Second Evolution Message: The Tylosaurus was in the center of a feud between famous paleontologists over its name.

Third Evolution Message: In the roof of its mouth, the Tylosaurus had 2 extra rows of teeth to keep its victims in it.
Level-Based Stats
| Level | Unmodified Earning Rates (8 Hrs) | Feeding Costs (Fish) | Ferocity | Life | Attack |
| --- | --- | --- | --- | --- | --- |
| 1 | 2,248 (281 / Hour) | 225 (x5 = 1,125) |  ? | N/A | N/A - N/A |
| 2 | 2,480 (310 / Hour) | 373 (x5 = 1,865) |  ? | N/A | N/A - N/A |
| 3 | 2,712 (339 / Hour) | 521 (x5 = 2,605) |  ? | N/A | N/A - N/A |
| 4 | 2,944 (368 / Hour) | 669 (x5 = 3,345) |  ? | N/A | N/A - N/A |
| 5 | 3,176 (397 / Hour) | 817 (x5 = 4,085) |  ? | 225 | 28 - 172 |
| 6 | 3,400 (425 / Hour) | 965 (x5 = 4,825) |  ? | 270 | 34 - 208 |
| 7 | 3,631 (454 / Hour) | 1,113 (x5 = 5,565) |  ? | 315 | 40 - 244 |
| 8 | 3,864 (483 / Hour) | 1,261 (x5 = 6,305) |  ? | 360 | 45 - 273 |
| 9 | 4,096 (512 / Hour) | 1,409 (x5 = 7,045) |  ? | 405 | 51 - 309 |
| 10 | 4,328 (541 / Hour) | Evolve: 14,000 per attempt |  ? | 450 |  ? - ? |
| 11 | 4,560 (570 / Hour) | 1,705 (x5 = 8,525) |  ? | 495 | 62 - 374 |
| 12 | 4,792 (599 / Hour) | 1,853 (x5 = 9,265) |  ? | 540 | 68 - 410 |
| 13 | 5,016 (627 / Hour) | 2,001 (x5 = 10,005) |  ? | 585 | 74 - 446 |
| 14 | 5,248 (656 / Hour) | 2,149 (x5 = 10,745) |  ? | 630 | 80 - 482 |
| 15 | 5,480 (685 / Hour) | 2,297 (x5 = 11,485) |  ? | 675 | 85 - 511 |
| 16 | 5,712 (714 / Hour) | 2,445 (x5 = 12,225) |  ? | 720 | 91 - 547 |
| 17 | 5,944 (743 / Hour) | 2,593 (x5 = 12,965) |  ? | 765 | 97 - 583 |
| 18 | 6,176 (772 / Hour) | 2,741 (x5 = 13,705) |  ? | 810 | 103 - 619 |
| 19 | 6,400 (800 / Hour) | 2,889 (x5 = 14,445) |  ? | 855 | 108 - 648 |
| 20 | 6,632 (829 / Hour) | Evolve: 21,000 per attempt |  ? | 900 | 114 - 684 |
| 21 | 6,864 (858 / Hour) | 3,185 (x5 = 15,925) |  ? | 945 | 120 - 720 |
| 22 | 7,096 (887 / Hour) | 3,333 (x5 = 16,665) |  ? | 990 | 124 - 748 |
| 23 | 7,328 (916 / Hour) | 3,481 (x5 = 17,405) |  ? | 1,035 | 130 - 784 |
| 24 | 7,559 (945 / Hour) | 3,629 (x5 = 18,145) |  ? | 1,080 | 136 - 820 |
| 25 | 7,792 (974 / Hour) | 3,777 (x5 = 18,885) |  ? | 1,125 | 142 - 856 |
| 26 | 8,016 (1,002 / Hour) | 3,925 (x5 = 19,625) |  ? | 1,170 | 147 - 885 |
| 27 | 8,248 (1,031 / Hour) | 4,074 (x5 = 20,370) |  ? | 1,215 | 153 - 921 |
| 28 | 8,480 (1,060 / Hour) | 4,222 (x5 = 21,110) |  ? | 1,260 | 159 - 957 |
| 29 | 8,712 (1,089 / Hour) | 4,370 (x5 = 21,850) |  ? | 1,305 | 165 - 993 |
| 30 | 8,944 (1,118 / Hour) | Evolve: 27,000 per attempt |  ? | 1,350 | 170 - 1,022 |
| 31 | 9,176 (1,147 / Hour) | 4,666 (x5 = 23,330) |  ? | 1,395 | 176 - 1,058 |
| 32 | 9,400 (1,175 / Hour) | 4,814 (x5 = 24,070) |  ? | 1,440 | 182 - 1,094 |
| 33 | 9,632 (1,204 / Hour) | 4,962 (x5 = 24,810) |  ? | 1,485 | 187 - 1,123 |
| 34 | 9,864 (1,233 / Hour) | 5,110 (x5 = 25,550) |  ? | 1,530 | 193 - 1,159 |
| 35 | 10,096 (1,262 / Hour) | 5,258 (x5 = 26,290) |  ? | 1,575 | 199 - 1,195 |
| 36 | 10,328 (1,291 / Hour) | 5,406 (x5 = 27,030) |  ? | 1,620 | 205 - 1,231 |
| 37 | 10,560 (1,320 / Hour) | 5,554 (x5 = 27,770) |  ? | 1,665 | 210 - 1,260 |
| 38 | 10,792 (1,349 / Hour) | 5,702 (x5 = 28,510) |  ? | 1,710 | 216 - 1,296 |
| 39 | 11,016 (1,377 / Hour) | 5,850 (x5 = 29,250) |  ? | 1,755 | 222 - 1,332 |
| 40 | 11,248 (1,406 / Hour) | MAX |  ? | 1,800 | 226 - 1,360 |
Total Fish to Max: 546,720
Tylosaurus Level 40
Tournament-Battle Arena Profile Picture
Tylosaurus in Battle
Tylosaurus Level 40 Pictures