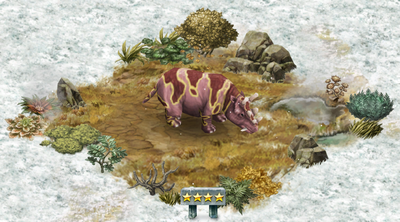 Battle Weakness: Charge
Battle Class: Bronze
Uintatherium ("Beast of the Uinta Mountains") is an extinct genus of herbivorous mammal that lived during the Eocene epoch. Two species are currently recognized: U. anceps from the United States during the Early to Middle Eocene and U. insperatus of Middle to Late Eocene China.

Uintatherium was a large browsing animal. With a length of about 4 m (13 ft), a height of 1.70 m (5.6 ft), and a weight up to 2 tonnes, it was similar to today's rhinoceros, both in size and in shape, although they are not closely related. Its legs were robust to sustain the weight of the animal and were equipped with claws. Moreover, a Uintathere's sternum was made up of horizontal segments, unlike today's rhinos, which have compressed vertical segments.
Information
Cost and Time to Hatch
Availability
Market
DNA Research
9,000 x10
Placement Cost
212,550
Incubation Time
42:02:00
XP
2,126
Dimensions
8x8

Initial Message: The name Uintatherium signifies "Uinta Beast" in Greek.

First Evolution Message: The Uintatherium had a small brain compared to its body.

Second Evolution Message: The small brain of the Uintatherium suggests that it wasn't really intelligent.

Third Evolution Message: Three pairs of knobby horns could be found on the head of the Uintatherium.
Level-Based Stats
| Level | Unmodified Earning Rates (8 Hrs) | Feeding Costs (Crops) | Ferocity | Life | Attack |
| --- | --- | --- | --- | --- | --- |
| 1 | 2,048 (256 / Hour) | 205 (x5 = 1,025) |  ? | N/A | N/A - N/A |
| 2 | 2,264 (283 / Hour) | 339 (x5 = 1,695) |  ? | N/A | N/A - N/A |
| 3 | 2,472 (309 / Hour) | 474 (x5 = 2,370) |  ? | N/A | N/A - N/A |
| 4 | 2,680 (335 / Hour) | 609 (x5 = 3,045) |  ? | N/A | N/A - N/A |
| 5 | 2,888 (361 / Hour) | 744 (x5 = 3,720) |  ? | 257 | 26 - 158 |
| 6 | 3,104 (388 / Hour) | 879 (x5 = 4,395) |  ? | 308 | 31 - 187 |
| 7 | 3,312 (414 / Hour) | 1,014 (x5 = 5,070) |  ? | 359 | 36 - 216 |
| 8 | 3,520 (440 / Hour) | 1,149 (x5 = 5,745) |  ? | 410 | 40 - 244 |
| 9 | 3,736 (467 / Hour) | 1,284 (x5 = 6,420) |  ? | 462 | 45 - 273 |
| 10 | 3,944 (493 / Hour) | Evolve: 18,000 per attempt |  ? | 513 | 51 - 309 |
| 11 | 4,152 (519 / Hour) | 1,553 (x5 = 7,765) |  ? | 564 | 56 - 338 |
| 12 | 4,360 (545 / Hour) | 1,688 (x5 = 8,440) |  ? | 615 | 61 - 367 |
| 13 | 4,576 (572 / Hour) | 1,823 (x5 = 9,115) |  ? | 667 | 66 - 396 |
| 14 | 4,784 (598 / Hour) | 1,958 (x5 = 9,790) |  ? | 718 | 70 - 424 |
| 15 | 4,992 (624 / Hour) | 2,093 (x5 = 10,465) |  ? | 769 | 76 - 460 |
| 16 | 5,200 (650 / Hour) | 2,228 (x5 = 11,140) |  ? | 820 | 81 - 489 |
| 17 | 5,416 (677 / Hour) | 2,363 (x5 = 11,815) |  ? | 872 | 86 - 518 |
| 18 | 5,624 (703 / Hour) | 2,497 (x5 = 12,485) |  ? | 923 | 91 - 547 |
| 19 | 5,832 (729 / Hour) | 2,632 (x5 = 13,160) |  ? | 974 | 96 - 576 |
| 20 | 6,048 (756 / Hour) | Evolve: 27,000 per attempt |  ? | 1,025 | 102 - 612 |
| 21 | 6,256 (782 / Hour) | 2,902 (x5 = 14,510) |  ? | 1,077 | 106 - 640 |
| 22 | 6,464 (808 / Hour) | 3,037 (x5 = 15,185) |  ? | 1,128 | 111 - 669 |
| 23 | 6,672 (834 / Hour) | 3,172 (x5 = 15,860) |  ? | 1,179 | 116 - 698 |
| 24 | 6,888 (861 / Hour) | 3,307 (x5 = 16,535) |  ? | 1,230 | 121 - 727 |
| 25 | 7,096 (887 / Hour) | 3,442 (x5 = 17,210) |  ? | 1,282 | 127 - 763 |
| 26 | 7,304 (913 / Hour) | 3,576 (x5 = 17,880) |  ? | 1,333 | 132 - 792 |
| 27 | 7,520 (940 / Hour) | 3,711 (x5 = 18,555) |  ? | 1,384 | 136 - 820 |
| 28 | 7,728 (966 / Hour) | 3,846 (x5 = 19,230) |  ? | 1,435 | 141 - 849 |
| 29 | 7,936 (992 / Hour) | 3,981 (x5 = 19,905) |  ? | 1,487 | 146 - 878 |
| 30 | 8,144 (1,018 / Hour) | Evolve: 36,000 per attempt |  ? | 1,538 | 152 - 914 |
| 31 | 8,360 (1,045 / Hour) | 4,251 (x5 = 21,255) |  ? | 1,589 | 157 - 943 |
| 32 | 8,568 (1,071 / Hour) | 4,386 (x5 = 21,930) |  ? | 1,640 | 162 - 972 |
| 33 | 8,776 (1,097 / Hour) | 4,521 (x5 = 22,605) |  ? | 1,692 | 166 - 1,000 |
| 34 | 8,992 (1,124 / Hour) | 4,656 (x5 = 23,280) |  ? | 1,743 | 171 - 1,029 |
| 35 | 9,200 (1,150 / Hour) | 4,790 (x5 = 23,950) |  ? | 1,794 | 177 - 1,065 |
| 36 | 9,408 (1,176 / Hour) | 4,925 (x5 = 24,625) |  ? | 1,845 | 182 - 1,094 |
| 37 | 9,616 (1,202 / Hour) | 5,060 (x5 = 25,300) |  ? | 1,897 | 187 - 1,123 |
| 38 | 9,832 (1,229 / Hour) | 5,195 (x5 = 25,975) |  ? | 1,948 | 192 - 1,152 |
| 39 | 10,040 (1,255 / Hour) | 5,330 (x5 = 26,650) |  ? | 1,999 | 196 - 1,180 |
| 40 | 10,248 (1,281 / Hour) | MAX |  ? | 2,050 | 202 - 1,216 |
Total Crops to Max: 498,100
Uintatherium Level 40
Tournament-Battle Arena Profile Picture
Uintatherium in Battle
Uintatherium Level 40 Pictures