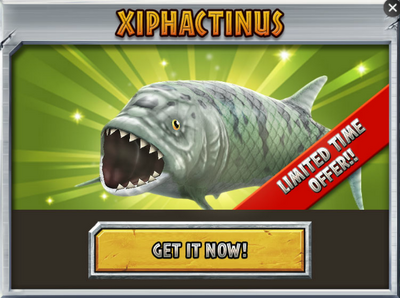 Battle Weakness: Swipe
Battle Class: Gold
Diet: Piscivore
Xiphactinus (from Latin and Greek for "sword-ray") is an extinct genus of large (4.5 to 6 metre; 15 to 20 feet long) predatory marine bony fish that lived during the Late Cretaceous. When alive, the fish would have resembled a gargantuan, fanged tarpon (to which it was, however, not related). The species Portheus molossus described by Cope is a junior synonym of X. audax.
Skeletal remains of Xiphactinus have come from Kansas (where the first Xiphactinus fossil was discovered during the 1850s), and Cretaceous formations all over the East Coast (most notably Georgia, Alabama, North Carolina, and New Jersey) in the United States, as well as Europe, Australia, Canada and Venezuela.
Information
Cost and Time to Hatch
Availability
Limited
DNA Research
15,000 x10
Placement Cost
117,750
Incubation Time
6:03:00
XP
1,178
Dimensions
7X7

Initial Message: The Xiphactinus was the largest fish with bones of the late Cretaceous era.

First Evolution Message: 3-inch-long teeth were hidden behind the Xiphactinus upturned bulldog-like jaw.

Second Evolution Message: The Xiphactinus could open its jaws wide enough to swallow its prey whole.

Third Evolution Message: The name Xiphactinus means "sword ray" in a combination of Latin and Greek.
Level-Based Stats
| Level | Unmodified Earning Rates (4 Hrs) | Feeding Costs (Fish) | Ferocity | Life | Attack |
| --- | --- | --- | --- | --- | --- |
| 1 | 4,452 (1,113 / Hour) | 444 (x5 = 2,220) |  ? | N/A | N/A - N/A |
| 2 | 4,908 (1,227 / Hour) | 737 (x5 = 3,685) |  ? | N/A | N/A - N/A |
| 3 | 5,364 (1,341 / Hour) | 1,030 (x5 = 5,150) |  ? | N/A | N/A - N/A |
| 4 | 5,820 (1,455 / Hour) | 1,323 (x5 = 6,615) |  ? | N/A | N/A - N/A |
| 5 | 6,276 (1,569 / Hour) | 1,616 (x5 = 8,080) | 112 | 779 | 61 - 367 |
| 6 | 6,732 (1,683 / Hour) | 1,908 (x5 = 9,540) | 134 | 935 | 73 - 439 |
| 7 | 7,188 (1,797 / Hour) | 2,201 (x5 = 11,005) | 156 | 1,091 | 85 - 511 |
| 8 | 7,643 (1,911 / Hour) | 2,494 (x5 = 12,470) | 178 | 1,246 | 97 - 583 |
| 9 | 8,100 (2,025 / Hour) | 2,787 (x5 = 13,935) |  ? | 1,402 | 109 - 655 |
| 10 | 8,556 (2,139 / Hour) | Evolve: 25,000 per attempt |  ? | 1,558 | 121 - 727 |
| 11 | 9,016 (2,254 / Hour) | 3,372 (x5 = 16,860) |  ? | 1,714 | 133 - 799 |
| 12 | 9,472 (2,368 / Hour) | 3,665 (x5 = 18,325) |  ? | 1,869 | 145 - 871 |
| 13 | 9,928 (2,482 / Hour) | 3,958 (x5 = 19,790) |  ? | 2,025 | 157 - 943 |
| 14 | 10,384 (2,596 / Hour) | 4,251 (x5 = 21,255) |  ? | 2,181 | 169 - 1,015 |
| 15 | 10,840 (2,710 / Hour) | 4,554 (x5 = 22,770) |  ? | 2,337 | 181 - 1,087 |
| 16 | 11,296 (2,824 / Hour) | 4,836 (x5 = 24,180) |  ? | 2,492 | 193 - 1,159 |
| 17 | 11,752 (2,938 / Hour) | 5,129 (x5 = 25,645) |  ? | 2,648 | 205 - 1,231 |
| 18 | 12,208 (3,052 / Hour) | 5,422 (x5 = 27,110) |  ? | 2,804 | 217 - 1,303 |
| 19 | 12,664 (3,166 / Hour) | 5,715 (x5 = 28,575) |  ? | 2,960 | 229 - 1,375 |
| 20 | 13,120 (3,280 / Hour) | Evolve: 35,000 per attempt |  ? | 3,115 | 241 - 1,447 |
| 21 | 13,580 (3,395 / Hour) | 6,300 (x5 = 31,500) |  ? | 3,271 | 253 - 1,519 |
| 22 | 14,036 (3,509 / Hour) | 6,593 (x5 = 32,965) |  ? | 3,427 | 265 - 1,591 |
| 23 | 14,492 (3,623 / Hour) | 6,886 (x5 = 34,430) |  ? | 3,583 | 277 - 1,663 |
| 24 | 14,948 (3,737 / Hour) | 7,179 (x5 = 35,895) |  ? | 3,738 | 289 - 1,735 |
| 25 | 15,403 (3,851 / Hour) | 7,471 (x5 = 37,355) |  ? | 3,894 | 301 - 1,807 |
| 26 | 15,860 (3,965 / Hour) | 7,764 (x5 = 38,820) |  ? | 4,050 | 313 - 1,879 |
| 27 | 16,316 (4,079 / Hour) | 8,057 (x5 = 40,285) |  ? | 4,206 | 325 - 1,951 |
| 28 | 16,772 (4,193 / Hour) | 8,350 (x5 = 41,750) |  ? | 4,361 | 337 - 2,023 |
| 29 | 17,228 (4,307 / Hour) | 8,643 (x5 = 43,215) |  ? | 4,517 | 349 - 2,095 |
| 30 | 17,684 (4,421 / Hour) | Evolve: 50,000 per attempt |  ? | 4,673 | 361 - 2,167 |
| 31 | 18,144 (4,536 / Hour) | 9,228 (x5 = 46,140) |  ? | 4,829 | 373 - 2,239 |
| 32 | 18,600 (4,650 / Hour) | 9,521 (x5 = 47,605) |  ? | 4,984 | 385 - 2,311 |
| 33 | 19,056 (4,764 / Hour) | 9,814 (x5 = 49,070) |  ? | 5,140 | 397 - 2,383 |
| 34 | 19,512 (4,878 / Hour) | 10,106 (x5 = 50,530) |  ? | 5,296 | 409 - 2,455 |
| 35 | 19,968 (4,992 / Hour) | 10,399 (x5 = 51,995) |  ? | 5,452 | 421 - 2,527 |
| 36 | 20,424 (5,106 / Hour) | 10,692 (x5 = 53,460) |  ? | 5,607 | 433 - 2,599 |
| 37 | 20,880 (5,220 / Hour) | 10,985 (x5 = 54,925) |  ? | 5,763 | 445 - 2,671 |
| 38 | 21,336 (5,334 / Hour) | 11,278 (x5 = 56,390) |  ? | 5,919 | 457 - 2,743 |
| 39 | 21,792 (5,448 / Hour) | 11,570 (x5 = 57,850) |  ? | 6,075 | 469 - 2,815 |
| 40 | 22,252 (5,563 / Hour) | MAX |  ? | 6,230 | 481 - 2,887 |
Total Fish to Max: 1,081,390
Xiphactinus Level 40
Tournament-Battle Arena Profile Picture
Xiphactinus in Battle
Xiphactinus Level 40 Pictures