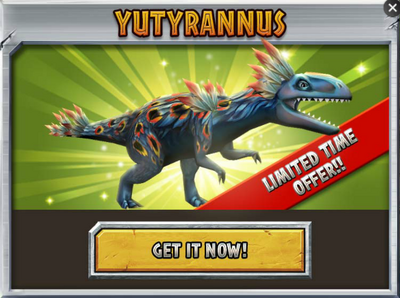 Battle Weakness: Bite
Battle Class: Gold
Yutyrannus is a genus of tyrannosaurid dinosaurs which contains a single known species, Yutyrannus huali. This species lived during the early Cretaceous period in what is now northeastern China. Three fossils of Y. huali - all found in the rock beds of Liaoning Province - are currently the largest known dinosaur specimens that preserve direct evidence of feathers.
Yutyrannus were large bipedal predators. The holotype and oldest-known specimen has an estimated length of 9 metres (29.5 ft) and an estimated weight of about 1,414 kilograms (3,117 lb). In 2016, Gregory S. Paul gave lower estimations of 7.5 metres (24.6 ft) and 1.1 tonnes (1.2 short tons). Its skull has an estimated length of 905 millimetres (35.6 in). The skulls of the paratypes are 80 centimetres (31 in) and 63 centimetres (25 in) long and their weights have been estimated at 596 kilograms (1,314 lb) and 493 kilograms (1,087 lb), respectively.
It is a distant cousin of the famous Tyrannosaurus rex.
Information
Cost and Time to Hatch
Availability
Limited
DNA Research
N/A
Placement Cost
119
Incubation Time
00:12:00
XP
64
Dimensions
7x7

Initial Message: The Yutyrannus is the largest known feathered dinosaur ever discovered.

First Evolution Message: The Tyrannosaurus was a distant cousin of the Yutyrannus.

Second Evolution Message: The feathers on the Yutyrannus help it to keep warm.

Third Evolution Message: The name Yutyrannus means "feathered tyrant".
Level-Based Stats
| Level | Unmodified Earning Rates (2 Hrs) | Feeding Costs (Meat) | Ferocity | Life | Attack |
| --- | --- | --- | --- | --- | --- |
| 1 | 3,254 (1,627 / Hour) | 325 (x5 = 1,625) |  ? | N/A | N/A - N/A |
| 2 | 3,588 (1,794 / Hour) | 539 (x5 = 2,695) |  ? | N/A | N/A - N/A |
| 3 | 3,922 (1,961 / Hour) | 753 (x5 = 3,765) |  ? | N/A | N/A - N/A |
| 4 | 4,256 (2,128 / Hour) | 967 (x5 = 4,835) |  ? | N/A | N/A - N/A |
| 5 | 4,590 (2,295 / Hour) | 1,182 (x5 = 5,910) | 92 | 641 | 50 - 302 |
| 6 | 4,924 (2,462 / Hour) | 1,396 (x5 = 6,980) | 110 | 769 | 60 - 360 |
| 7 | 5,258 (2,629 / Hour) | 1,610 (x5 = 8,050) | 129 | 897 | 69 - 417 |
| 8 | 5,592 (2,796 / Hour) | 1,824 (x5 = 9,120) | 147 | 1,025 | 79 - 475 |
| 9 | 5,926 (2,963 / Hour) | 2,038 (x5 = 10,190) | 165 | 1,153 | 90 - 540 |
| 10 | 6,260 (3,130 / Hour) | Evolve: 4,500 per attempt | 183 | 1,281 | 99 - 597 |
| 11 | 6,594 (3,297 / Hour) | 2,467 (x5 = 12,335) | 202 | 1,410 | 109 - 655 |
| 12 | 6,928 (3,464 / Hour) | 2,681 (x5 = 13,405) | 220 | 1,538 | 118 - 712 |
| 13 | 7,262 (3,631 / Hour) | 2,895 (x5 = 14,475) | 238 | 1,666 | 129 - 777 |
| 14 | 7,595 (3,798 / Hour) | 3,109 (x5 = 15,545) | 257 | 1,794 | 139 - 835 |
| 15 | 7,927 (3,964 / Hour) | 3,323 (x5 = 16,615) | 275 | 1,922 | 148 - 892 |
| 16 | 8,262 (4,131 / Hour) | 3,537 (x5 = 17,685) | 293 | 2,050 | 158 - 950 |
| 17 | 8,596 (4,298 / Hour) | 3,752 (x5 = 18,760) | 312 | 2,178 | 168 - 1,008 |
| 18 | 8,930 (4,465 / Hour) | 3,966 (x5 = 19,830) | 330 | 2,306 | 178 - 1,072 |
| 19 | 9,264 (4,632 / Hour) | 4,180 (x5 = 20,900) | 348 | 2,434 | 188 - 1,130 |
| 20 | 9,598 (4,799 / Hour) | Evolve: 8,300 per attempt | 366 | 2,562 | 198 - 1,188 |
| 21 | 9,932 (4,966 / Hour) | 4,608 (x5 = 23,040) | 385 | 2,691 | 207 - 1,245 |
| 22 | 10,266 (5,133 / Hour) | 4,823 (x5 = 24,115) | 403 | 2,819 | 218 - 1,310 |
| 23 | 10,600 (5,300 / Hour) | 5,037 (x5 = 25,185) | 421 | 2,947 | 228 - 1,368 |
| 24 | 10,934 (5,467 / Hour) | 5,251 (x5 = 26,255) | 440 | 3,075 | 237 - 1,425 |
| 25 | 11,268 (5,634 / Hour) | 5,465 (x5 = 27,325) | 458 | 3,203 | 247 - 1,483 |
| 26 | 11,602 (5,801 / Hour) | 5,679 (x5 = 28,395) | 476 | 3,331 | 258 - 1,548 |
| 27 | 11,936 (5,968 / Hour) | 5,893 (x5 = 29,465) | 495 | 3,459 | 267 - 1,605 |
| 28 | 12,268 (6,134 / Hour) | 6,107 (x5 = 30,535) | 513 | 3,587 | 277 - 1,663 |
| 29 | 12,602 (6,301 / Hour) | 6,322 (x5 = 31,610) | 531 | 3,715 | 286 - 1,720 |
| 30 | 12,936 (6,468 / Hour) | Evolve: 12,000 per attempt | 549 | 3,843 | 297 - 1,785 |
| 31 | 13,270 (6,635 / Hour) | 6,750 (x5 = 33,750) | 568 | 3,972 | 307 - 1,843 |
| 32 | 13,604 (6,802 / Hour) | 6,964 (x5 = 34,820) | 586 | 4,100 | 316 - 1,900 |
| 33 | 13,938 (6,969 / Hour) | 7,178 (x5 = 35,890) | 604 | 4,228 | 326 - 1,958 |
| 34 | 14,272 (7,136 / Hour) | 7,392 (x5 = 36,960) | 623 | 4,356 | 336 - 2,016 |
| 35 | 14,606 (7,303 / Hour) | 7,607 (x5 = 38,035) | 641 | 4,484 | 346 - 2,080 |
| 36 | 14,940 (7,470 / Hour) | 7,821 (x5 = 39,105) | 659 | 4,612 | 356 - 2,138 |
| 37 | 15,274 (7,637 / Hour) | 8,035 (x5 = 40,175) | 678 | 4,740 | 366 - 2,196 |
| 38 | 15,608 (7,804 / Hour) | 8,249 (x5 = 41,245) | 696 | 4,868 | 375 - 2,253 |
| 39 | 15,942 (7,971 / Hour) | 8,463 (x5 = 42,315) | 714 | 4,996 | 386 - 2,318 |
| 40 | 16,276 (8,138 / Hour) | MAX | 732 | 5,124 | 396 - 2,376 |
Total Meat to Max: 790,940
Yutyrannus Level 40
Tournament-Battle Arena Profile Picture
Yutyrannus in Battle
Yutyrannus Level 40 Pictures